15 days Yoga and Ayurveda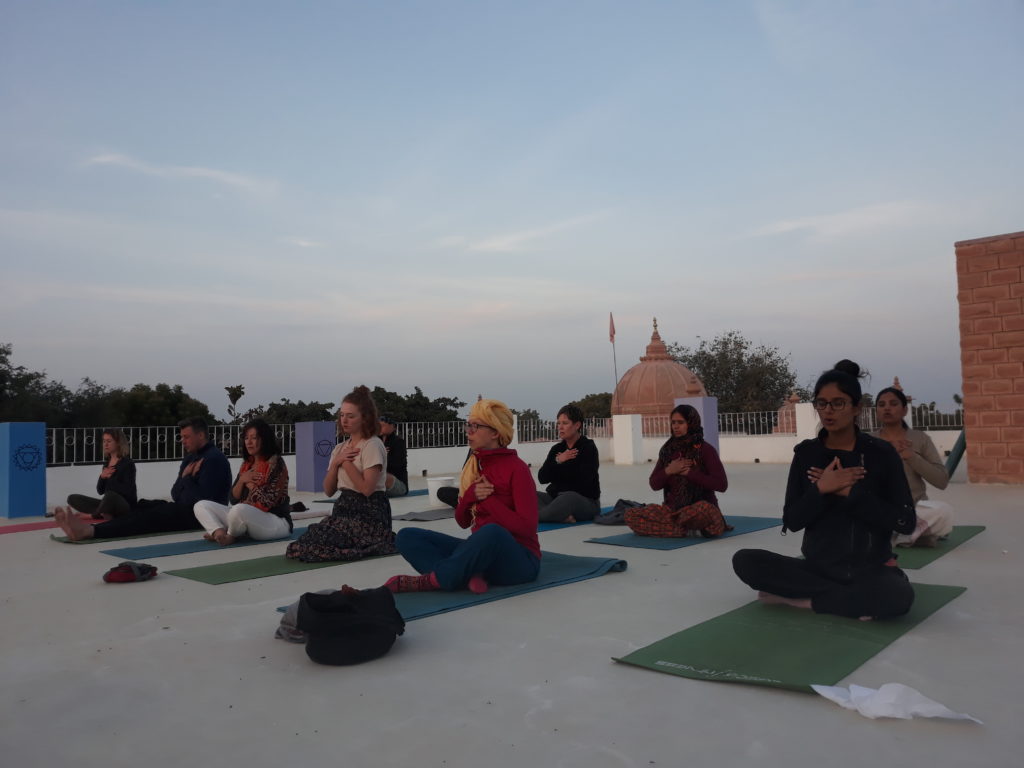 For ten days we will take part in the everyday life of a rural little ashram in the middle of the Rajasthan desert. In addition, there is a varied offer consisting of yoga lessons, workshops, meditation, relaxation exercises and massages. The program is framed by healthy meals, lots of relaxation and time for yourself, as well as the evening fire ceremony in the temple complex.
At the end of the trip we will take a trip to the holy city of Pushkar with its temples and holy lake and to the "Blue City" of Jodhpur. Here we visit the mighty fort, stroll through the narrow streets between the blue-washed houses and experience the lively market. A cooking class will be organised.
The yoga journey is accompanied by the yoga teacher Sarah, who herself has lived in India for many years and likes to return to the little ashram again and again in order to gather new strength and intensify her yoga practice. In addition, there will be other yoga teachers who take on individual hours.
You can also take part in the retreat for only one week or organize a subsequent Rajasthan or Kerala tour with or without yoga lessons.
The retreat is suitable for everyone, whether beginner or advanced yoga practitioner. The lessons are customised and tailored to the needs of the participants and offer a beautiful combination of bodywork, relaxation and meditation.
Program
Day 1 Arrival from your Country to Delhi
Participants will be picked up at the airport and taken to the nearby hotel. (-/-/-)
Day 2 Journey to ashram
Together we take the 1 1/2 hour flight to Jodhpur. From here, a two-hour transfer takes us deep into the Rajasthan desert to our ashram, where we are welcomed by the few inhabitants.
We move into our accommodations and take our first meal in the ashram before going to the evening fire ceremony in the temple. (B/-/D)
Day 3 – Day 11 Yoga at ashram
Over the next few days, we will slowly get used to the regular ashram routine, which begins with a morning yoga session. Every day we will be able to enjoy an Ayurveda session in addition to the two yoga lessons and have the opportunity to participate in an optional yoga workshop. We can also visit the surrounding families in the village and do karma yoga, such as helping with cooking in the kitchen etc. (B/L/D)
Day 12 Excursion to the holy city of Pushkar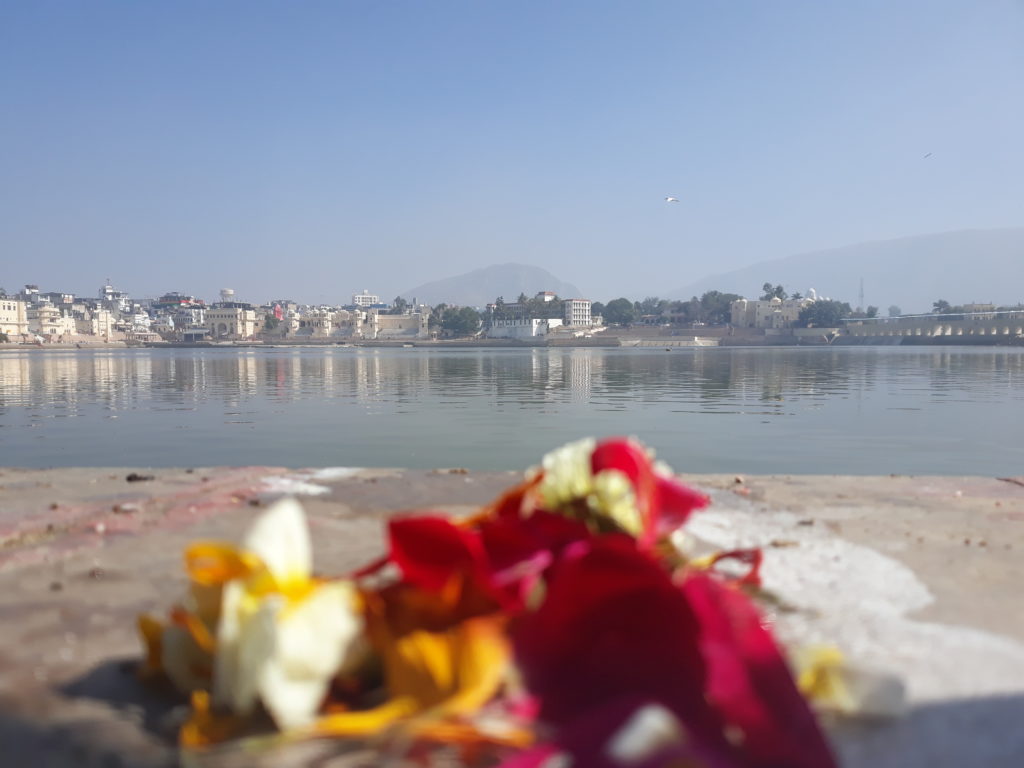 After the last yoga session and breakfast at the ashram we set off for the three-hour drive to Pushkar. The small tranquil place on the holy Pushkar Lake houses over 400 temples and it is said that a Hindu must make a pilgrimage to Pushkar at least once in his life to visit the holy Brahma temple and take a cleansing bath in the lake. We will also visit the temple and attend a ceremony at Pushkar Lake. (B/-/-)
Day 13 Pushkar and drive to Jodhpur
We have half a day left in Pushkar. Then we drive to Jodhpur for 4 hours. (B/-/-)
Day 14 Jodhpur
We experience a whole day in the blue city of Jodhpur with fort visit, city walk and cooking class with an Indian family. A yoga class takes place in the morning on a beautiful roof terrace. In the evening we take the night train to Agra (B/-/D)
Day 15 Agra and Departure
In the morning we reach Agra. Here we have day rooms near the Taj Mahal. After a refreshment and a small breakfast we visit the Taj Mahal. In the afternoon we take a train to Delhi and then a transfer to the airport. (-/-/-)
Daily program at the Ashram (example):

Monday-Saturday
6:00-6:30
Meditation /Cleansing Practise
6:40-7:20
Pranayama
7:30-9:00
Yoga class
9:00-10:00
Breakfast
10:00-13:15
Ayurveda Treatments
13:15-14:00
Lunch
14:00-15:00
Break
15:00-16:45
Workshop
16:45-18:15
Yoga Class
18:30-18:50
Temple Ceremony
19:00
Dinner
20:30-21:30
Special Activities (occasionally)
Included services:
Complete care by Tour escort and Yoga teachers
10 days/10 nights in the ashram in a double room with two yoga lessons daily and an Ayurvedic wellness treatment (30- 90 min) and full board
Daily workshops, Puja and Khirtan
Surprise evening at the Ashram
Delhi-Jodhpur Flight
Hotel rooms for Delhi on arrival and departure if required
total transport within India by taxi and 2 train journeys
Excursion to Pushkar (one night),Jodhpur ( 1 night) with sightseeing and cooking class and breakfast and Agra (day room) with Taj Mahal visit
Entrance fees for Mehrangar Fort and Taj Mahal included
non-included services:
international flight
Visa
Meals and drinks outside the ashram, except breakfast
Fixed Group Departure
19.03.2022 – 02.04.2022
1700 € per Person ins double room from (4 to 16 participants) Single room surcharge: 150 €
For a private trip please make an inquiry
Of course, a yoga and Ayurveda retreat can also be booked individually on your own date.
You are a yoga teacher and have a group or would you like to book a private retreat with your own friends? No problem at all! Just get in touch with me!
Yoga classes in the morning and afternoon
Twice a day for 1 1/2 to 2 hours there is yoga lesson that includes a combination of different yoga directions (Traditional Hatha Yoga, Asthanga Yoga, Yoga Flow, Shivanda Yoga). The hours are harmoniously structured and contain not only the Asana practice but also pranayama, mudras and meditation. The lessons are suitable for all levels and are a combination of physical bodywork and mental relaxation.
Karma Yoga
If you feel like it, you are welcome to join the Ashram family and share work with them voluntarily. Karma Yoga is a wonderful way of yoga, in which the activity becomes independent after some time and the mind becomes quite calm and free!
At the Karma Yoga work here in the ashram you can get closer to people and immerse yourself in their culture!
Possible karma yoga activities include cooking, sweeping, gardening, repairing or cleaning. But also the contribution of personal talents, such as photography or teaching languages or arts is welcome here!
Ayurvedic massages in the Ayurveda wellness oasis
Everyday you have one Ayurveda Treatment included. Before your treatments you will have an appointment with our Ayurveda Doctor. You can also opt for a whole Pancha Karma for a small extra charge.
Bhakti Yoga, Yoga of the Heart and Devotion, is also a wonderful way to practice yoga and is especially important to followers of the Shri Jasnath community. Full of passion and fervour, after dark, we sit down together in the temple complex to sing and sing sacred texts and prayers with drum accompaniment!
Satsang with Guru ji
Satsang means "Common Truth" . After the puja we sit together in the garden and have conversations about things that move us or questions we ask ourselves. A casual round of conversations about God and the world with Guru ji! Guru ji, is traveling on some days and it may be that he is not in the ashram for the entire time.
Meals
There will be two main meals a day, along with a small breakfast with fruit in the morning and tea twice.
The main meals consist of daily changing Rajasthan dishes. The meals are freshly prepared, satirical (healthy diet for body, mind and soul) and of course vegetarian. The vegetables come directly from the organic garden, the dairy products are prepared by themselves from the milk of the own ashram cows.
A typical meal consists of kichidi (rice lentil porridge), ghee, Volkorn chapathi (bread), dhal, salad, yogurt and one or two vegetable dishes.
Workshops
In the afternoon, smaller workshops on yoga, Ayurveda, cooking, music, mantra and meditation are offered.
Surprise evening
The Jasnath tradition is known for its great chants and passionate and impressive fire dances! One evening the singers and dancers will give us a very special pleasure and give us a small performance of their arts!
Travel organizer, accompaniment and yoga teacher: Sudha Mukti, Noor
Guru of the Ashram Yogeshwar Surajnath Siddh, RYT 500
Surajnath, head of the Shri Jasnath Ashram and president of the Shridev Trust, is the host of the yoga program. With his Master in Yoga Psychology from the Bihar School of Yoga in India, he specializes in traditional Hatha and Tantra Yoga.
Little Shri Jasnath Asan (Ashram) is located in the heart of Rajasthan in the small village of Panchla Siddha (Deep Meditation Square) 100 km from Jodhpur. It is one of the oldest Asans in the Malwar region. The great Saint Shri Boyat ji Maharaj, the direct disciple of Shridev Jasnath ji's, founded the ashram more than 500 years ago. The Shri Jasnath sect is a splinter that can be traced directly back to the yoga god Shiva. Shri Jasnath himself, a great saint who in his only 24 years did much positive for the area in western Rajasthan, was a direct disciple of Saint Gorkhnak.
The ashram is well known among The Indian followers of the Shri Jasnath community. During large festivities on certain holidays and events, thousands of followers make pilgrimages to the Holy Place to honor the place of their Holy Leaders.
But it is often very peaceful here in the ashram and especially for Western yogis and yoginis who want some authenticity, spirituality and peace, an insider tip.
Many saints have carried out their Sadhana (Spiritual Practice) here, which makes this place highly spiritually charged. The saints spread knowledge and wisdom in the villages and were able to help many people through their yogic power.
As the popularity of shri Jasnath Ashram grew, the king of Udaipur Shri Jagat Singh sponsored the construction of the castle for the Ashram building and donated land to the ashram for growing vegetables and grazing the animals. Today, the ashram has beautiful gardens and plantations where organic fruit and vegetables are grown.
Shri Jasnath Asan is very unique in its architecture. It has been lovingly restored and refurnished by the current guru Surajnath Siddh to maintain the ancient charm and traditions of his ancestors. And in fact, as soon as you walk through the first wooden gate of the ashram, you experience a peaceful and spiritual atmosphere.
Culture of Rajasthan
Visitors to the ashram not only have the opportunity to recharge their batteries, practice yoga, get Ayurvedic treats and eat delicious vegetarian dishes, but can also immerse themselves deeply in the traditional culture of the Rajasthan ian alike.
The Ashram is the perfect place to experience nature and live stress-free. By the way, you can get to know the simple village life and get in touch with the inhabitants. Here in the ashram, an attempt is made to improve the quality of life of each individual and to establish education, health, non-violence and humanity.
And it is especially the great humanity in this ashram that makes the stay here something very special. Here you will find a lot of love, openness and great community. Close friendships with the small Ashram family are quickly established.
The spiritual factor in this little ashram is of course something very special. In the ashram itself, there is a powerful mediation stamp and the tombs of Saints Jasnath Gurus incorporated into the temple complex. Pujas (community prayers) are held here twice a day. In the evening you meet for the Arti (fire ceremony) and sing prayers and khirtans accompanied by drums and bells.
The day ends with a satsang with the guru Surajnath ji. Here you sit together and learn more about the ashram, Indian culture and yoga.
In Rajasthan, the desert state, it is hot and dry almost all year round. Only the winter months from November to February are a little more pleasant. In any case, take a headgear with you to protect against the strong sunlight.
Rajasthan attracts the most tourists, so tourism is the livelihood of many locals. Sometimes this can get uncomfortable. Especially in the big cities and tourist strongholds, people are under a lot of pressure to buy something. Often beggars or children come to ask for money, sweets or pens. Here, it should be well thought out who to give something to. In the ashram itself, however, this problem will not be encountered.
Wide, airy and comfortable yoga clothes are recommended. We are in a very traditional region, so the clothes should be body covering. If you like, you can get a yoga uniform in the ashram yourself. Please specify this in advance.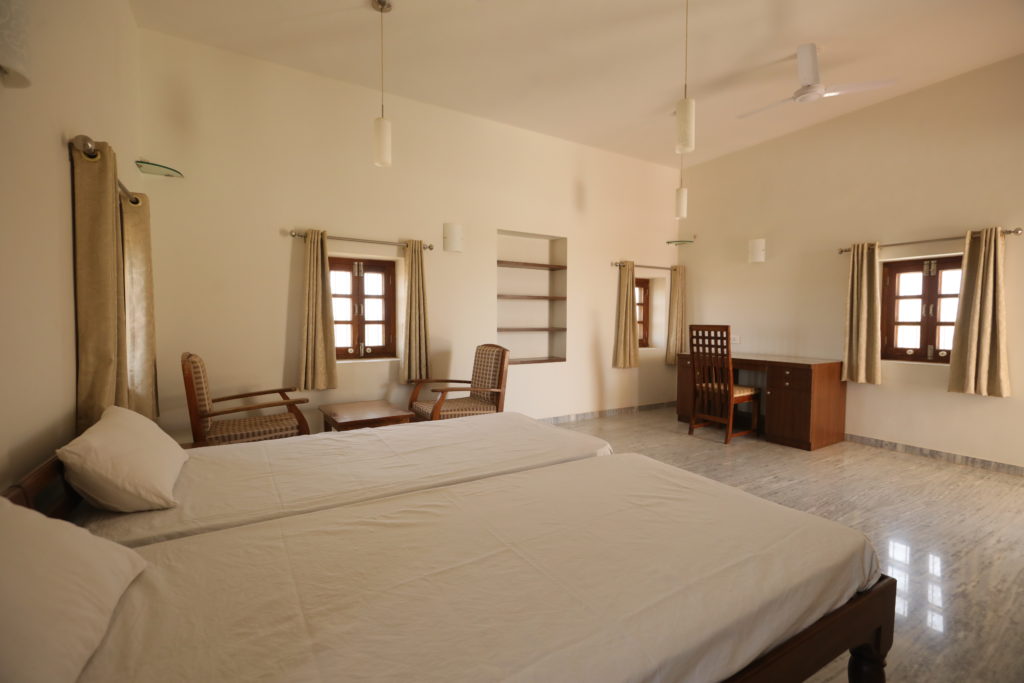 The rooms are clean, large and some have bathrooms, some with clean shared bathrooms.