Inquire or book now

15 Days Ayurveda Retreat
In the small charming Indian village of Azhiyur, in the north of Kerala, directly on the Arabian Sea, lies our very special Ayurvedic center "Greens Ayurveda".
It's all about Ayurveda and your health. Ayurveda is a science that, on the basis of the principles of nature, helps us to maintain or restore our health, bringing body, mind and soul into harmony with nature. The goal is to cure diseases and protect health.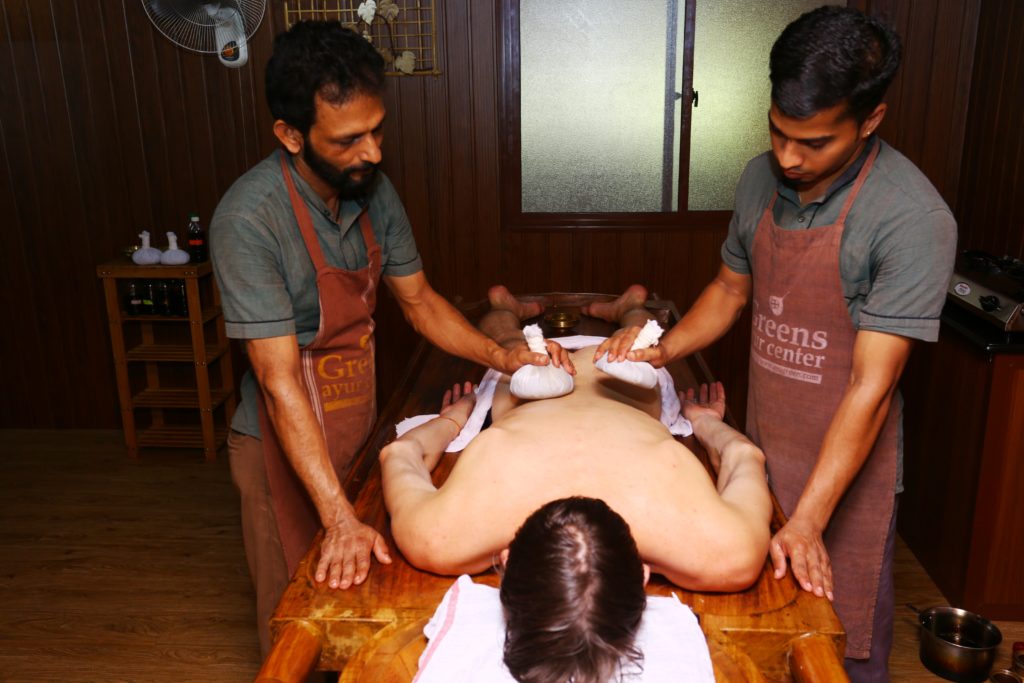 Here, in the Indian Ayurveda center, this succeeds with professional Ayurvedic treatments, healthy vegetarian meals, yoga and meditation and a lot of peace and quiet quite wonderfully.
In addition to the daily two Ayurvedic treatments, which are determined after a personal consultation with the Ayurvedic doctor, there are three healthy Ayurvedic meals daily, yoga and mediation in the morning, as well as regular workshops and lessons on the topic of Ayurveda and yoga. So you don't just live Ayurveda and yoga here in the center, but you can take the Ayurvedic lifestyle home into your normal everyday life.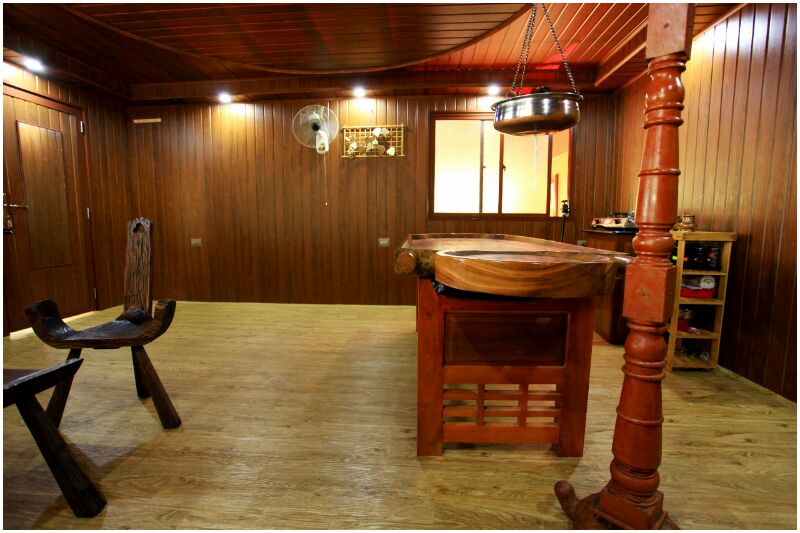 In addition, we will offer a colorful and diverse active and cultural program. Excursions to the beach are organized, we visit Indian temples, take a boat trip and watch traditional dance and combat performances for the evening program. Of course, the cure also offers retreats and time for yourself.
A highlight is certainly the day trip to Wayanad National Park with the chance to spot wild elephants, as well as to visit tea and coffee plantations.
Program
Day 1 Arrival
Upon arrival at the airport you will be greeted by the Yoga teacher Sudha Mukti and taken by transfer to the Ayurveda Clinic. After some rest, we will have lunch followed by a tour around the Area. In the afternoon you will have a small Ayurveda theory class in which we will also determine your Dosha Type. The day closes with a meditation and dinner.
Day 2-14 Ayurveda Retreat
After a detailed consultation with the chief medical officer, a treatment plan will be drawn up for the next two weeks. In addition to the daily two treatments, yoga and meditation in the morning, as well as Ayurveda workshops and excursion programs are offered.
Day 15 Departure
We say goodbye and are taken by transfer to the airport.
Daily Program
7:00 – 8:30 yoga and meditation
8:30 – 9:30 Breakfast
9:30 – 1:00 Applications /Workshop and lessons
1:00 – 2:00 Lunch break
2:00-4:00 Applications
4:00 – 7:00 Excursions
8:00 – 8:00 Dinner
included services:
14 nights accommodation in a double room with attached bathroom
ayurvedic consultation with Dosha determination, imbalance analysis and treatment recommendations
Two treatments a day according to the doctor's recommendations
Full board (traditional/vegeterian/Ayurvedic)
filtered water
Workshops and lessons on Ayurveda
Ayurvedic herbal therapy
Laundry service and free Wi-Fi
daily yoga and meditation classes
Recommendations for changes in daily life after Ayurveda
Excursions to Wayanad National Park, temples, sunset boat tour, houseboat tour on the backwaters
Access to the Ayurvedic Library
Cultural Shows
Shopping Tours
all transfers and transports
tour escort
non-included services:
Visa
International flight to and from Kozikode Airport (we will be happy to assist you with your flight booking)
Group dates
22.10.2022 – 05.11.2022
1499 € per person (4 to 16 participants) Single supplement: 250 €
Also possible as an individual trip on any date, please make an inquiry.
Treatments
At the beginning there will be an extensive consultation with an Ayurvedic doctor and our chief physician. The friendly team, consisting of 7 Ayurvedic doctors, will guide you through the treatment plan and the long-experienced and certified therapists will carry out the treatments. If you have any questions or problems, the doctor is always on hand.
Depending on your health, you are recommended either an entire Panchakarma treatment for detoxification or a healing Shamana therapy to treat the diseases and symptoms.
There is also the possibility to receive regenerative treatments or cosmetic treatments.
The Ayurveda Center
Greens Ayurveda is a small manageable spa clinic. The chief physician Dr. C. P. Asghar and his team of doctors and therapists provide comprehensive care. The clinic is located in a small village
surrounded by palm trees and within walking distance of the beach.
It is used in clean and well-equipped air-conditioned rooms. The complex has a recreation area, a dining room, a hospital with several rooms, airy classrooms, a roof terrace, a herb garden, a library, and a guest kitchen. The center is only 400 meters from the beach and is located in a small Indian village, surrounded by green palm forests.
Yoga Teacher and Escort
About the region
Kerala is home to many Christians, so you can not only visit Hindu temples and mosques, but also visit many churches. In many places you almost feel like in southern Europe, because many Portuguese settled here during the colonial period and traded.
Climate
From November to March it is pleasantly warm and you only need light clothing. On most beaches of Kerala you can swim in normal swimwear. On beaches just outside, it is advisable to put on a T-shirt. Women in particular often attract unwelcome glances from local and Indian tourists, as it is not common for women in India to show too much skin. From March, temperatures will rise and it will be humid, so you should sweat a lot and pay attention to your circulation. From June to the end of September is the rainy season and many seasonal accommodations and restaurants have closed. It rains quite heavily during this time.
Things to bring
light knee and shoulder covering clothes (thighs and Tunika, Shirt and wide pants, knee covering dresses (shorts and tops possible as well
clothes for Yoga
old clothes (under garments, shirts, pants) for the treatments with oil and pastes
scarf or schal
sandals or slippers
sunglasses, sun cream, head
own toiletries, but not too much, as many Ayurveda products are available here
small bag/backpack for excursion
passport (copy), credit or debit card, cash in your currency (ca 50 €)
camera, phone, charger (no Adapter needed)
notebook and writing material
swimming clothes, towel