15 Days 80 Hour certified Yoga Teacher Training Course
"Nada" is a Sanskrit term and means Sound. According to Yoga Philosophy the creation of Universe started with the sound of "Om"
Sound in Yoga is sacred and mantras have been used in Indian culture and prayers, especially by the rishis (holy men), for thousands of years . These Mantras are highly charged with positive energy and have mental and physical healing powers through their specific vibrations.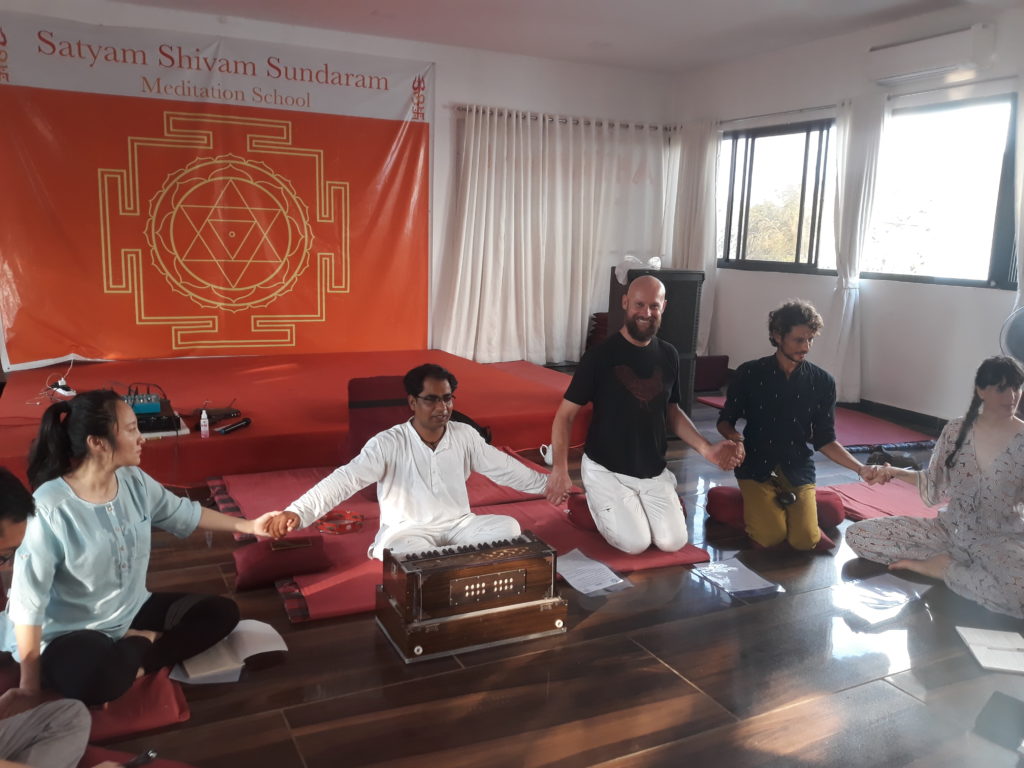 Sounds, Mantras and Kirtans (devotional melodies) are an integrated and important part of Yoga and Yoga related rituals.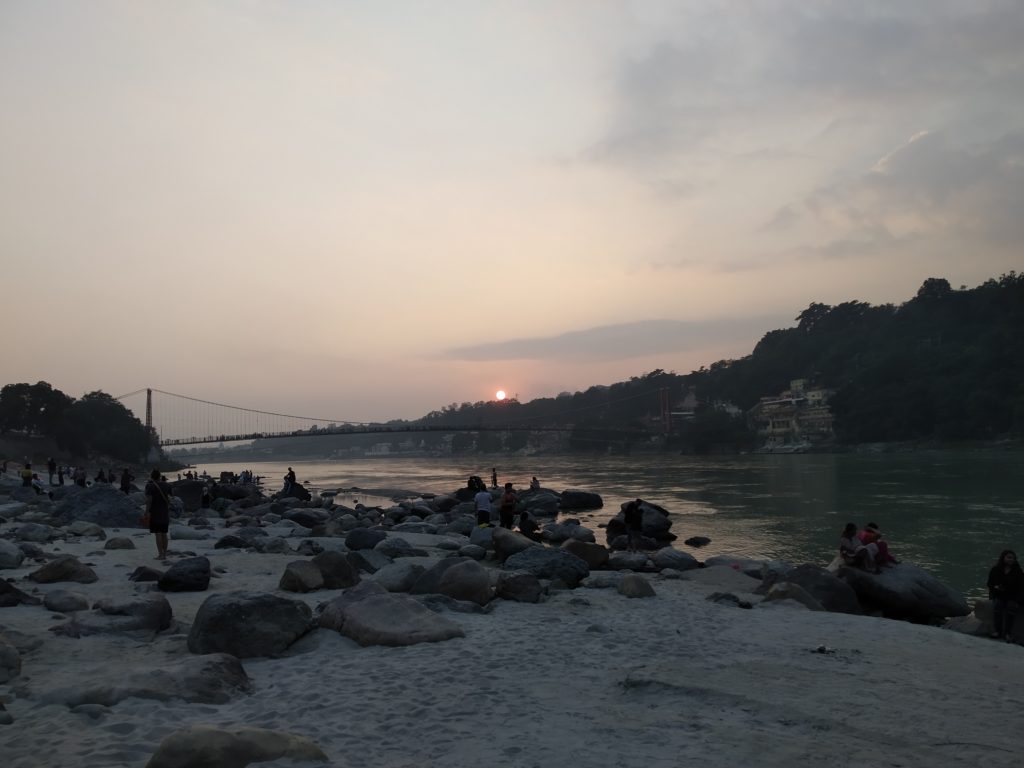 Through the repetition of Mantra you can not only get into deep meditation, but also heal yourself and others.
The whole Branch of Bhakti Yoga- The Yoga of devotion- is deeply connected to Mantra Chanting and Kirtan singing.
Nada Yoga opens and heals your body, calms your mind and opens your heart.
Course Outline
This course will be full of sounds and melodies. As this course takes place in an Ashram in the holy town of Rishikesh, we will participate in the Ashram's schedule with meditation, Yoga classes, Fire Ceremony, meals and Evening programs.
You will notice that sound is a big part of traditional Indian Yoga and that it will accompany us through the structured days: During meditation we will recite a Mantra in silent, in the Yoga class a Mantra will be the topic of the class, during fire Puja we will sing a full set of ancient vedic Mantras and Prayers.
Before the meals we will honor the food with the Bhojan Mantra and the evening program will mostly consist of an energetic Kirtan circle.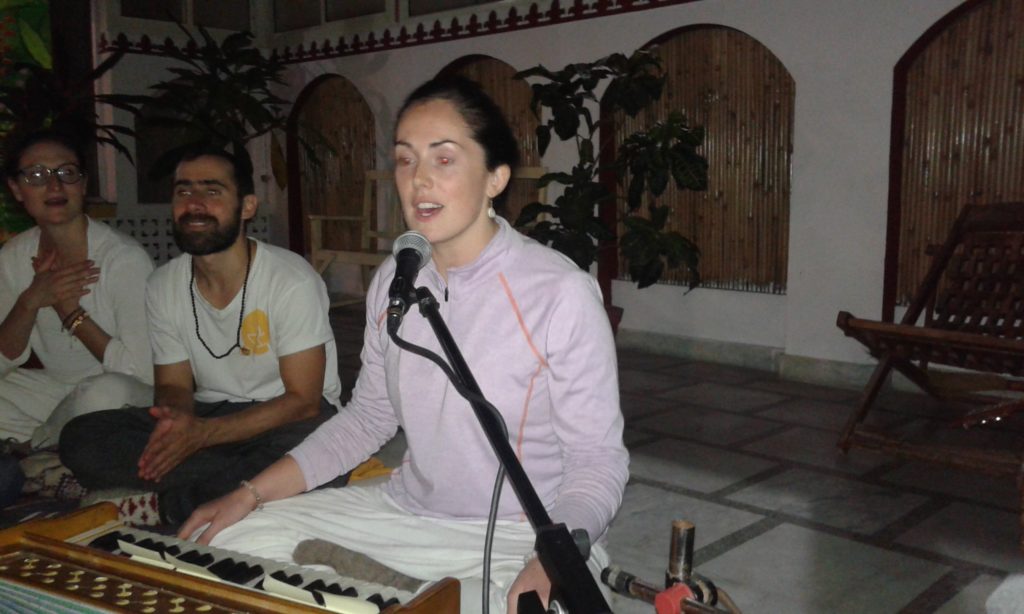 You will learn the theory behind the Sanskrit sounds and learn Mantras and Kirtans- their meaning, the proper way to chant them and when to use them.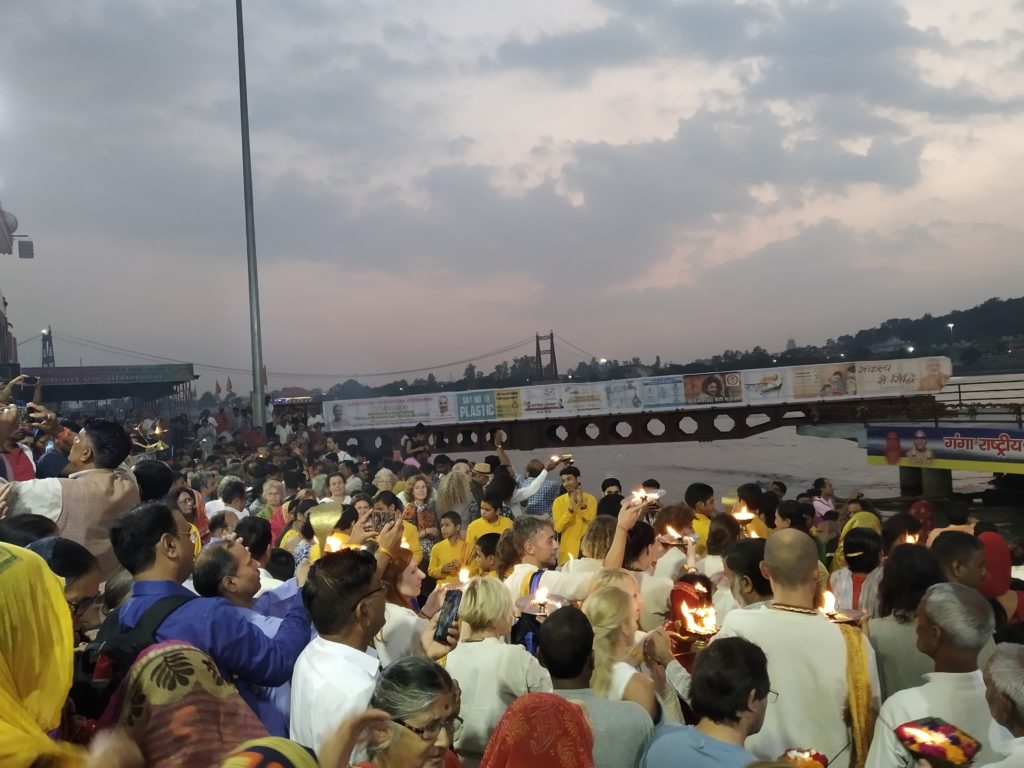 This will happen in the form of class room sessions, as well as outings: We will attend famous ceremonies on the holy Ganga, meeting real Indian Yogis introducing us to the secret of Nada Yoga. Knowledgeable musicians will introduce us to Indian instruments. We will have Harmonium classes and finally lead the evening Kirtan by ourselves.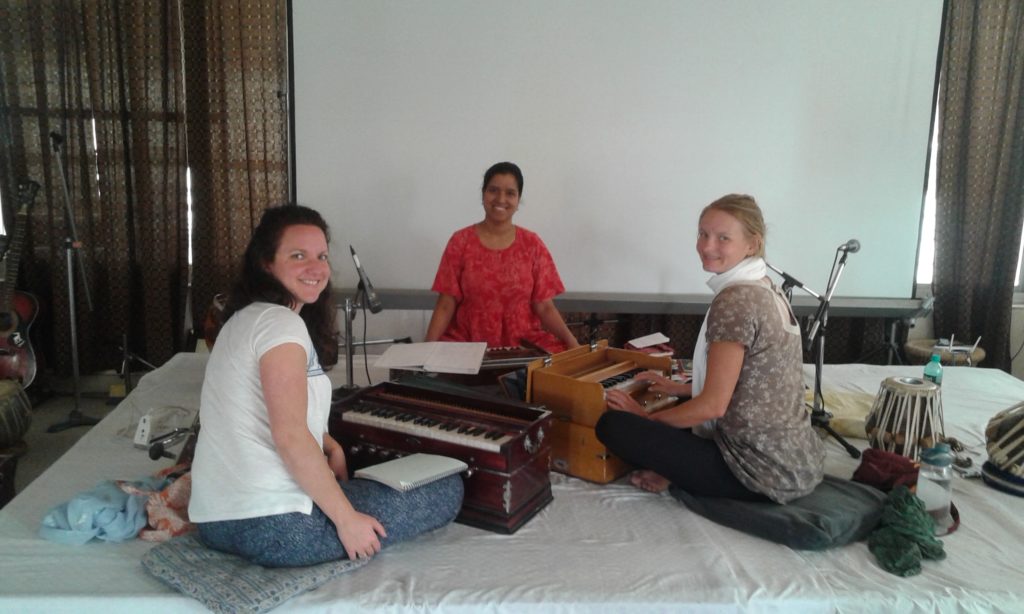 For the last two days we take you for an excursion to the holy city Varanasi.
This course is for: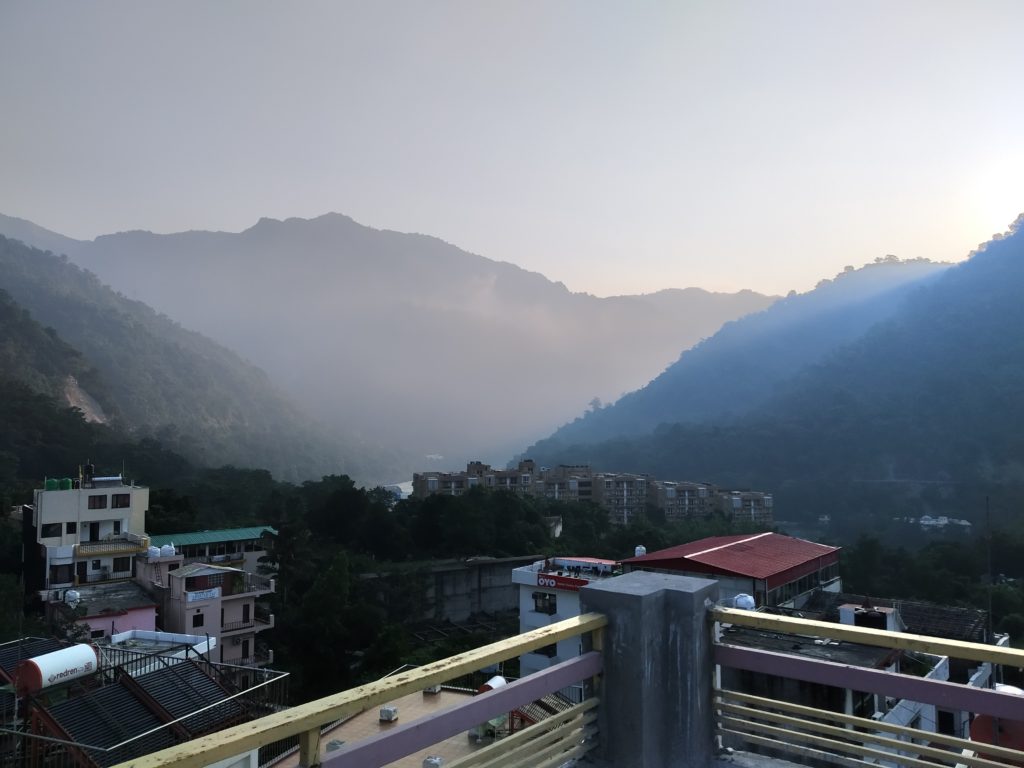 Yoga teachers who want to include the science and beauty of Mantra in there classess
everyone who wants to lead Kirtan
everyone who loves sound and feels a special connection to the vibrations of Vedic Mantras and Prayers.
everyone who wants to experience Mantra and Kirtan in the spiritual atmosphere of an Indian Ashram
For Yoga Alliance registered Yoga teachers who want to get certified Continuing Education Hours
In this course you will learn:
theory and science of Sound
Om The primordial Sound
Saguna and Nirguna Mantras
Vedic and Tantric Mantras
Mantra Chanting
Mantra Meditation techniques
Mantra as a part of your Yoga class
Structure of Mantra Yoga classes
many Mantras and Kirtans with Chords
Mantra and Jnana Yoga, Bhakti Yoga and Kundalini Yoga
Mantra and Rituals
Kirtan singing
leading Kirtan
introduction to Indian Instruments
Harmonium classes
About Rishikesh
The spiritual place Rishikesh is located on the holy Ganges at the foot of the Himalayas. Surrounded by forest and mountains, the city consists of a colourful collection of temples, ashrams and yoga schools. Every day, pilgrims from all over India come to take a holy bath in the Ganges and take part in the ceremonial ceremonies. Baba ji's (holy men) sit in deep meditation on small rocks on the bank of the Ganges, glowing candles float on the river every evening for the fire ceremony, and Hindu prayers and mantras can be heard everywhere.
The lived spirituality is contagious and very quickly you become a part of it and develop an intensive yoga practice in a structured everyday life.
In this wonderful energized place is the Parmath Niketan Ashram, one of the oldest and largest ashram complexes in Rishikesh and located directly on the banks of the Ganges. Despite the size, the ashram is a wonderful oasis of calm with many gardens and green areas, temples and yoga halls.
Here all aspects of yoga and spiritual life are brought together into one unit and the two daily yoga lessons are a wonderful combination of asanas, pranayama, mantra, mudra, philosophy and meditation, in which the focus is brought to the inside and often magical moments arise.
The ashram offers a good framework for a healthy yogic lifestyle with a regular daily routine, delicious and vegetarian dishes, yoga lessons and ashram events, such as the morning fire puja (prayer), the famous Arti (light) ceremony on the Ganges, satsang (exchange) Singing with the spiritual leaders of the Ashrams Pujya ji and Svadhvi ji and Kirtan.
Program
Day 1 (Sat)Independent arrival from your country to Delhi, transfer to Hotel
Day 2 (Sun) Onward journey to Rishikesh and entry to the Ashram.
You will be received by us at the airport in Delhi and taken to the hotel. After some rest and relaxation, our trip to Rishikesh continues via flight to Dehradun (1 hour). In the evening we arrive for dinner at the Ashram. (F/M/A)
Day 3 (Mon) to 14 (Fr) Nada Yoga Course at Ashram
We enjoy the next 11 days in the ashram with daily morning meditation, one yoga class, the fire ceremony, lectures, workshops, three healthy yogic meals, outings and an evening ashram program. (Kirtan, Satsang, Sound Meditation, Singing Bowl Concert)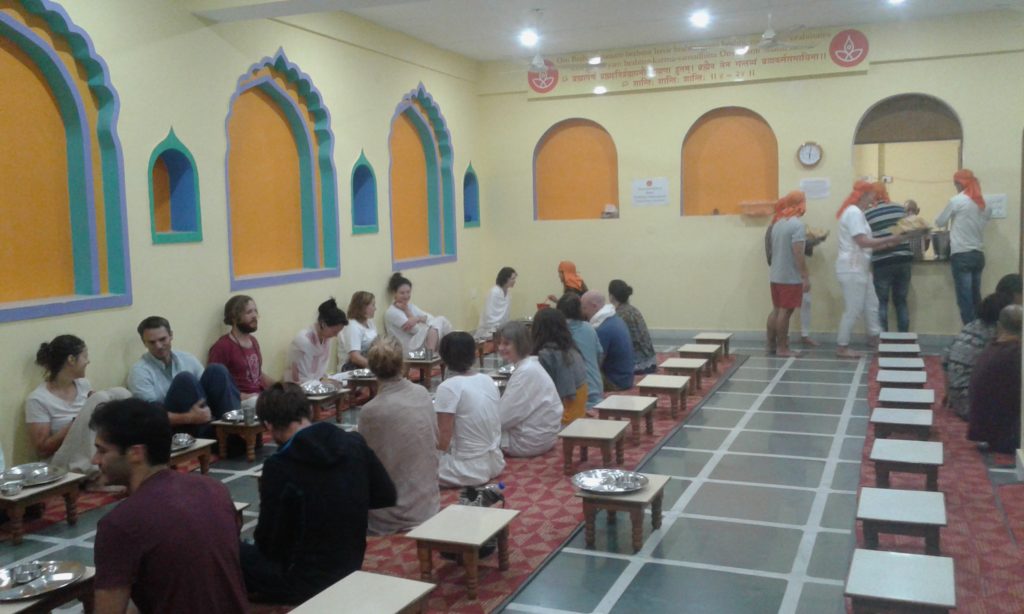 Daily program:
5: 00-6: 00 a.m. – Morning prayers and own Japa meditation practice on the Ganges (voluntary)
6: 00-8: 00 a.m. – Yoga class with asana practice, pranayama and meditation, focus on mantra
8: 00-8: 30 a.m. – Yagna fire ceremony
8:30 a.m. – 9:30 a.m. – Breakfast
9:30 a.m. to 1:00 p.m. – Classes
1:00 p.m. – 2:00 p.m. – Having lunch
2: 00-3: 00 p.m. – Quiet, self-study
3: 00-5: 30 pm – Classes
5:30 p.m.-7:00 p.m. – Ganga Arti, light ceremony
7: 00-7: 45 pm – Satstang
8:00 p.m. – Dinner
Afterwards evening program and free time (Kirtan singing, relaxation exercises, meditation, clamshell)
Sunday will be off and we take you for some fun activities and sightseeing in Rishikesh.
Day 15 (Sa)Departure
We take the flight from Dehradun to Delhi. From here you will depart.
(Early arrival or late departure) 1 x hotel room with breakfast in Delhi (double room)
Total transport with 2 domestic flights
Ashram in Rishikesh:
13 x overnight stays in a double or three-man room with attached bathroom
3 x daily healthy, vegetarian meals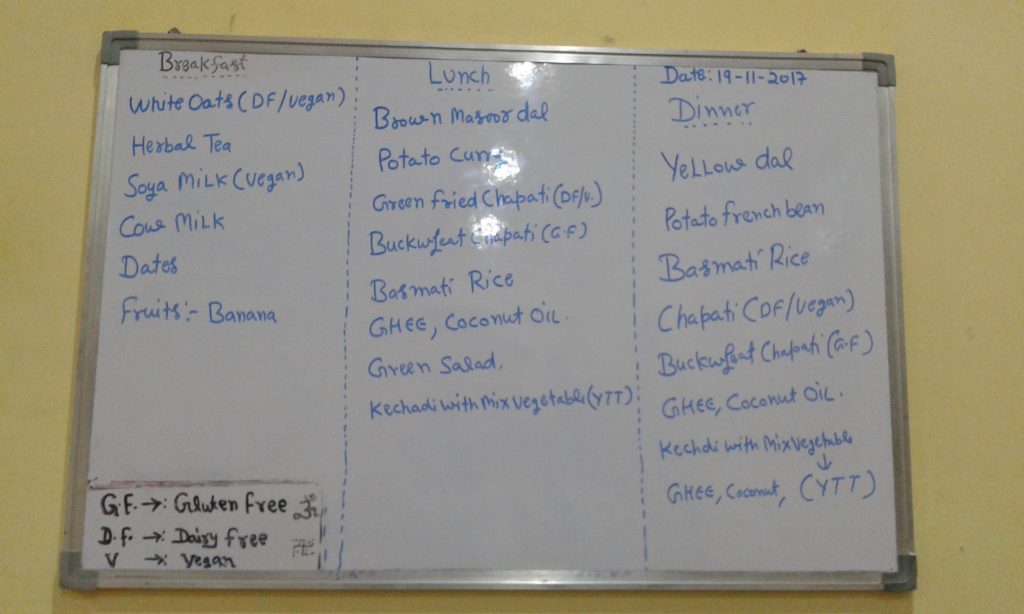 1 x daily yoga class
Participation in ashram activities (Kirtan, Chanting, Fire Ceremony, Meditation)
filtered water
2 weeks 80 Hour Yoga teacher Training course certified with Yoga Alliance with Course Material
certificate (continuing education hours with Yoga Alliance)
Non-included services:
Visa
International flight
not mentioned meals
Fixed group departure:
02.04.2022 – 16.04.2022
1550 € per person in a double room (4-16 Participants) There are few single rooms for a surcharge available, Please inquire.
YACEP (Yoga Alliance Continuing Education Provider), Course Facilitator and Yoga Teacher: Sudha Mukti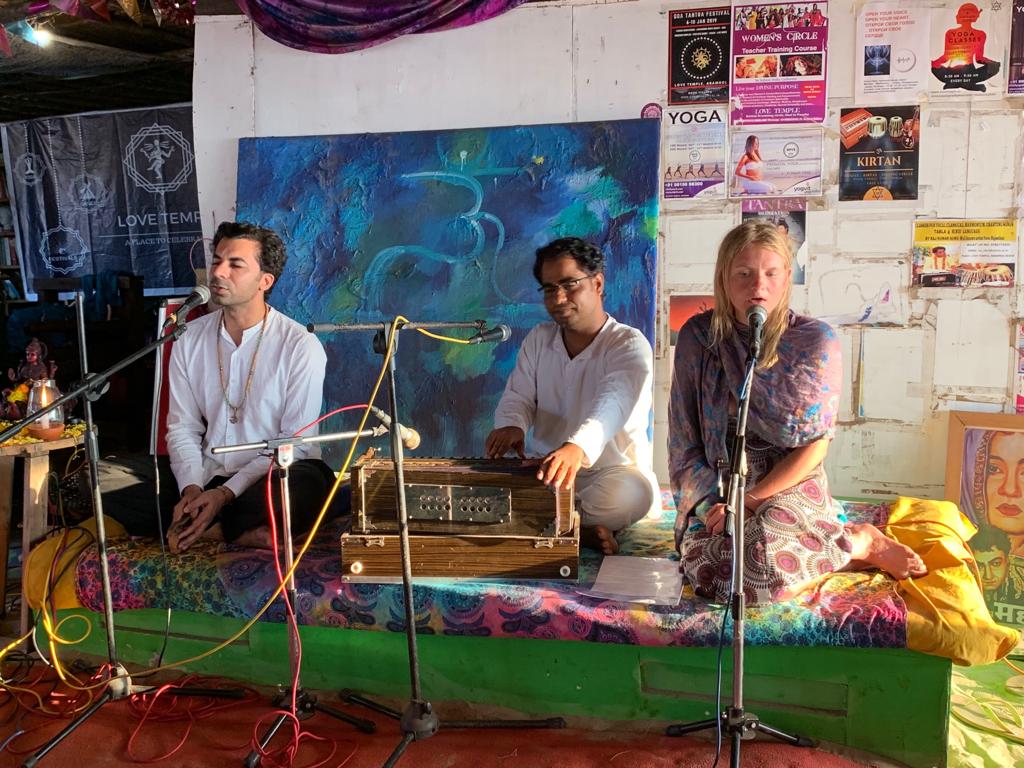 Sudha Mukti will coordinate all your classes, theory and practical session. Being herself a passionate Bhakti Yogi and Kirtan singer, she loves Nada Yoga and has taken several trainings all over India.
She will teach most of the sessions along with her Co and Guest Teachers.
The Ashram
The ashram was founded by Yogirishi Vishvketu in 2007 and offers a protected space for an intense spiritual yoga practice. It is located in Rishikesh, within walking distance of the sacred Ganges River.
In total there are 21 simple rooms with attached bathroom and balcony, if desired also air-conditioned. The large yoga hall is flooded with light and covered with wood and bamboo, providing a very bright and clean, sheltered space for practice. There is also another yoga hall and a roof terrace for workshops and meditation.
The ashram has a prayer area where the sacred fire ritual takes place every morning. There is also a library, a reception, as well as a dining room.
Wi-Fi and filtered water are available.
Please note the dress code: Knee and shoulder-covered clothing are required, preferably in white.
From 9:00 pm until after breakfast, the rest period must be observed.
The Yoga morning Yoga classes
Vishvketu has developed its own yoga style, which is complete and balanced in itself. In addition to the asanas, pranayama and meditation, it also includes contents of the yogi-life style and yoga philosophy. He combines various yoga styles from Hatha Yoga, Kundalini Yoga, Traditional Yoga and Vinyasa Yoga. Vishvketu encourages you to practice yoga with an inner joy.
When he is not in the ashram himself, his highly qualified long-time students teach from all over the world.
What to bring
Recommended List:
loose and light clothes (knee and shoulder covered, preferable white or light colours)
one schal
thick socks
sweater
slippers
towels
sun glasses
toiletries (sun lotion) and small medical kit ( in Rishikesh you can get anything)
passport (copy), credit or ATM card, some cash in your currency (ca 50-100 €),
mobile phone, camera, charger (no adapter), maybe laptop
notebook, writing material
lots of curiosity and excitement