15 Days Yoga Retreat
The spiritual place Rishikesh is located on the holy Ganges at the foot of the Himalayas. Framed by forest and mountains, the village consists of a colourful collection of temples, ashrams and yoga schools. Every day pilgrims come from all over India to take a holy bath in the Ganges and take part in the ceremonial ceremonies. Baba ji's (holy men) sit in deep meditation on small rocks on the bank of the Ganges, glowing candles float on the river for the fire ceremony every evening and Hindu prayers and mantras sound from everywhere.
The lived spirituality is contagious and very quickly one becomes a part of it and develops an intensive yoga practice in a structured everyday life.
In this wonderful energized place is the Parmath Niketan Ashram, one of the oldest and largest ashram complexes in Rishikesh and located directly on the banks of the Ganges. Despite the size, the ashram is a wonderful oasis of calm with many gardens and green areas, temples and yoga halls.
Here all aspects of yoga and spiritual life are brought together into one unit and the two daily yoga lessons are a wonderful combination of asanas, pranayama, mantra, mudra, philosophy and meditation, in which the focus is brought to the inside and often magical moments arise.
The ashram offers a good framework for a healthy yogic lifestyle with a regular daily routine, delicious and vegetarian dishes, yoga lessons and ashram events, such as the morning fire puja (prayer), the famous Arti (light) ceremony on the Ganges, satsang (exchange) Singing with the spiritual leaders of the Ashrams Pujya ji and Svadhvi ji and Kirtan.
This retreat is suitable for those who want to delve deeper into their own yoga practice, experience Indian yoga and experience the conscious life of a yogi in an ashram for two weeks.
Program
Day 1 (Sat)Independent arrival from your country, transfer to Hotel
Day 2 (Sun) Onward journey to Rishikesh and entry to the Ashram.
You will be received by us at the airport and taken to the hotel. We will take the 1 hour flight to Dehradun and then transfer to Rishikesh In the evening we arrive for dinner at the Ashram. (F/M/A)
Day 3 (Mon) to 14 (Fr) Yoga Retreat at Ashram
We enjoy the next 11 days in the ashram with daily morning meditation, two yoga classes, the fire ceremony, three healthy yogic meals and evening ashram program. (Kirtan, Satsang, Singing Bowl Concerto)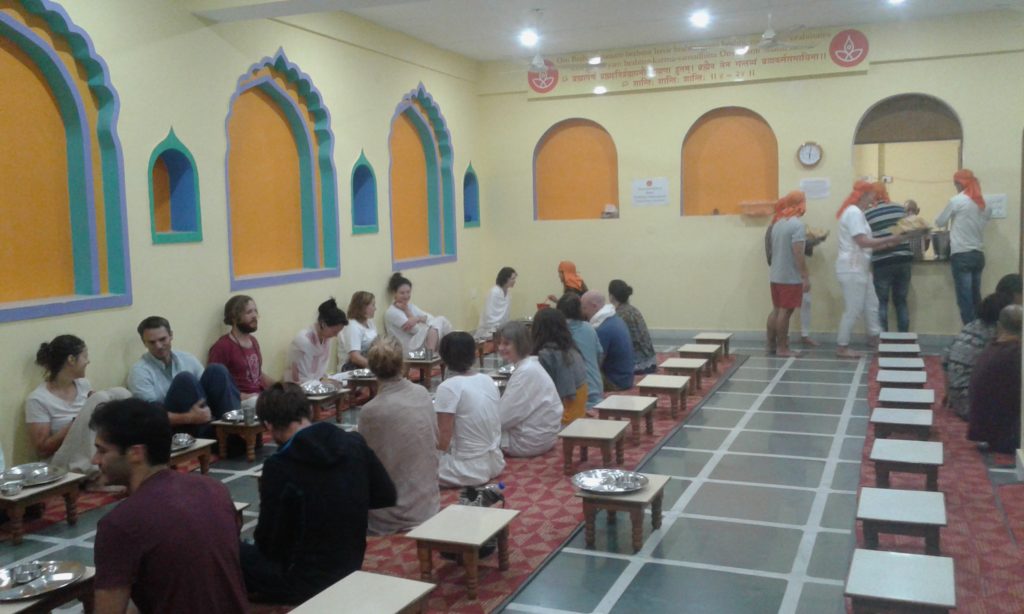 For the morning and afternoon there is a varied, daily changing schedule consisting of Ayurvedic massages, yoga workshops or excursions. (F/M/A)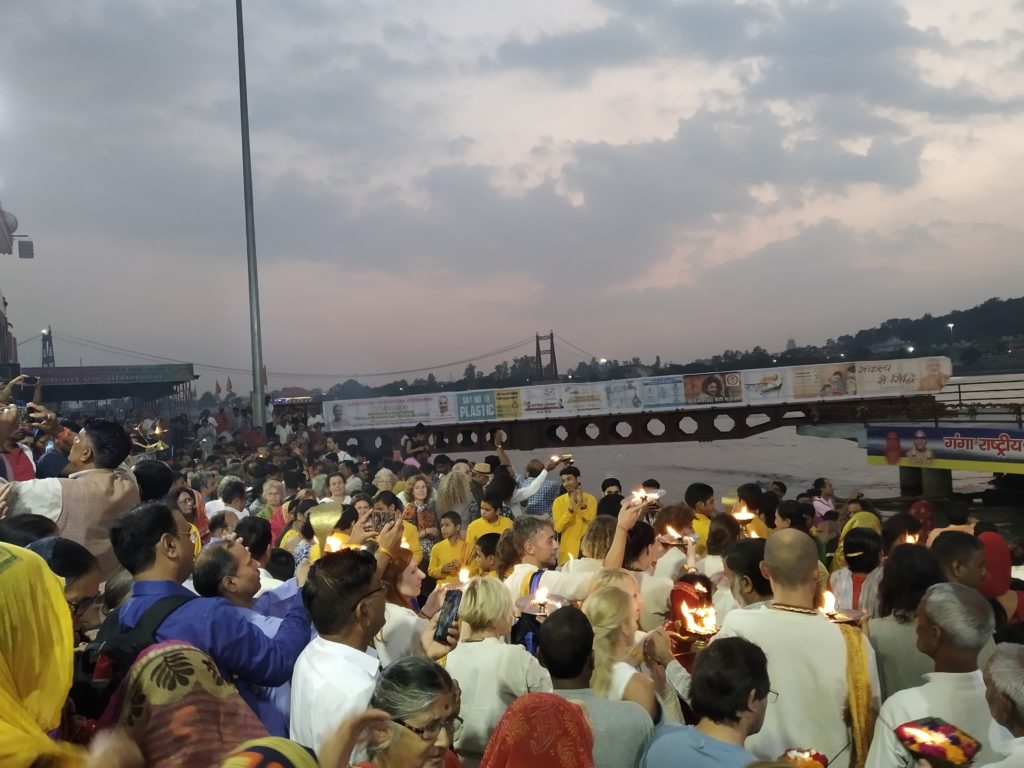 Daily program:
5: 00-6: 00 a.m. – Morning prayers and own meditation practice on the Ganges (voluntary)
6: 00-8: 00 a.m. – Yoga class with asana practice, pranayama and meditation
8: 00-8: 30 a.m. – Yagna fire ceremony
8:30 a.m. – 9:30 a.m. – Breakfast
9:30 a.m. to 1:00 p.m. – Leisure / excursions / workshops / massages
1:00 p.m. – 2:00 p.m. – Having lunch
2: 00-3: 30 p.m. – Leisure / excursions / workshops / massages
3.30pm-5.30pm – Yoga class with mantra chanting, philosophy, gentle asanas, relaxation, meditation
5:30 p.m.-7:00 p.m. – Ganga Arti, light ceremony
7: 00-7: 45 pm – Satstang
8:00 p.m. – Dinner
Afterwards evening program and free time (kirtan singing, relaxation exercises, meditation)
Sunday will be off and we will take you for some fun outings on the Ganga.
Day 15 (Sa)Flight to Dehradun
We take the 2 hour flight from Dehradun to Delhi. From here departure home.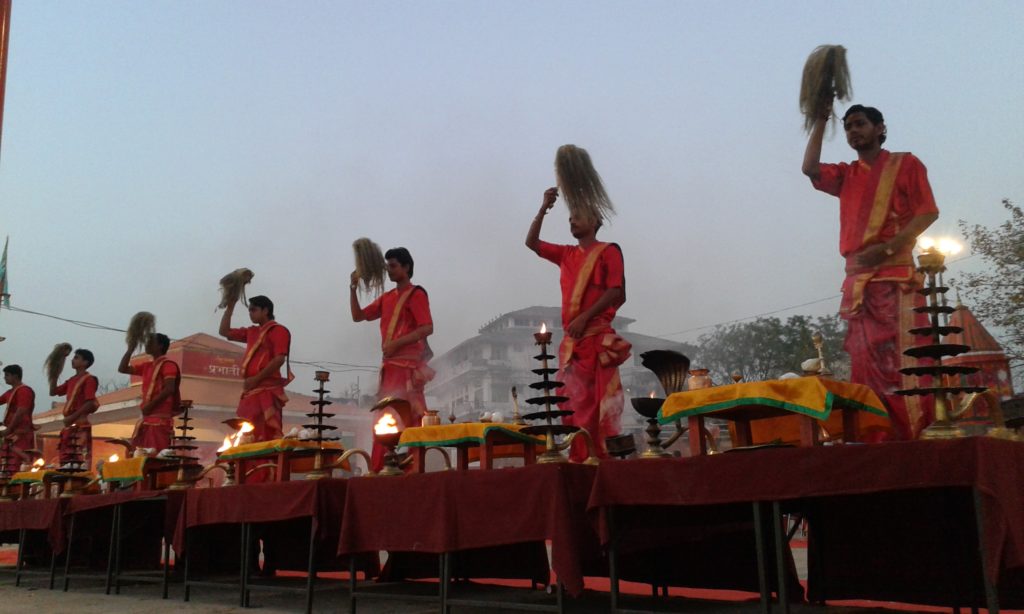 included services:
(Early arrival or late departure) 1 x hotel room with breakfast in Delhi (double room)
tour escort and Yoga teacher
Total transport with 2 domestic flights
Ashram in Rishikesh:
13 x overnight stays in a double or three-man room with attached bathroom
3 x daily healthy, vegetarian meals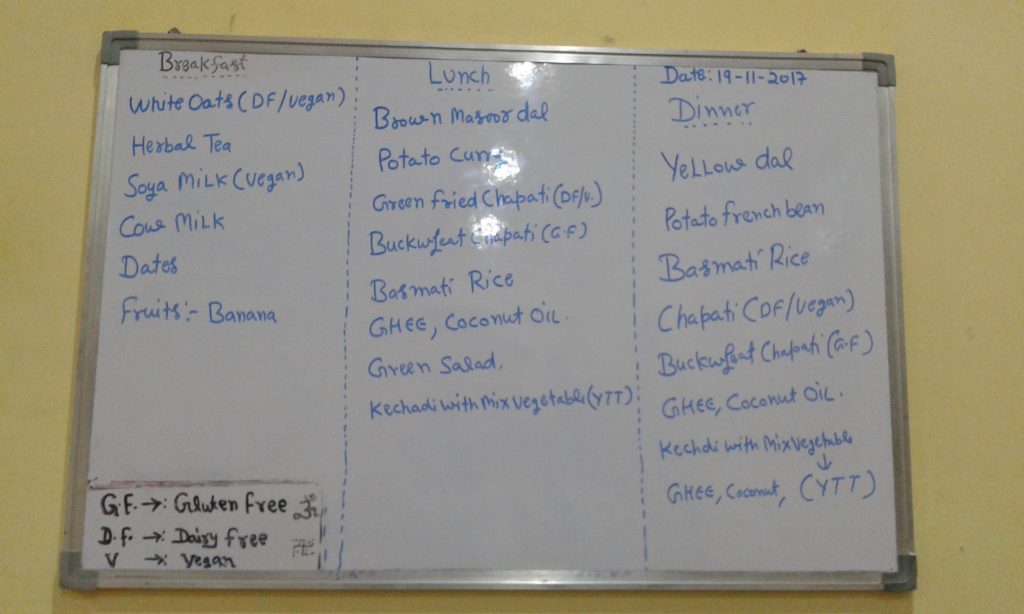 2 x daily yoga classes
Participation in ashram activities (Kirtan, Chanting, Fire Ceremony, Meditation)
daily changing activities of workshops, Ayurvedic massages (1 x total) and excursions in Rishikesh
filtered water
Wifi
non-included services:
Visa
International flight
not mentioned meals
Fixed group departure
02.04.2022 – 16.04.2022
1450 € per person in a double room (4-16 Participants) There are few single rooms for a surcharge available, Please inquire.
Add Yoga Trekking before or after or make it only a one week retreat
All year round also possible as a private retreat without Varanasi, please make request by email.
Yoga Teacher and Tour Leader: Sudha Mukti
Please note the dress code: Knee and shoulder-covered clothing are required, preferably in white.
From 9:00 pm until after breakfast, the rest period must be observed.
What to bring
Recommended List:
loose and light clothes (knee and shoulder covered, preferable white or light colours)
one schal
thick socks
sweater
slippers
towels
sun glasses
toiletries (sun lotion) and small medical kit ( in Rishikesh you can get anything)
passport (copy), credit or ATM card, some cash in your currency (ca 50-100 €),
mobile phone, camera, charger (no adapter), maybe laptop
notebook, writing material
lots of curiosity and excitement