Nada Yoga Vedic Sound Mantra Teacher Training Course in Rishikesh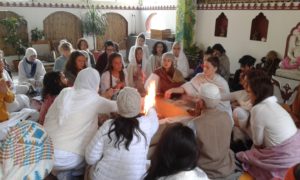 02.04.2022 - 16.04.2022
1550 €
Rishikesh
"Nada" is Sanskrit and means Sound. According to Yoga Philosophy the creation of Universe started with the sound of "Om"
Sound in Yoga is sacred and since thousands of years the Rishis (holy men) chanting Sanskrit verses called Mantra. These Mantras are highly charged with Energy and have mental and physical healing powers through their specific vibrations.
Sounds, Mantras and Kirtans (devotional melodies) are an integrated and important part of Yoga and Yoga related rituals.
Through the repetition of Mantra you can not only get into deep meditation, but also heal yourself and others.
The whole Branch of Bhakti Yoga- The Yoga of devotion is deeply connected to Mantra Chanting and Kirtan singing.
Nada Yoga opens heals your body, calms your mind and opens your heart. MORE