15 Days 80 Hour Certified Yoga Teacher Training Course
Kundalini- the snake like energy coiled at the root of your spine, eager to rise up the Energy Channels along the Spine to your Ajna Chakra between your eyebrows, where this Energy- also named Shakti – meets Shiva:the Pure Consciousness . Here Energy and Consciousness are melting into each other to rise up even higher till your Crown, where Sahasrara with its sounded pedaled lotus is situated. Here Shiva and Shakti dance their Cosmic dance and bring you in connection with your higher Self.
In this 2 weeks intense Kundalini and Chakra Yoga teacher training we will not only experience our inner energy centers, called Chakras, but also learn how to balance them and how to rise the powerful Kundalini in us in a safe manner and how to teach Kundalini Yoga and integrate the Chakras in your own classes.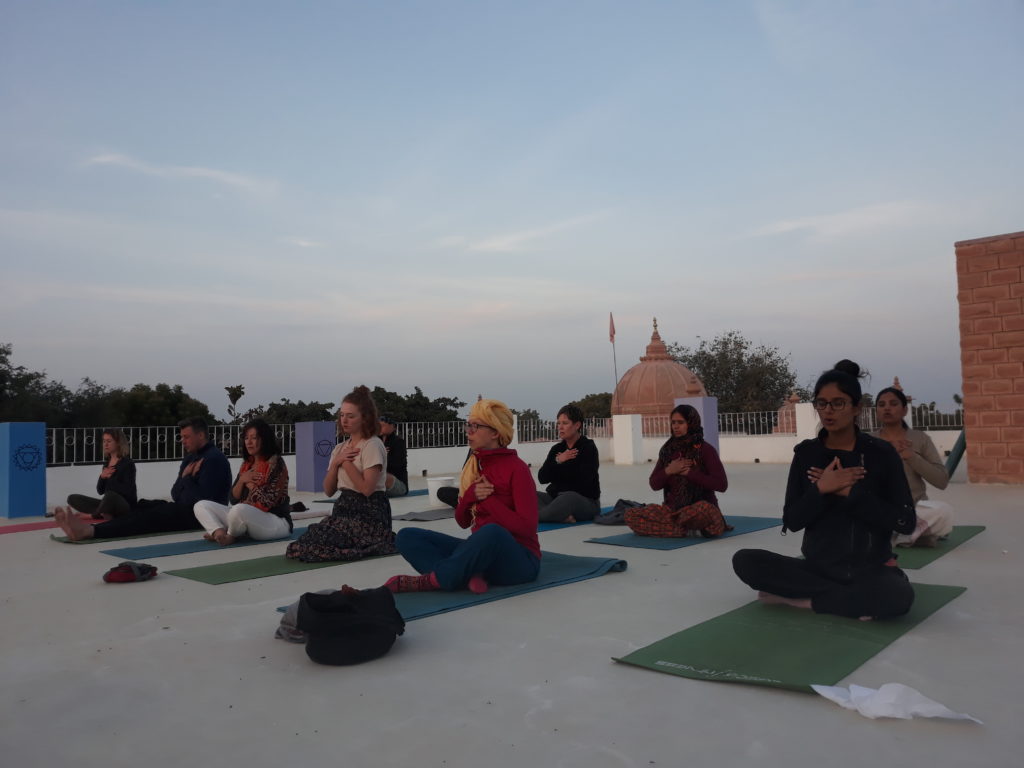 This course is not following the Kundalini Yoga according to Yogi Bhajan, but the traditional Indian Tantra Systems to work through Body movement, Breathing exercises and Sound work.
This course is for:
Yoga teachers who want to teach powerful Kundalini Yoga classes to their students, integrate Yogi Anatomy (Nadis and Chakras) in their classes and want to share the secrets of traditional Yogi Energy work (Tantra)
Everyone who wants to get deeper into Kundalini Yoga, understand the Theory and Practice behind it and get some great Kundalini Experiences
Everyone who wants to learn about Chakras and how to balance them
For Yoga Alliance registered Yoga teachers who want to get certified Continuing Education Hours
In this course you will learn:
Yoga Anatomy (Nadis, Chakras, 5 Koshas)
Kundalini and Chakra Theory
Understanding about Shiva and Shakti with Samkhya Philosphy
everything about the Chakras and how to work with them in Yoga
Surya Namaskar and Chakras
Asanas and Chakras
Pranayama and Cahkras
How to build and teach a Kundalini Yoga class
Kundalini Bodywork
Kundalini Breathing Exercises
Kundalini Sound Work (Bija and Vedic Mantras)
Kundalini Meditation
How to create Safety during a Kundalini Yoga class
experience Kundalini Yoga classes and Chakra Yoga classes
Course Location
On this two-week trip to the Indian Himalayas we will stay in Mcleod Ganj, the "Little Lhasa", home to a huge tibetan population and located at an altitude of 1800 meters. The influence of the buddhist culture is very visible in this pristine town, steaming with monks. The town is famous with yoga enthusiasts all over the world and people eager to study buddhism and buddhist temples. Our Guest House, the Ram Yoga House, is located right at the foot of the Indian Himalayas. The Dalai Lama`s residence is just within walking distance. Amazing tibetan restaurants and shops, momo(dumplings) stalls, buddhist prayer chants and prayer flags adorn the environment.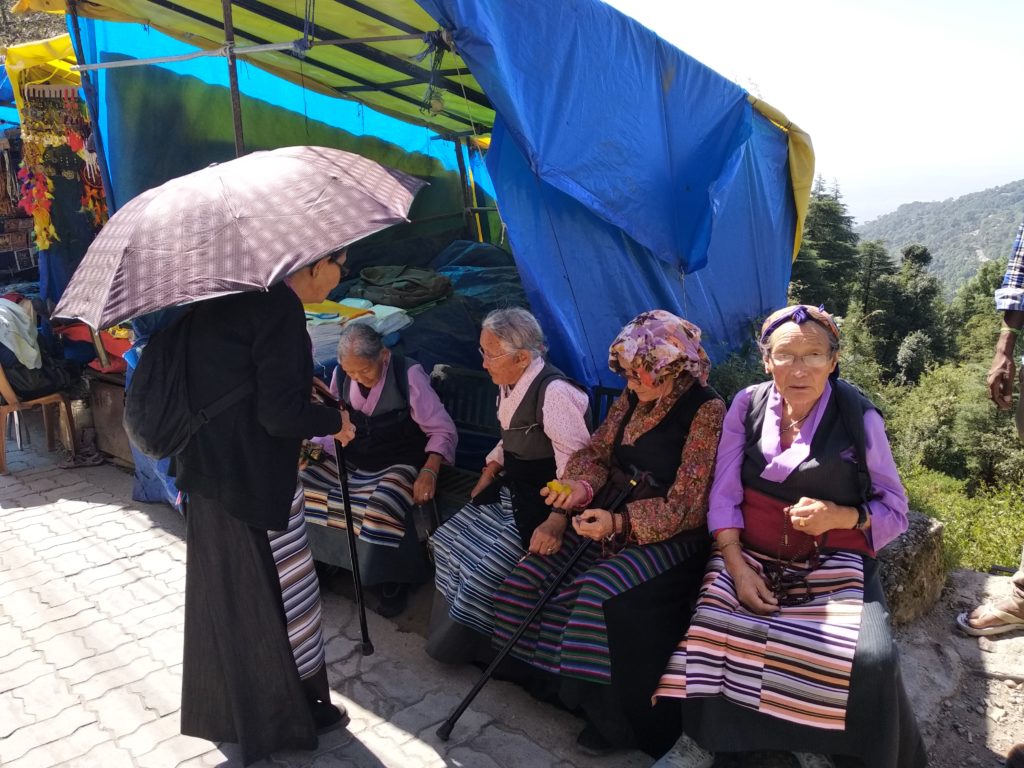 From our yoga hall we have a magnificent view down into the Kangra valley and up high to the first snow-capped mountains of the Himalayas.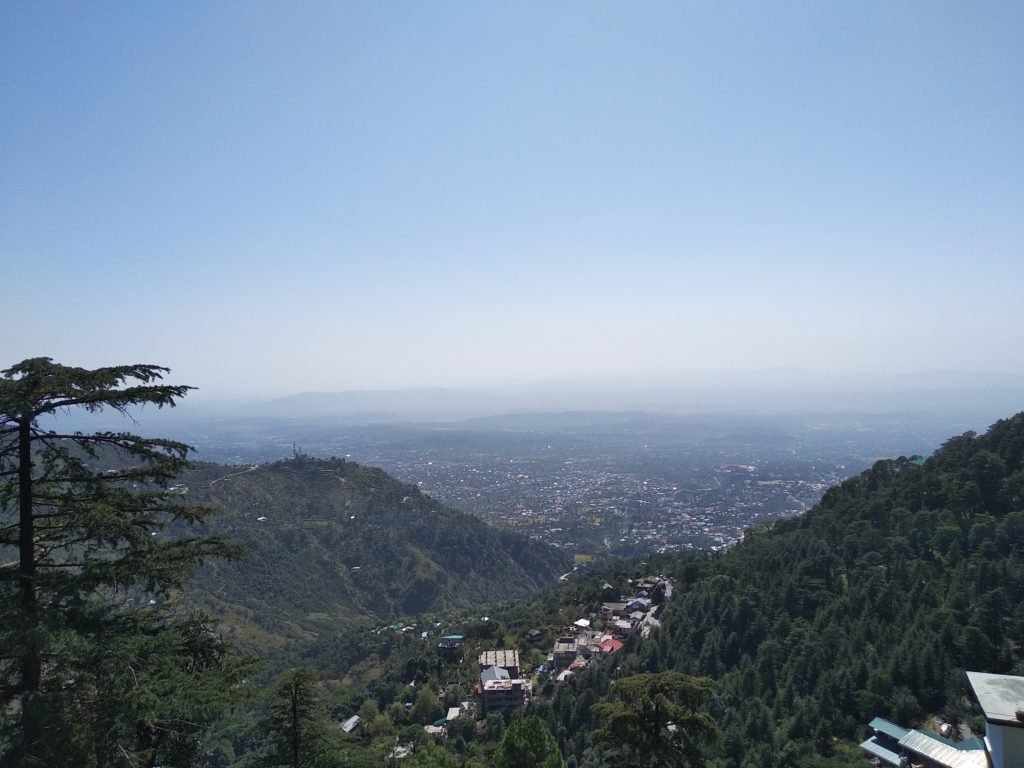 The days in Mcleod Ganj will be regularly structured with morning Yoga classes with meditation, theory sessions and workshops. Two healthy meals are being served daily and you will also have the opportunity for some relaxing massages and recreation time.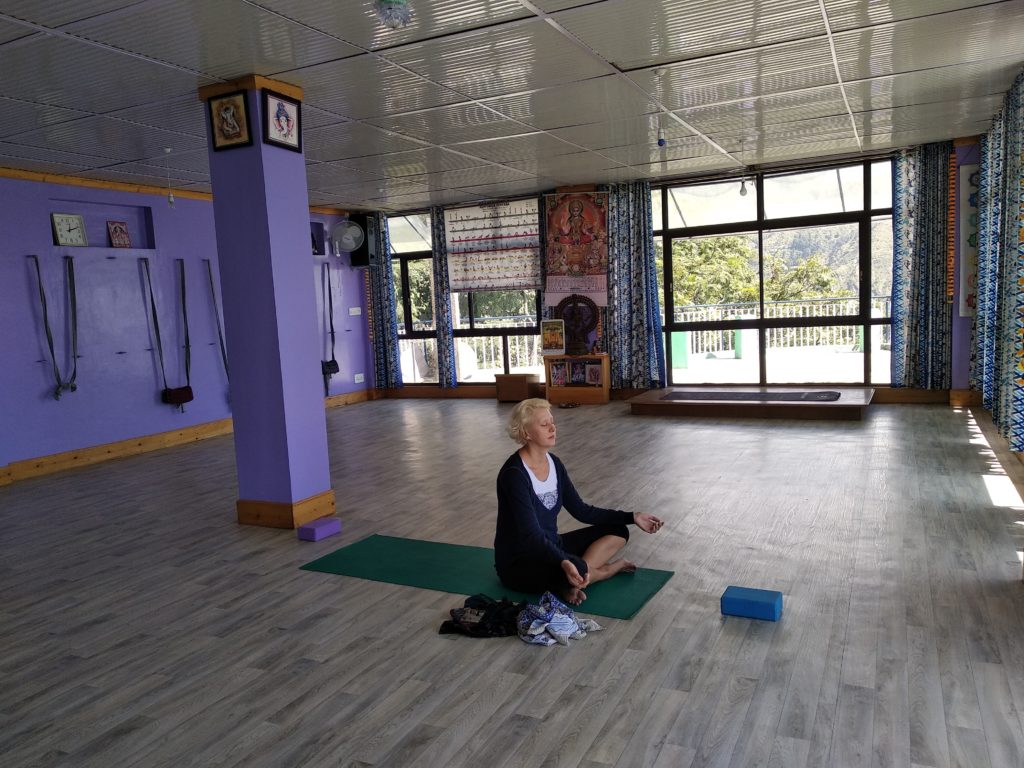 This Training course will end with a visit to the Golden Temple in Amritsar- The capital of the Sikh Religion and Home of Kundalini Yoga as taught by Yogi Bhajan. The graduation ceremony for the course will take place here.
Program
Day 1 ( Sat)Departure from your home place, at night arrival in Delhi, if necessary hotel rooms near the airport
Day 2 (Sun) flight to Dharamshala and arrival in Mcleod Ganj
In the morning we take a flight to Dharamshala and reach our hotel at noon.
After some refreshments we explore the town.
Afterwards, our first Yoga and Meditation class takes place.
Day 3 (Mon) to 13 (Thu)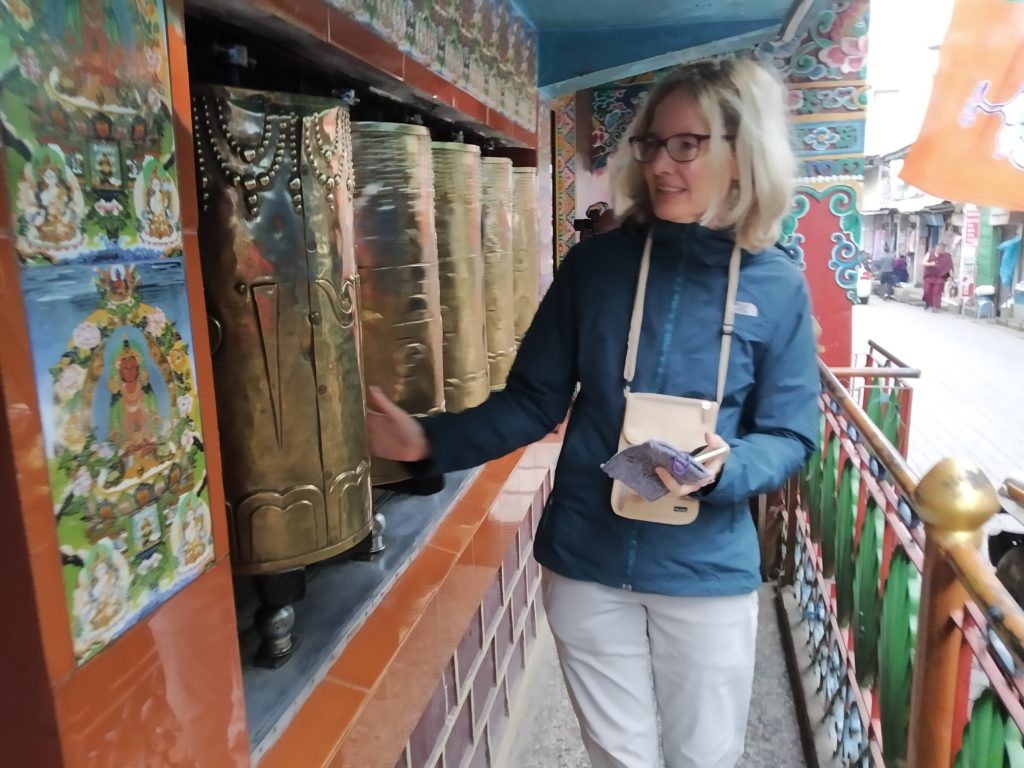 Our days in Mcleod Ganj are clearly structured and peppered with Kundalini and Chakra Yoga classes, lectures and workshops. We will also have some guest teachers visiting and will have some outings to experience Kundalini Yoga at different locations as well.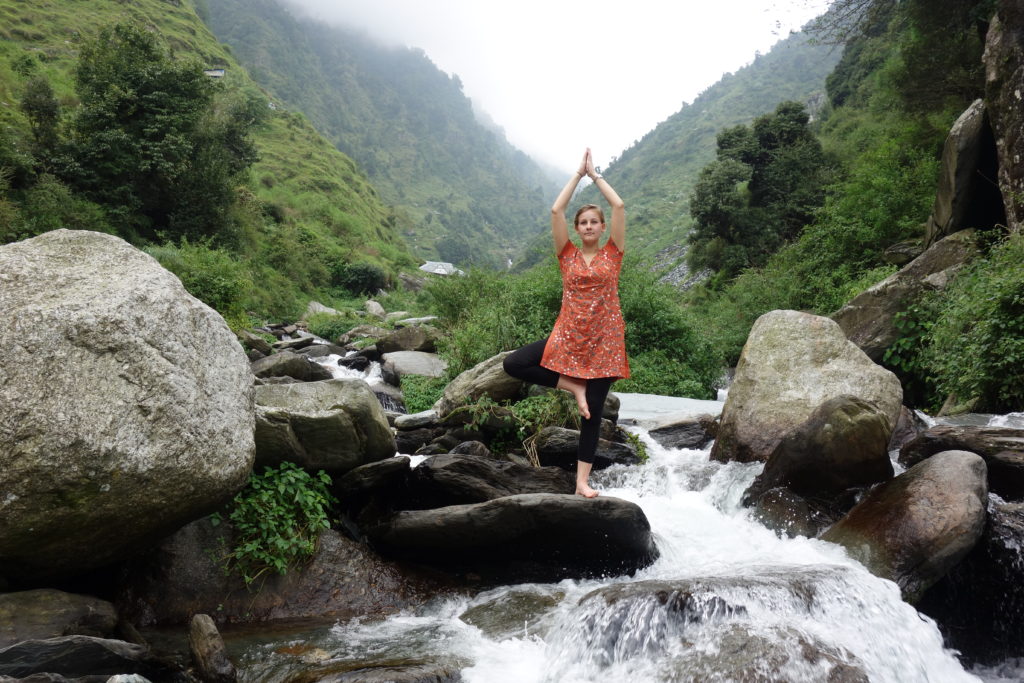 During our stay we take a two-day hike to the village of Kareri. Here, in a beautiful camp right next to a mountain river, we will have a yoga lesson in the afternoon and the next morning and can sing Mantra and Kirtan in the evening at the campfire.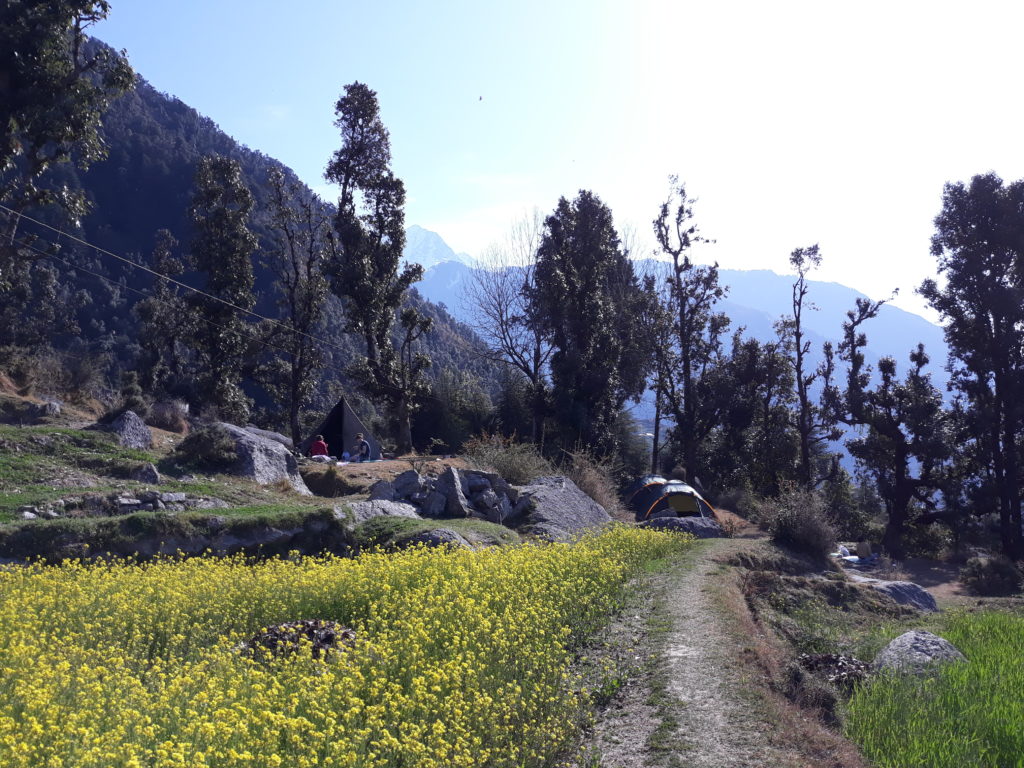 Daily Routine
6:45 Morning Tea
7:00-9:00 Kundalini or Chakra Yoga class
9:00-10:00 Breakfast Buffet
10:00-13:00 Lectures and Workshops (breaks in between)
13:00-15:00 Lunch Break and Free Time
15:00-16:30 Lectures and Workshops
16:30 Tea Break
17:00-19:00 Lectures and Workshops, Practicum (sometimes the afternoon session will be combined for outside classes or guest teachers)
19:00 Dinner Buffet

20:00 Evening Activities (Kirtan, meditation, Satsang, Outings)
Day 14 (Fri)Bus ride to Amritsar (5 hours)
In the early morning we take the bus to Amritsar. Here we will visit the Golden Temple and explore the capital of the Sikh religion, which also is the Birth place of Kundalini Yoga
Day 15 (Sat)Amritsar and flight to Delhi
In the evening we take the flight to Delhi. Until then, we have time to explore Amritsar further.
At night we are scheduled to depart for Delhi or we will book an extra night in Delhi if the flight departs the next morning.
Included services:
Programm Coordinator and yoga teachers
Total transport (flights, bus, transfers)
Overnight visit of Amritsar
Accommodation in a shared double room with half board and Tea and Water
During the Course:
Tea and filtered water
3 meals during the course
daily 1 yoga class
daily meditation lesson
2 weeks 80 Hour Yoga teacher Training course certified with Yoga Alliance with Course Material
certificate (continuing education hours with Yoga Alliance)
1 x Thai Yoga Massage
Non-included services:
International flight (can be booked through us)
Visa
Meals and drinks before and after the course (besides breakfast)
additional activities and excursions are possible for an extra fee
Fixed departures
30.04.2022 – 14.05.2022
1800 € per person (4 to 16 participants) Single supplement charge : 350 €
50 € less if you opt for Budget room
For a private customized trip please make an inquiry
Course Accommodation
During the retreat, you will be accommodated in bright friendly rooms with attached bathroom and balcony at Yoga House in Dharamshala. There is a yoga hall and an open-air restaurant in the Yoga House.
In Delhi, you will be accommodated in a hotel near the airport.
Meals
During the retreat, we serve three healthy, freshly prepared Indian meals in buffet style. There will be a selection of vegetables, fruit, rice and Indian bread.
YACEP (Yoga Alliance Continuing Education Provider), Course Facilitator and Yoga Teacher: Sudha Mukti and Noor
Sudha Mukti will coordinate all your classes, theory and practical session. Being herself a trained Kundalini Yoga teacher, she loves the powerful practice.
The lectures will be taught by Sudha Mukti and Noor.
Massage
During the course one Thai Yoga massage is included. In addition, of course, additional massages can be booked.
What to bring
Recommended List:
loose and light clothes (knee and shoulder covered, preferable white or light colours), all clothes available in Mcleod Ganj
one schal or scarf
thick socks
sweater, jacket, head
walking shoes
small backpack
slippers
towels
sun glasses
toiletries (sun lotion) and small medical kit ( in Mcleod Ganj you can get anything)
passport (copy), credit or ATM card, some cash in your currency (ca 50-100 €),
mobile phone, camera, charger (no adapter), maybe laptop
notebook, writing material
lots of curiosity and excitement