16 Days 80 Hour certified Teacher Training Course
Ayurveda and Yoga are two interconnected traditional Indian health systems for the wellness of the body, mind and spirit. These two sister sciences support each other to provide the Yoga practitioner or Ayurveda patient with a wholesome healing system.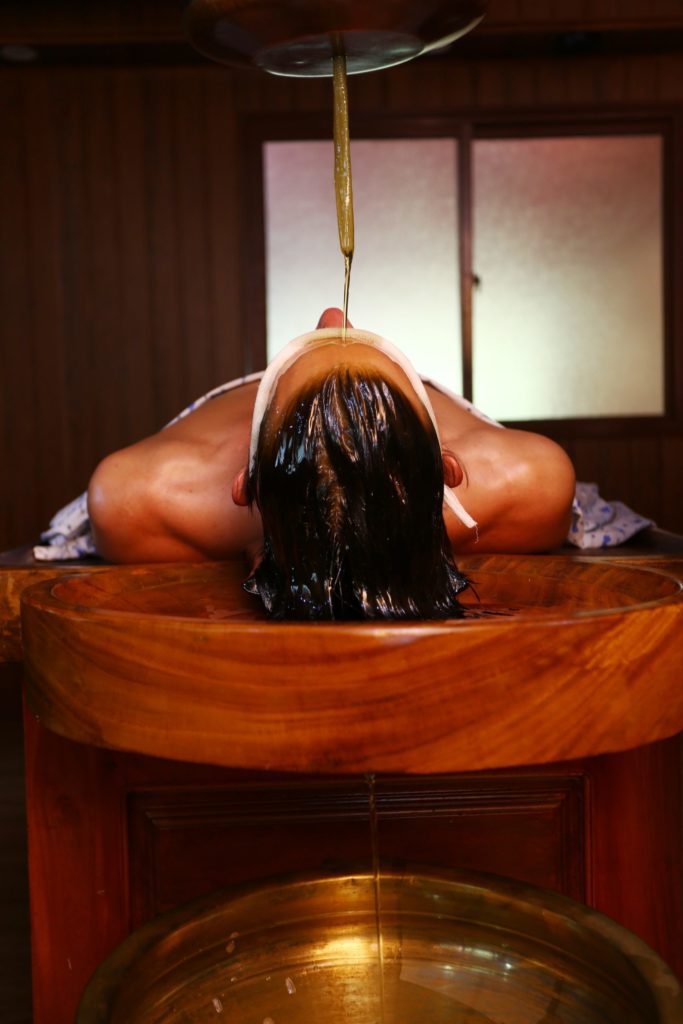 Both -Yoga and Ayurveda- originate from the Sat Dharmas- the six Orthodox philosophies in India, and are more than 5000 year old systems based on the Samkhya Philosophy. Both focus on holistic health, called Swastha, including physical, mental and spiritual health.
Together they create the perfect mix of practices and treatments to bring more value in your life.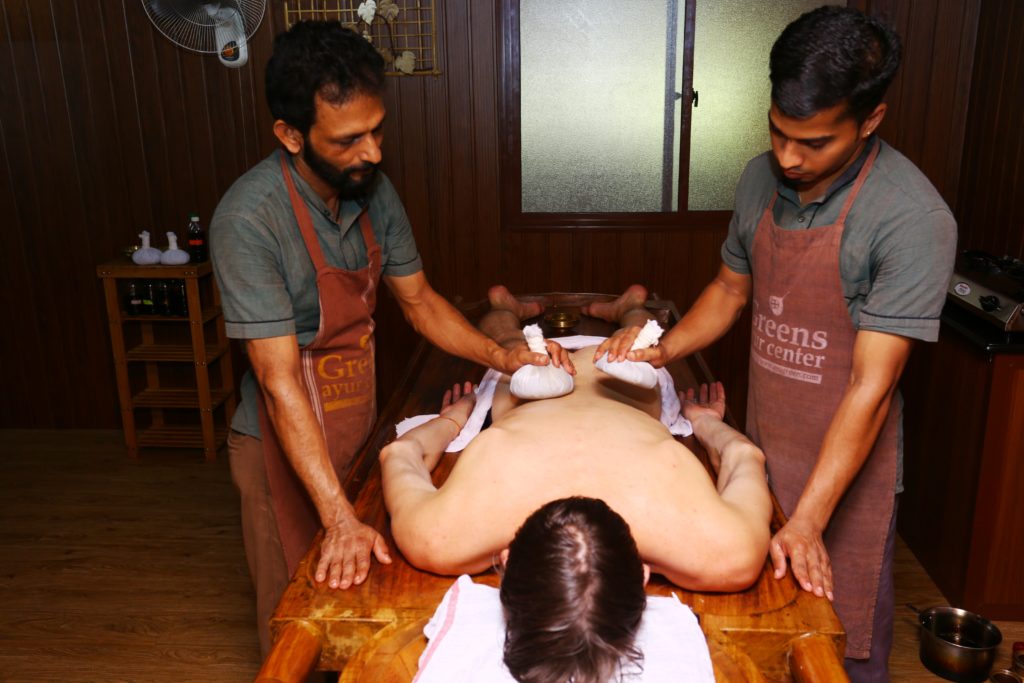 In this 80 Hour certified Ayurveda Yoga teacher training, you will learn how to integrate Ayurveda in your and your students' Yoga practice and daily routine and will be able to create Yoga classes according to the principles of Yoga with focus on the three- Prakriti (nature), ritu (season) and pahar (daytime).
Moreover you will be trained in giving private Yoga Ayurveda Sessions for your clients as well as Ayurveda-Yoga health coaching to improve or maintain your clients health.
In this course you will learn:
Ayurveda History and Philosophy
Ashtang Ayurveda
Anatomy in Ayurveda (Sharir Rachana)
Basic Principles of Ayurveda
Concept of Tridosha
Prakruti / Constitution
Tissues
Mala or Waste products
Ojas, Tejas, Prana
Digestion and Metabolism
Srotas
Ayurveda Lifestyle according to the Doshas, Prakriti and Vikriti, seasons, age and time of the day
The Interrelation between Yoga and Ayurveda
AyurYoga
Ayurveda Nutrition with Ayurveda cooking classes
Ayurveda Dincharya (daily routine)
small Ayurveda Herbology
Ayurveda Massage (Abhyangha) and other treatments
The course will be a mix of theoretical and practical sessions.
This course is for:
trained Yoga teachers who want to add the concepts of Ayurveda to their teachings
Health care professionals, who want to upgrade and deepen their knowledge in the field of Ayurveda
everyone interested in adding Ayurveda and Yoga into their lifestyle
For Yoga Alliance registered Yoga teachers who want to get certified Continuing Education Hours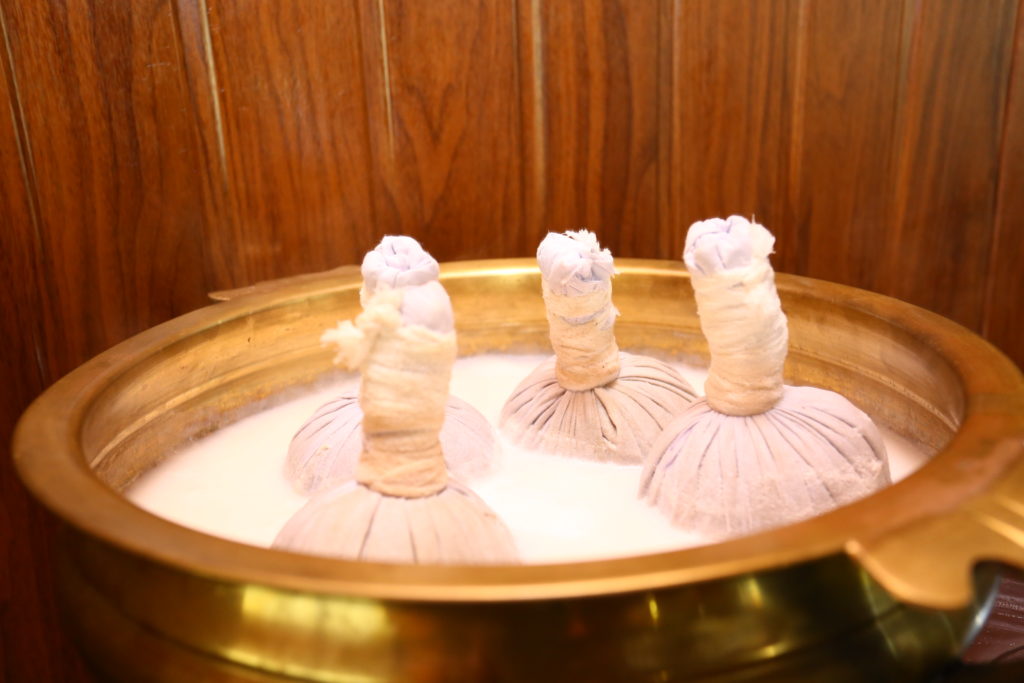 Training Center
Only one hour drive away from Shimla- the capital of the mountain state Himachal Pradesh, lies the beautiful small mountain village Tata Pani right at the banks of the Satlej Dam.
Tata Pani means Hot water and is famous for it's Natural Hot Sulphur Spring.
Since ancient times, the miraculous/therapeutic property of this water have been popular and tourists come all over come to take a dip in the Sulphur springs: this water naturally provides relief from joint pains, fatigue, stress and skin disease.
It's also a famous pilgrimage centre for Hindus; the devout consider the month of Magha (January-February) auspicious for a holy dip: folklore says that by doing so, one can cleanse oneself of one's sins.
At a beautiful spot next to this spring, at the banks of the mighty Satluj river and next to a Shiva temple, is located is located the Ayurveda Health Care Center.
The Ayurveda Health Care Center is a beautifully maintained resort with comfortable rooms with attached balconies, two big sun flooded terraces, a Yoga Hall, a full equipped Ayurveda Area with a full time Ayurveda Doctor and Ayurveda Therapists and a bathing area with one public Hot Sulfur Water Pool and two smaller private pools.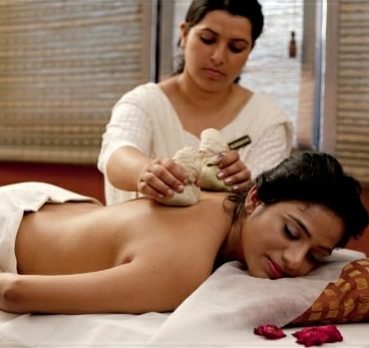 The trained kitchen team cooks fresh, vegetarian food three times a day, to suit your Ayurveda Constitution.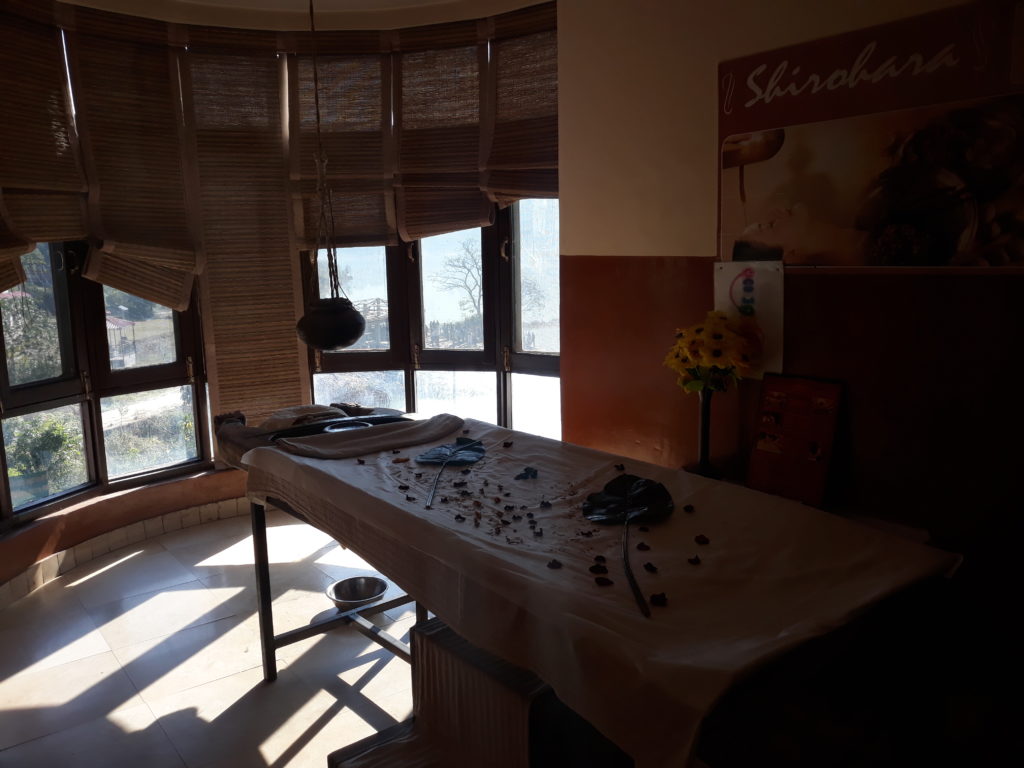 In addition to being a great learning opportunity, the Ayurveda Yoga Teacher Training course is also a retreat in the nourishing and rejuvenating Himalayas, giving one a break and ample time for connecting back to oneself.
Program
Day 1 Arrival in Delhi, transfer to hotel in Delhi
Day 2 Flight to Shimla (1 h) and transfer to Tata Pani by road (2 h)
In the morning we take the flight to Shimla. From there we travel by bus to Tata Pani enjoying the amazing drive through the beautiful Himalayas.
We then enjoy lunch on the beautiful terrace. After Check in and some rest, we take you for a small tour around the complex followed by a Yoga class.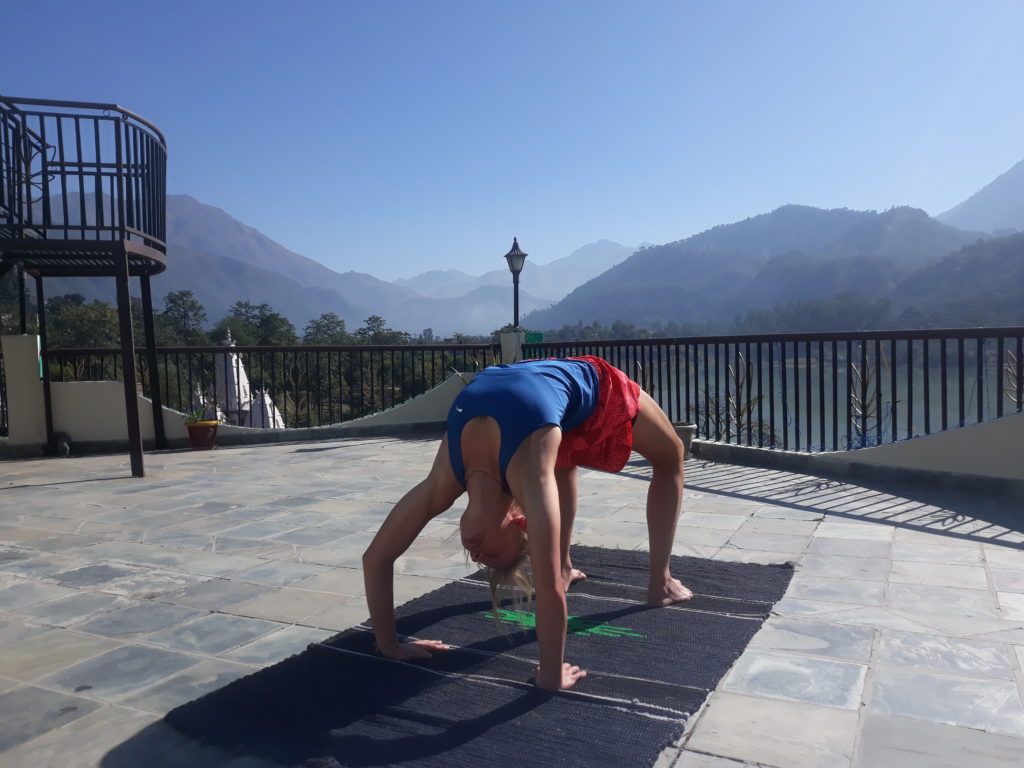 Day 3-15 Ayurveda Yoga Teacher Training Course
An intense program consisting of Yoga classes,Theory and practical Ayurveda sessions awaits you during these two weeks. Sunday will be off and is reserved for sightseeing around the town.
Daily schedule
6:45 Morning Tea
7:00 -7:30 Meditation
7:45-9:15 Yoga class
9:30 Breakfast
10:30-13:30 Ayurveda Session 1 (Theory and Practical) (15 min Breaks in between)
13:30 Lunch
14:00 -15:00 Self Study and Rest
15:00- 16:30 Ayurveda Session 2 (theory)
16:30 Tea Break
17:00- 18:30 Ayurveda/Yoga Session 3 (Practical)
19:00 Dinner
20:00 Evening Program (Kirtan, Satsang, Meditation, Lecture)
Sunday Off.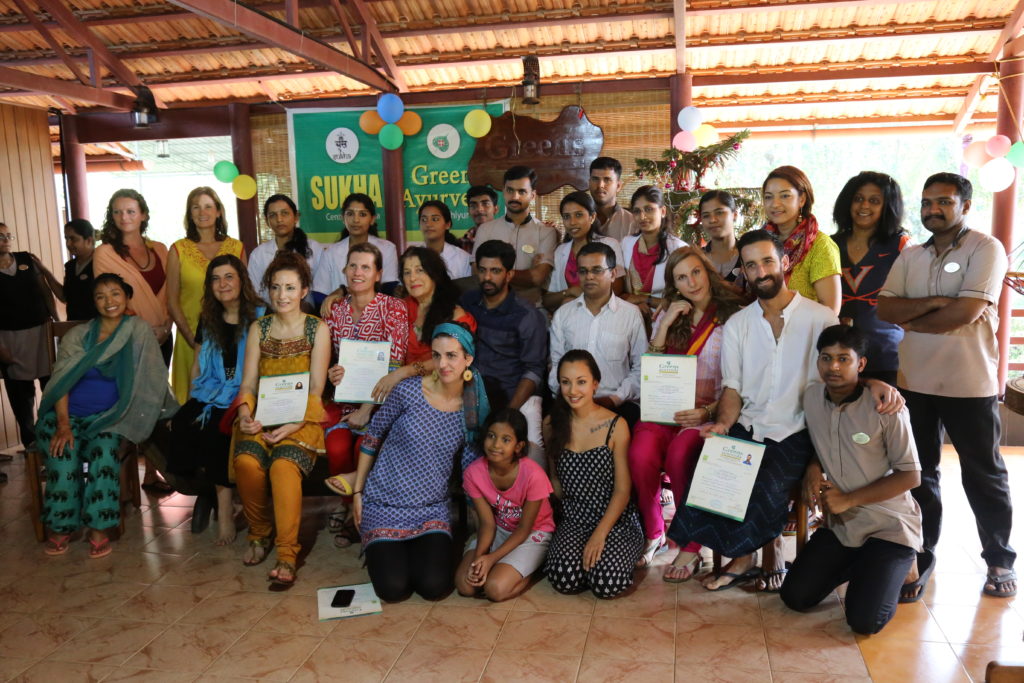 Day 16 Transfer to Shimla
Early morning we depart to Shimla to take the flight to Delhi.
Arrival in Delhi. Hotel for the day and departure back home.
Included services:
2 nights with breakfast in Hotel in Delhi
all transfers
Flight Delhi Shimla/Shimla Delhi (note: sometimes flight gets cancelled because of weather conditions. In such a case, transfer by Bus or train ( 10 hrs)
14 nights in Double room in Ayurveda Health Care Center Tata Pani
daily: 1 Yoga and meditation class, Hot spring Bath, Evening Program
2 weeks 80 Hour Yoga teacher Training course certified with Yoga Alliance with Course Material
certificate (continuing education hours with Yoga Alliance)
ayurvedic consultation with Dosha determination, imbalance analysis and treatment recommendations
filtered water
1 day excursion on Sunday
1 Abhyanga
airport transfers
Course Leader
Not included services:
international flight
Visa
extra Treatments, consultation
Fixed Group Departure:
15.04.2022 – 30.04.2022
Price 1950 € (4 -16 Participants) Single room supplement charges: 350 €
Lake View room: 100 € extra
YACEP (Yoga Alliance Continuing Education Provider), Course Facilitator and Yoga Teacher: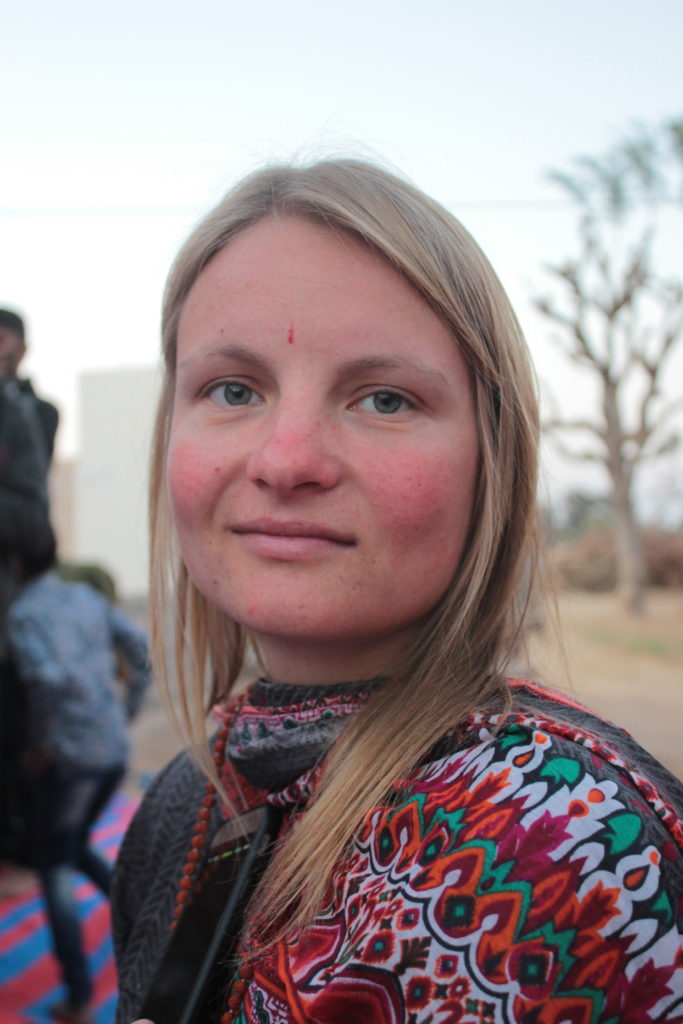 Sudha Mukti will not only be your Course facilitator during these two weeks, but also your Yoga Teacher.
She will teach one 1,5 h Yoga class daily in the morning , tailored to your needs and abilities. Additionally there will be 30 Minutes of Meditation in the morning and and evening activities such as Kirtan singing, meditation, Satsang or small lectures. She will also be co-teaching the Ayurveda-Yoga lectures and practical Sessions together with the Ayurveda Doctor and his team of therapists.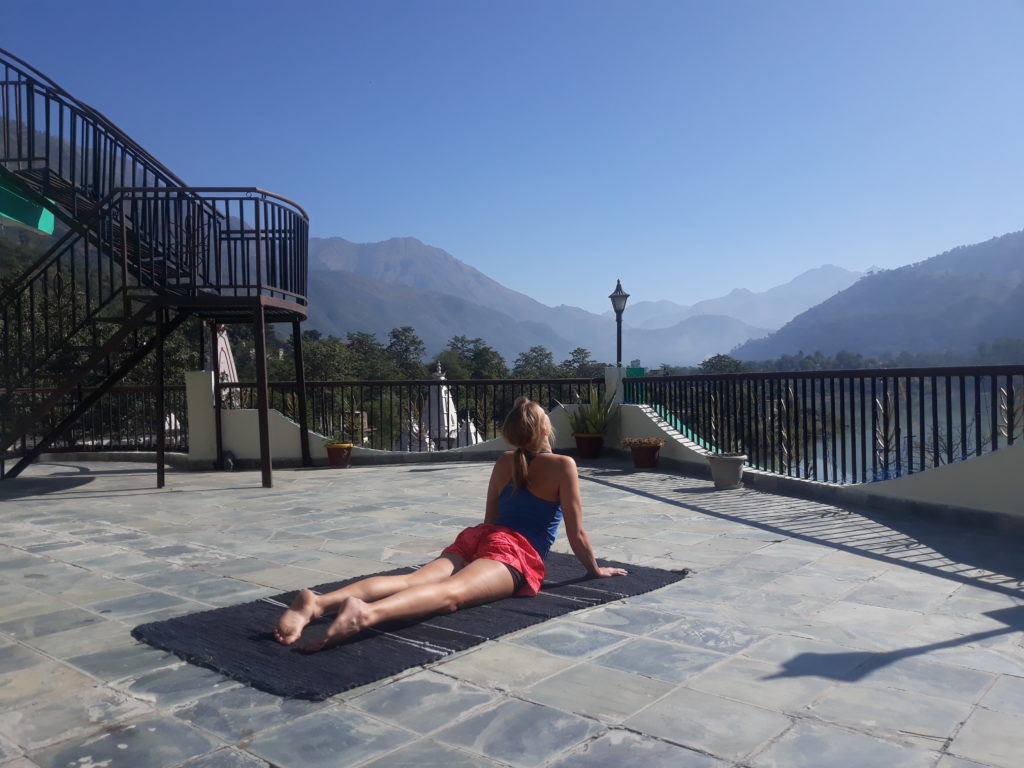 Sudha Mukti teaches holistic Yoga and includes all aspects of Yoga in her classes.
Hot Sulphur Spring water
WATER has always been the fundamental element for the maintenance and restoration of psychophysical equilibrium, it is able to revive the individual by enveloping, caressing, reassuring, invigorating, strengthening and pleasantly purifying the body.
The word "Therme" is derived from Latin word "TERME", means that the temperature of natural water is above 36 degree Celsius and water is enriched with healing minerals. Thermal water in HOT SPRING – HEALTH CARE is gushing out from the depth of 150 m below earth, at a temperature of 44 degree at 100 liters per minute. The pure, clear and healthy thermal water contains: Sulphate, Manganese, Sodium, Potassium, Phosphorus and other minerals.
Benefits of Sulphur Water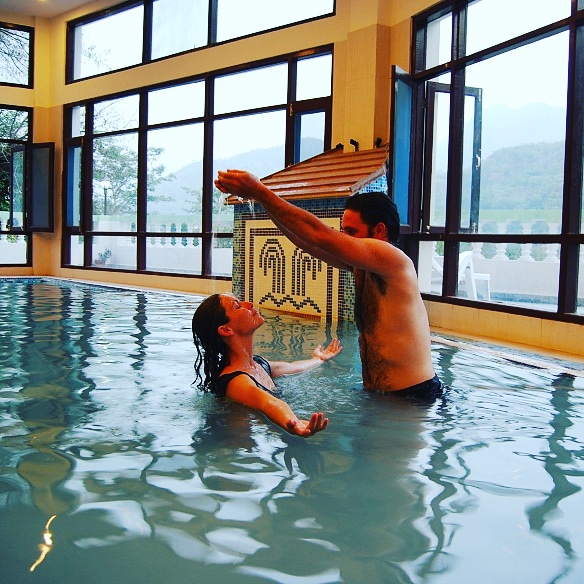 Scientific studies have recognized the therapeutic values of Hot Sulphur Water and consider it beneficial for skin problems, muscle pain, joint pain, blood circulation, respiratory problems. Sulphur water is highly beneficial for electromagnetic stress ( stress that we accumulate from the use of mobile, computer and Electronic objects etc.. ). A simple dip in the Hot Sulphur water gives you immediate relief and relaxation. Scientific studies recognize the therapeutic properties of "Hot Water" . The Sulphur Water is similar in constitution to the Thermal Water found in many places in Europe.

Our Thermal Center is equipped with a big, common THERMAL POOL, two PRIVATE POOLS, KNEIPP COURSE (a contrast therapy with hot and cold water ideal for: re-activating circulation in the lower limbs, improve drainage, better tissue oxygenation).
Our Thermal Center has a herbal tea lounge with a variety of organic herbal tea choices and solarium with a view of the Sutlej Lake.
Rooms
MOUNTAIN VIEW ROOMS
Exquisite rooms overlooking the mountain valley of Tattapani with private balconies. Wake up to the view of green hills of Himachal and expect a flawless time at this immaculate accommodation, shaped for an outstanding stay.
LAKE VIEW ROOMS
Lake-view rooms with private balcony overlooking the blue waters of Sutlej Lake. The room is another name for indulgence, comfort and utmost convenience.
Meals
The organic restaurant is centered at the lobby level from where it gives a breathtaking view of the lake. The modern style furniture enhances the ambiance. It is divine to catch a glimpse of sun rays reflecting from the lake during sunset, spreading all over the horizon.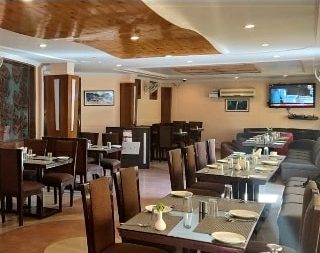 We delight you with the dishes prepared in accordance with various phases of your cure. Ayurvedic dishes are prepared according to personal requirements and doctor's suggestions. Our commitment is to serve 100% organic food. So far we are able to reach 60% of it and will soon reach a full 100% .
The menu incorporates both traditional favorites and new dishes that modify eastern dishes with western twist.
Favorites include traditional Indian dishes of Northern and Southern part of India and local Himachali delicacies.
Meals will be served Buffet style, but there will be also customized meals prepared to suit the specific Dosha and treatments of each individual.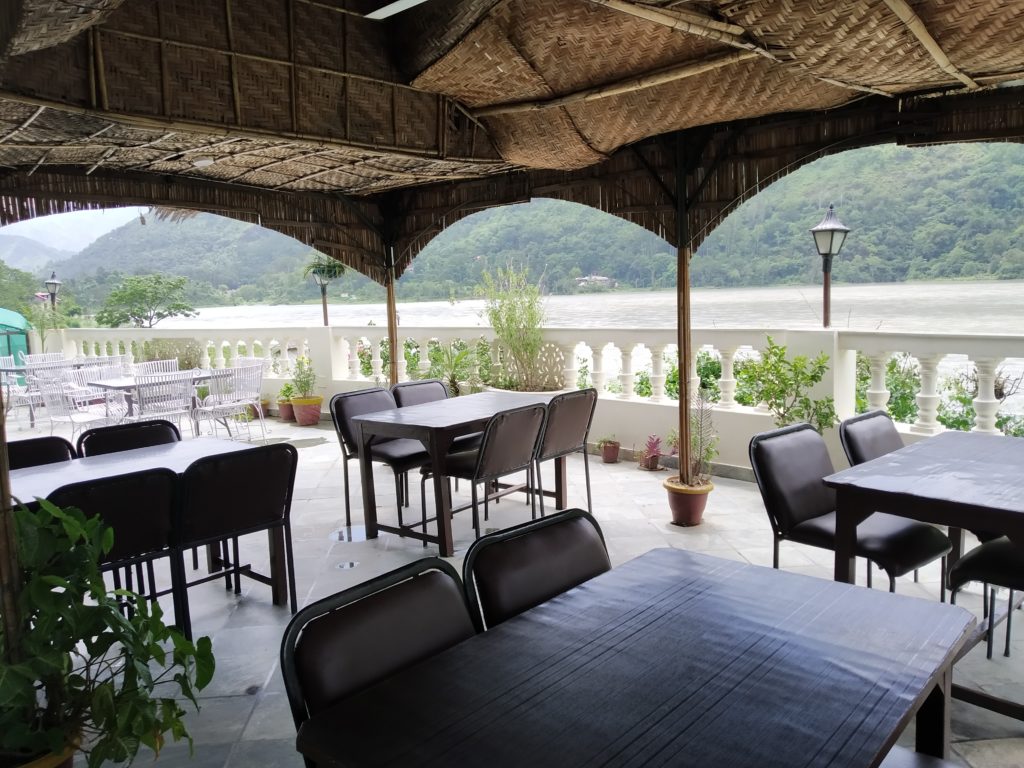 What to Bring:
Comfortable clothes for Yoga and relaxation, shorts and tops are ok within the Center. Some Knee and Shoulder covering clothes for outside
Be prepared for a wide range of temperatures with warm days and cool nights. There take also some warm layers
some old clothes (undergarments, pants and shirts) for treatments with oil and pastes
Hiking clothes with comfortable shoes for walking
scarf or schal
sandals or slippers
sunglasses, sun cream, head
own toiletries, but not too much, as many Ayurveda products are available here#
medical Kit (pharmacy and Hospital near by, Ayurveda Doctor in house)
small bag/backpack for excursion
passport (copy), credit or debit card, cash in your currency (ca 50 €)
camera, phone, charger (no Adapter needed)
notebook and writing material
swimming clothes