16 Days Ayurveda and Yoga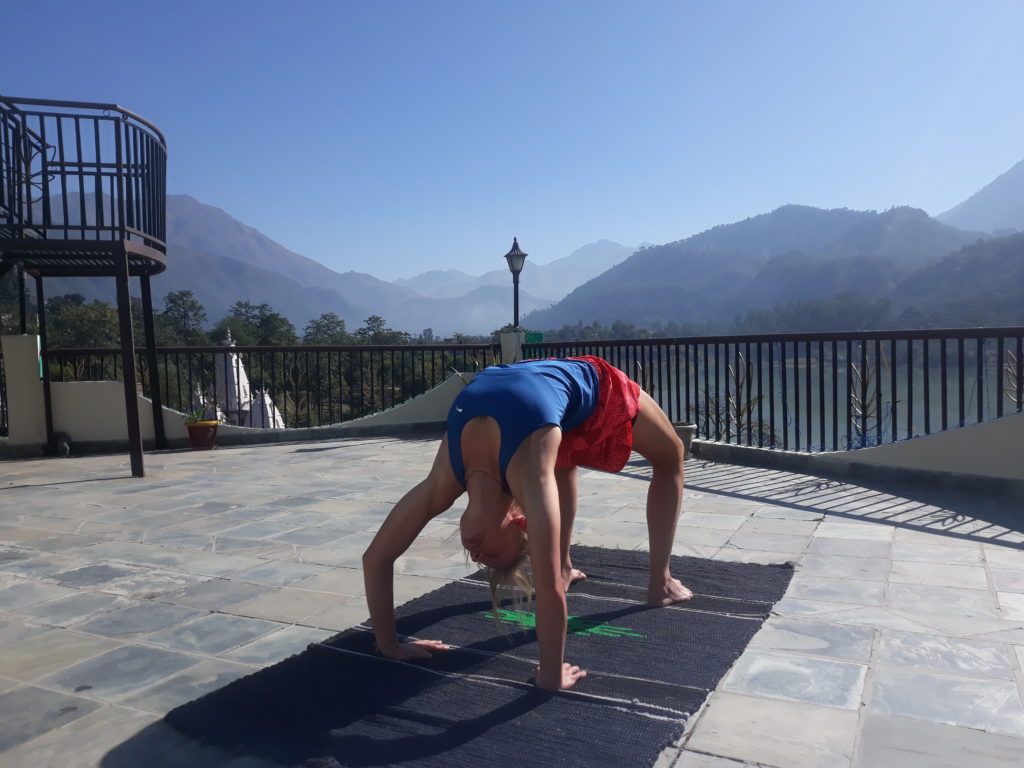 Only one hour drive away from Shimla- the capital of the mountain state Himachal Pradesh lies the beautiful small mountain village Tata Pani right at the banks of the Satlej Dam.
Tata Pani means Hot water and is famous for it's Natural Hot Sulphur Spring gushing out of the earth at a different temperature.
Since the ancient time people know the miraculous/therapeutic property of this water and come from all over to take a dip into the Sulphur springs: this water naturally provides relief from joint pains, fatigue, stress and skin disease.

It's also a famous pilgrimage centre for Hindus; the devout consider the month of Magha (January-February) auspicious for a holy dip: it's believed that by doing so, one can clean itself of one's sins.
At that beautiful spot, our Ayurveda Health Care Center is located. Right above the natural hot spring, at the banks of the mighty Satluj and next to a Shiva temple, that place burst from Energy.
The Ayurveda Health Care Center is a well maintained small resort with nice rooms with balconies, two big sun flooded terraces, a Yoga Hall, a full equipped Ayurveda Area and of course a bathing area with one public Hot Sulfur Water Pool and two smaller private pools.
The trained kitchen team cooks three times daily fresh, vegetarian food suiting your Ayurveda Constitution.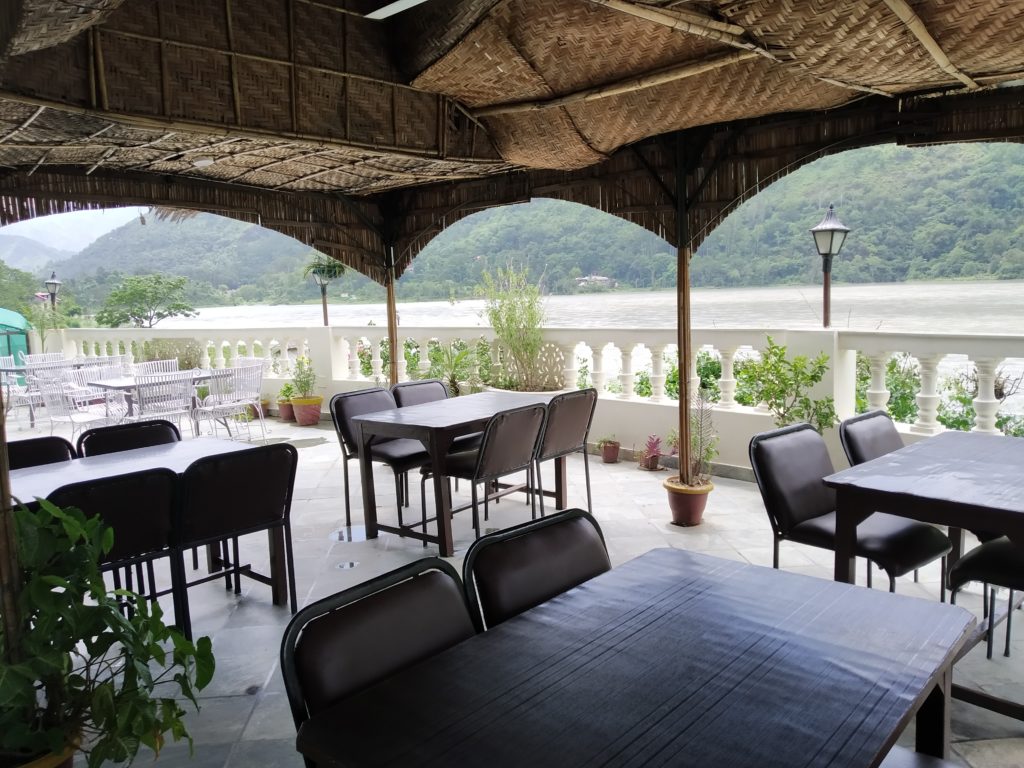 Here our two weeks Ayurveda Yoga Retreat takes place.
We also plan some small excursions and hikes on some days and at the weekend.
Program
Day 1 Arrival in Delhi, transfer to the hotel
Day 2 Flight to Shimla (1 h) and transfer to Tata Pani (2 h)
In the morning we are taking the flight to Shimla. From here we get transferred to Tata Pani. Enjoy the interesting drive through the beautiful mountain scenery of the Himalayas. At lunch time we will reach our Resort.
We will enjoy our meal on the beautiful terrace. After Check in and some rest, we will take you for a small tour around the Center followed by an afternoon Yoga class.
Day 3 We start the day with Yoga and Meditation. After the breakfast we have small lecture on Ayurveda to give you an insight the ancient science of Life. We will also make a test to get to know your Dosha type.
During the rest of the day everyone of you will have an individual appointment with the Doctor, to set
On the first day all of you will have an individual consultation with the doctor who will set up your individual treatment schedule for the next 2 weeks.
Also all of you will enjoy a one hour relaxing Abhyanga ( Full body massage). For Lunch and the Afternoon Yoga class we will all meet again.
Day 4-15 Ayurveda Yoga Retreat
In the next 12 days you will quickly adopt to the new schedule and to the dive deep in the healing routine of Yoga, Meditation, Ayurveda treatments and natural Hot Spring bathes.
Daily schedule
6:45 Morning Tea
7:00 -7:30 Meditation
7:45-9:15 Yoga class
9:30 Breakfast
10:00-13:30 Ayurveda Treatments, Hot Spring Bath, relaxation
13:30 Lunch
14:00 -17:00 Rest, Ayurveda Treatments, Hot Spring
17:00- 18:30 Yoga Class
19:00 Dinner
20:00 Evening Program (Kirtan, Satsang, Meditation, Lecture)
On some days and on the weekend we are offering some small excursions and hikes to villages, Shimla and into the nature.
Day 16 Transfer to Shimla
Early morning we depart to Shimla to take the flight to Delhi.
Arrival in Delhi. Hotel for the day and departure back home.
Included services:
2 nights with breakfast in Hotel in Delhi
all transfers
Flight Delhi Shimla/Shimla Delhi (note: sometimes flight gets cancelled. In that time we will go by Mini Bus or train
14 nights in Double room in Ayurveda Health Care Center Tata Pani with full board
daily: 2 Yoga classes, 2 Ayurveda Treatments (2,5 hours total) with medicine, Meditation, Hot spring, Kneip Bath, Evening Program
One Doctor Consultation
small excursions and hikes
tea and water
Yoga teacher and Tour escort
Not included services:
international flight
Visa
extra Treatments, consultation
Fixed Group Departure:
15.04.2022 – 30.04.2022
Price 1950 € (4 -16 Participants) Single room supplement charges: 350 €
Lake View room: 100 € extra
This Retreat can be combined with the Retreat in the Ashram in Rajasthan or the Retreat in the Ashram in Rishikesh.
For example do a one week Ayurveda Yoga Retreat in Tata Pani and enjoy then one week in the Ashram in Rishikesh.
For more information on this Retreat or variations please contact us.
Yoga classes and teacher
Sudha Mukti will be not only your Tour leader during these two weeks, but also your Yoga Teacher.
She will teach daily two 1,5 h classes in the morning and afternoon, tailored to your need and abilities. Additionally there will be daily 30 Minutes of Meditation in the morning and and changing evening activities such as Kirtan singing, meditation Satsang or small lectures.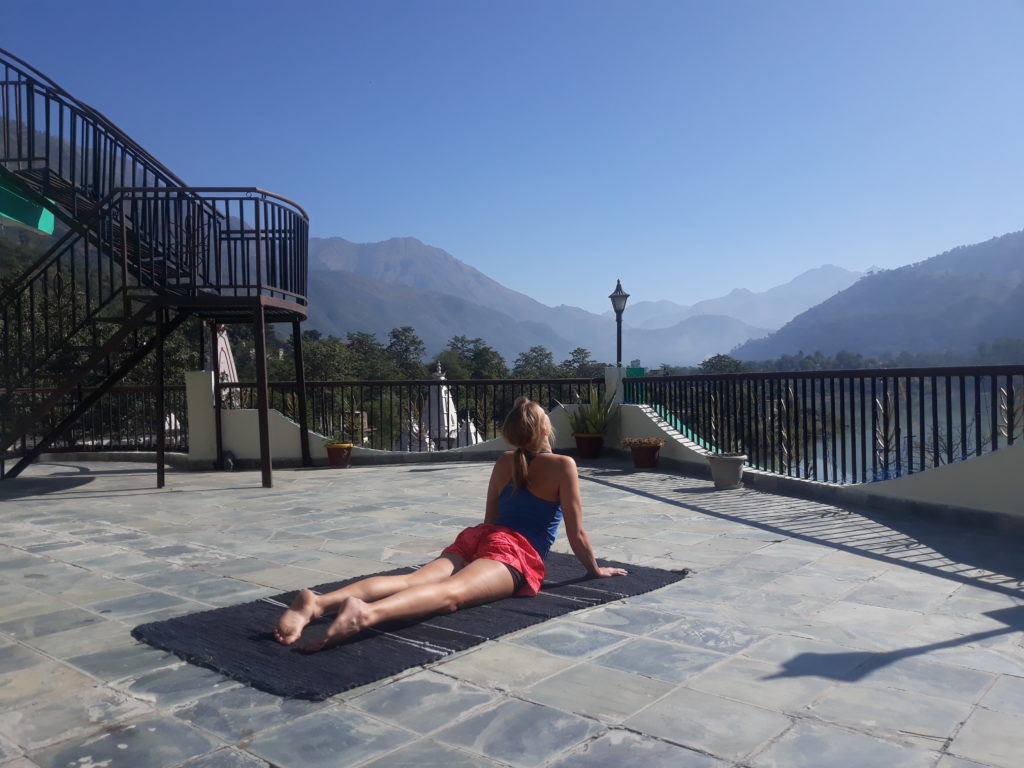 Sudha Mukti teaches holistic Yoga and includes all aspects of Yoga in her classes.
Hot Sulphur Spring water
WATER has always been the fundamental element for the maintenance and restoration of psychophysical equilibrium, it is able to revive the individual by enveloping, caressing, reassuring, invigorating, strengthening and pleasantly purifying the body.
The word "Therme" is derived from Latin word "TERME", means that the temperature of natural water is above 36 degree Celsius and water is enriched with healing minerals. Thermal water in HOT SPRING – HEALTH CARE is gushing out from the depth of 150 m below the earth, at the Temperature of 44 degree with the quantity of 100 liters per minute. Our pure, clear and healthy thermal water contains: Sulphate, Manganese, Sodium, Potassium, Phosphorus and other minerals.
Benefits of Sulphur Water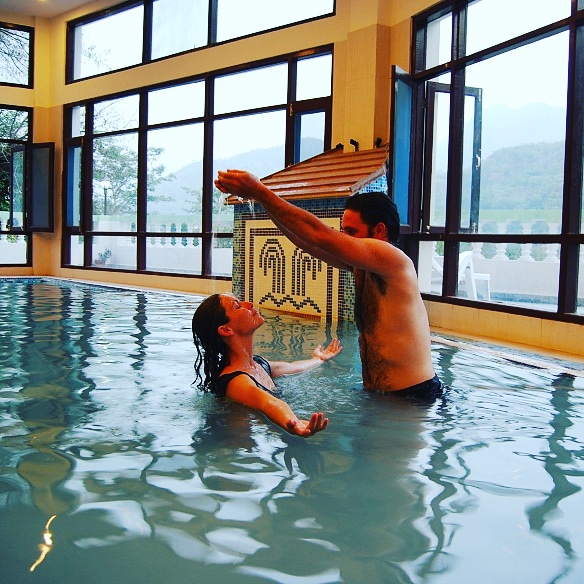 The scientific study recognized the therapeutic values of Hot Sulphur Water and consider beneficial for skin problems, muscle pain, joint pain, blood circulation, respiratory problems. The Sulphur water is highly beneficial for electromagnetic stress (electromagnetic stress, that we accumulate from the mobile, computer and Electronic objects etc.. ). A simple dip in the Hot Sulphur water gives you immediate effect of relief and relax. Latest scientific studies recognized the Therapeutic values of "Hot Water" and classified it as Sodium Chloride and Sulpheric Water. Our sulpheric water is similar to several European Thermal Water.

Our Thermal Center is equipped with a big, common THERMAL POOL, two PRIVATE POOLS, KNEIPP COURSE (is a contrast therapy with hot and cold water ideal for: re-activating circulation in the lower limbs, improve drainage, better tissue oxygenation).
Our Thermal Center has herbal tea lounge with a variety of organic herbal tea choices and solarium facing the Sutlej Lake view.
Rooms
MOUNTAIN VIEW ROOMS
Exquisite rooms overlooking the mountainous valley of Tattapani with private balconies. Wake up to the view of green hills of Himachal. Expect a flawless time at this immaculate accommodation, shaped for an outstanding stay.
LAKE VIEW ROOMS
Lake-view rooms with private balcony overlooking the blue waters of Sutlej Lake. The room is another name for indulgence, comfort and utmost convenience.
Meals
The organic restaurant is centred at the lobby level from where it gives the breathtaking view of the lake. The modern style furniture has enhanced the ambience. A wide space terrace is attached to the restaurant which gives romantic view of the lake. It is divine to catch a glimpse of sun rays reflecting from the lake during sunset, spreading all over the horizon.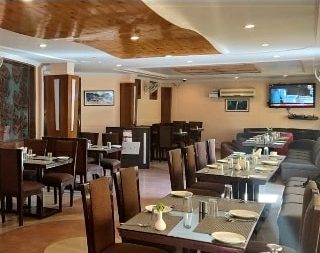 We delight you with the dishes prepared in accordance with various phases of your cure. Ayurvedic dishes are prepared according to the requirements and doctor's suggestions. Our commitment is to serve 100% organic food. So far we are able to reach 60% of it and will 100% in near future.
The menu incorporates both traditional favorites and new dishes that apply eastern dishes with western twist.
Favorites includes traditional Indian dishes of Northern and Southern part of India and local Himachali delicacies.
Meals will be served Buffet style, but there will be also customized meals prepared to suit the specific Dosha and treatments of each individual.
What to Bring:
Comfortable clothes for Yoga and relaxation, shorts and tops are ok within the Center. Some Knee and Shoulder covering clothes for outside
Be prepared for a wide range of temperatures with warm days and cool nights. There take also some warm layers
some old clothes (undergarments, pants and shirts) for treatments with oil and pastes
Hiking clothes with comfortable shoes for walking
scarf or schal
sandals or slippers
sunglasses, sun cream, head
own toiletries, but not too much, as many Ayurveda products are available here
medical Kit (pharmacy and Hospital near by, Ayurveda Doctor in house)
small bag/backpack for excursion
passport (copy), credit or debit card, cash in your currency (ca 50 €)
camera, phone, charger (no Adapter needed)
notebook and writing material
swimming clothes
Ayurveda Treatments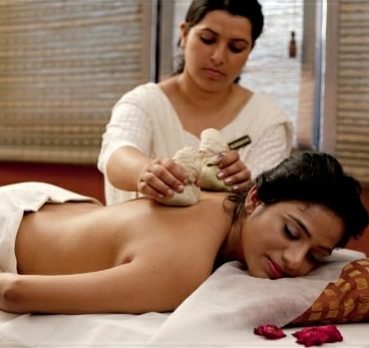 Ayurveda is the science, which uses the inherent principles of nature, to eliminate the diseases and protect the health of a person by keeping the individual's body, mind and spirit in perfect equilibrium with nature.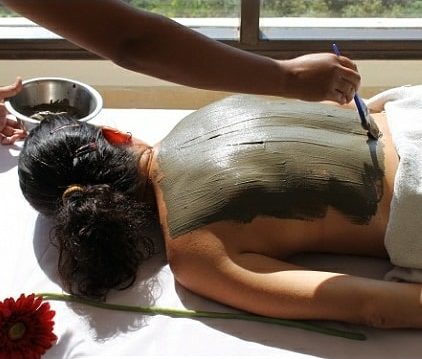 The aim of this system is to prevent illness, heal the sick and preserve life. This can be summed up as follows:
To ELIMINATE diseases and dysfunctions of the body ("Aturasya vikara prashamanamcha")
To PROTECT health and prolong life ("Swasthyas swasthya rakshanam")
Ayurvedic manuscripts teach us about the life extension therapies that would transform and rejuvenate every cell in the body to youthful and vital. In this state of relaxation, it is possible to cleanse toxins from tissues as well as to release deeply held emotional tensions while balancing the "Doshas".
Each patient's treatment plan is chosen after a full clinical evaluation of his or her physical constitution, health concerns and goals. Our Vaidyas (Ayurvedic Doctors) will then develop a program that suits the unique needs of the individual.
PANCHA KARMA
Panchakarma (literally meaning "five actions") is the word for the five different procedures used in Ayurveda which are believed to purify the body. It is a purifying therapy to enhance the metabolic process through food and herbal medicines. It is used in deep rooted chronic disease as well as seasonal imbalance of tri-Doshas. As the wastes are eliminated from the body the person becomes healthy. In order to stay healthy and fit one should carry out Panchakarma methods as a way of cleansing and preserving the body.
We understand that Panchakarma is a complex system and the best results are achieved by the body through Panchakarma (Pre Procedures, Karma and Post Procedures). As a result, this perfect process can take more time but is more effective. At Greens, the guidance of experienced doctors and the healing touch of skilled Panchakarma Therapists work together to cure and prevent disease as well as rejuvenate the body. We practice the so called holistic approach with a scientific outlook from this time-tested system of medicine.
SUKHNIDRA
Ayurveda, the knowledge of life, is not only related with the body but with the mind and soul also. This particular program is very much helpful for condition like insomnia and anxiety; it improves immunity and self confidence. This treatments program includes: body massage, shirovasti, ksheera dhara, taila dhara, thalam, thalapothichil, internal ayurvedic medicine, yoga and meditation.
PSORIASA TREATMENT PROGRAM
Ayurveda & Naturopathy has very effective treatments for all types of psoriasis and other skin diseases, as most of them are psychosomatic.
This special treatment program includes: abhyangam, special lepanam, pizhichil, medicated steam bath, shirovasthi, mud therapy, exclusively prepared internal herbal medicines, yoga & meditation.
SPINE & NECK CARE
The main sites for arthritic manifestation in the vertebral column are the lumbar and cervical regions. This treatment program is to keep the spine and the neck healthy and to cure the problems associated with it. The program includes: special massage, kativasthi, sneavasthi, kashayavasthi, pizhichil, njavarakizhi, special exercises, ect.. Also very effective for cervical spondylosis, osteoporosis, low back ache, sciatica.
REJUVENTATION THERAPY
The various cells and tissues of the body undergo changes as age advances; so it's necessary to rejuvenate the body system for a better harmony of the body, mind and soul. Aimed at achieving this goal, the Rejuvenation Therapy includes: syncronising body massage with medicated oil or cream, shirodhara, medicated steam bath, herbal face mask, etc along with internal rejuvenative medicines. The therapy should continue for 7 to 14 days.
BODY IMMUNIZATION
This is the prime treatment in Ayurveda for reducing ageing processes, arresting the degeneration of the body cells and increasing the defense mechanism. To give "rasayana" (a special ayurvedic medicine) internally is the main part of this program along with the Panchkarma and Swedakarma treatments. The package includes: body massage, snehapana, virechanam, nasyam, sneavasthi, dhara, pizhchil, njavarakizhi, tarpanam, shirovasthi, karnapooranam, medicated steam bath. This program is more effective if taken before the age of 60.
NEURO THERAPY/ CUPPING THERAPY
Neuro therapy is an alternative form of medicine. The basic idea behind therapy is to place glass cups or silicone cups on the patient's skin to create a vacuum, so the blood is drawn to the surface of the skin in specific parts of the body that need healing. Neuro therapy promotes blood flow and increases blood circulation to muscles and tissue, supplies oxygen to cells, loosens knots, and can release and drain excess fluids and toxins.
There are three different traditional cupping methods: dry, wet, and massage.
NATURAL BEAUTY CARE PROGRAM
For the beauty conscious people, this special treatments program includes: herbal face pack, herbal cream massage, herbal oil massage, intake of herbal tea and steam bath. This program increases the skin complexion, the skin tone, beautifies the body figure and also helps you to feel young.
MANOSHANTI
Is a combination of Yoga, Meditation and Ayurvedic therapies in a holistic method. This program is very effective for stress management as well as for turning your body and mind helping you to attain the temperances of mind. The therapy is for 3 to 4 hours per day for 7 to 14 days; includes: yoga, meditation, rejuvenation massage, rejuvenation therapy, dhara, njavarakizhi, talam, herbal steam bath, mud pack and intake of herbal medicines.
SLIMMING PROGRAM
A boon for obese people, we have a special slimming program with two types of massages: 1) medicated herbal power massage, 2) medicated herbal oil massage, given for 28 days. This program also includes: medicated steam bath, intake of herbal juices and herbal tea and most important a very special Ayurvedic diet during all the treatment period.