33 Days/ 28 Days Teacher Training with 4 Days Mini-India Trip
During this complete 200 Hour certified Yoga teacher training you will dive deep into the holistic and wholesome practice of Traditional Hatha Yoga in the environment of an ancient Ashram in the middle of Rajasthan. At this energetic and spiritual Ashram you will not only learn the techniques and philosophies of Yoga, but experience a real Yogi lifestyle in the nourishing atmosphere of an Ashram.
We offer This 200 h Yoga teacher training twice a year: 09.10.2021-10.11.2021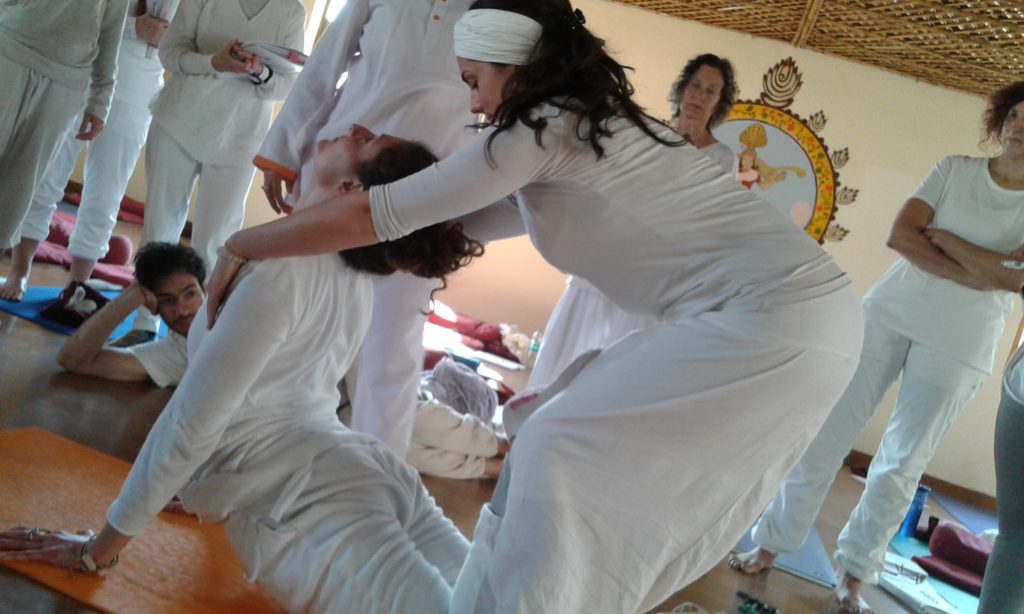 This 200 hour Yoga teacher training is ideal for you, if you want to learn Yoga from its roots and have the wish to bring all aspects of Yoga into your classroom with a touch of Indian tradition and philosophy.
In this one month intense Yoga teacher training our experienced teachers will share their rich knowledge of Asana practice, Pranayama, relaxation techniques and Meditation, as well as Yogic Philosophy, Lifestyle and the powerful Yogic practices of Mantras and Mudras. We follow the strict guidelines of Yoga Alliance and will cover all topics of the teaching program in depth.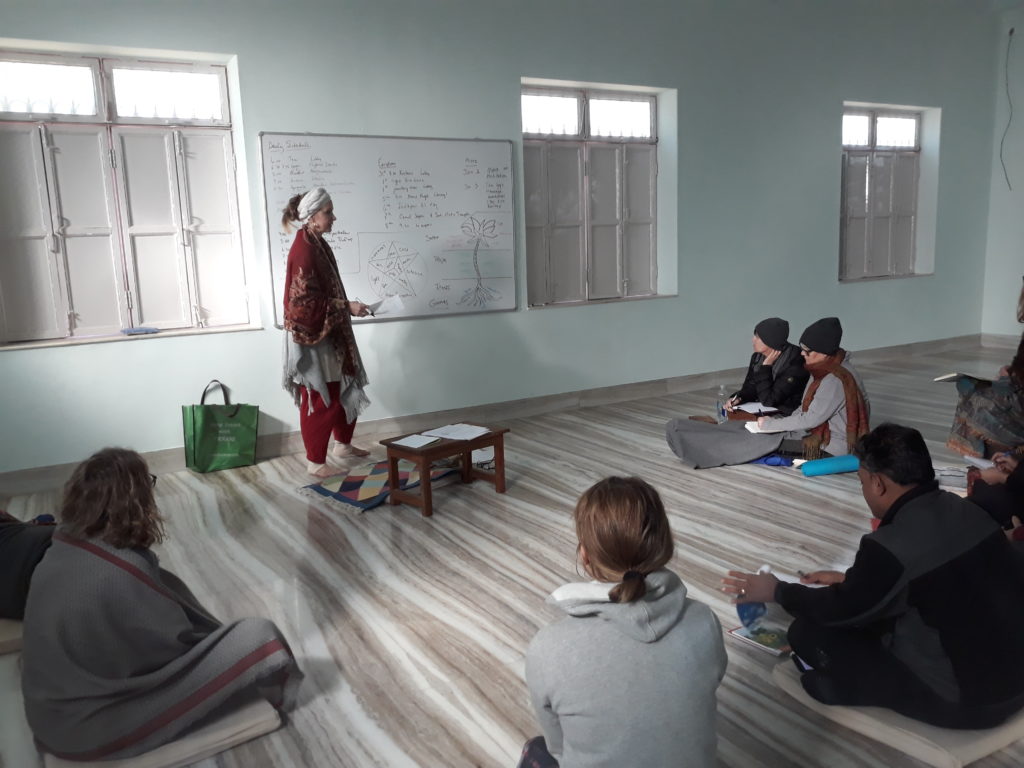 At the end of the course you will be a self-confident and content Yogi, with all abilities to share the ancient knowledge of Yoga with others.
This course is not only for future Yoga teachers, but also for everyone who wants to gain a deep understanding of Yoga in the motherland of Yoga itself: India.
Our classroom will be an ancient Ashram in the desert of Rajasthan. Here a small community of Yogis live with their Guru and we will have the chance to share their mindful and healthy routine with them.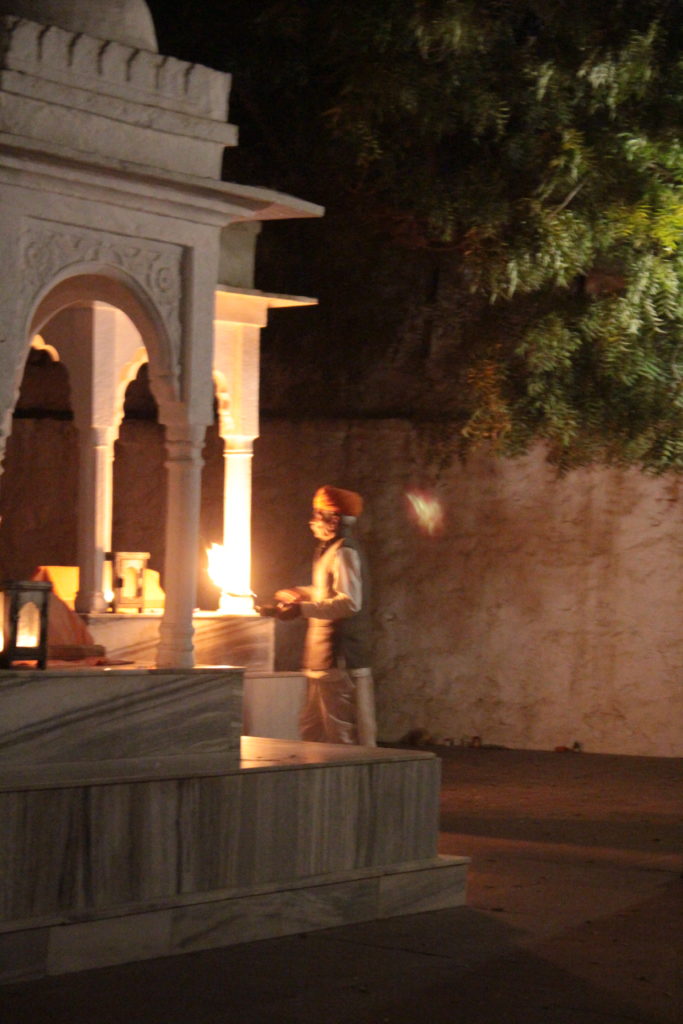 These humble people will be your real teachers and soon you will understand what it means to live Yoga to the fullest and that it can be so much more than just an Asana practice on the mat.
The Course
In this four week intense 200 Hour Yoga teacher training we will cover all themes to make you a complete Yoga teacher. The course is designed in a way that you will have your own Yoga Practice in form of daily Yoga classes, Karma Yoga and participating in the Ashram routine.
You will be a student, with a quite intense daily schedule. Please be ready to put in effort and discipline (tapas), with self-practice (svādhyāya) and faith (īśvarapraṇidhāna) . As Patanajali says in his first Sutra: The discipline of Yoga is now: "Atha yoga anushasanam".
The course is focused on traditional holistic Hatha Yoga, but you will also get introduced into Kundalini, Asthanga, Yin and Vinyasa Yoga, to have a broad base as a future Yoga teacher.
The students are not allowed to miss any classes without valid reasons. Missed classes must be made up in form of self-study or extra classes with the teachers.
Curriculum
Yoga Practice/Technique
Meditation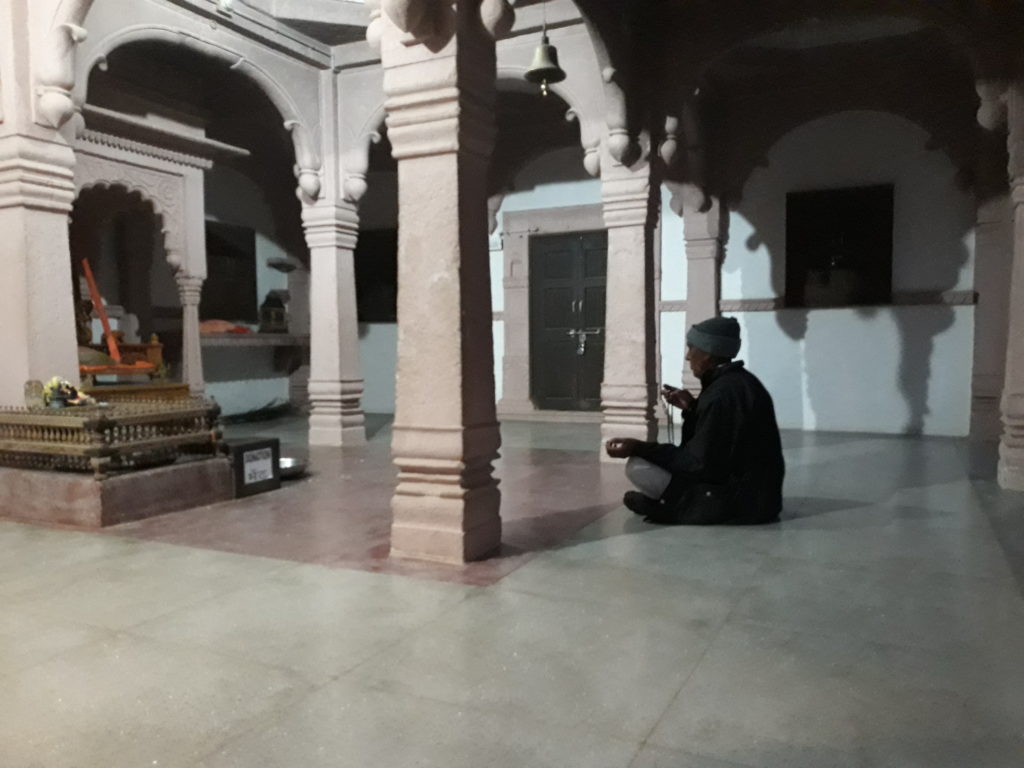 Pranayama
Mantra
Asana
Mudras
Bandhas
Shatkarma (6 Cleansing techniques)
Teaching methodology
Demonstration/Assistance/Correction/Modification/Alignment
Qualities of a good yoga teacher
Development and teaching of a yoga class, cueing
Yoga as a business
Modern Yoga
Student practicum
Anatomy & Physiology
Yoga and the human body in relation
Yogic Anatomy
Yoga Lifestyle & Principles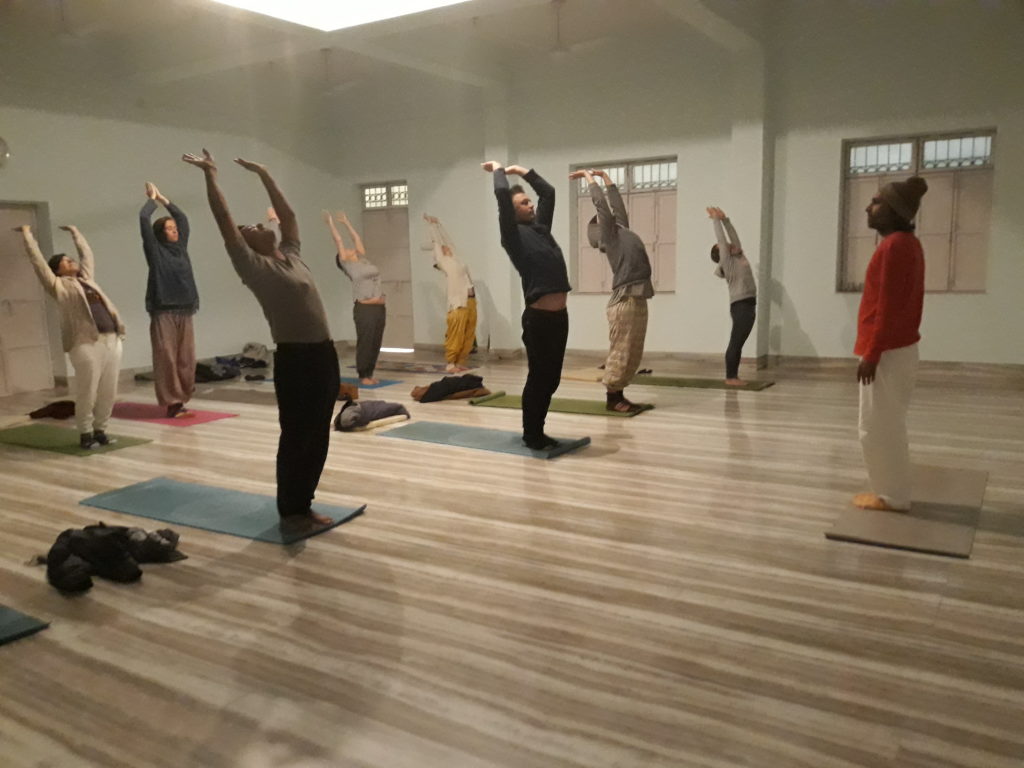 Introduction to Ayurveda
Yogic diet
History and traditions of yoga
Yoga Directions
Yoga Philosophy
Introduction to the 6 Indian Philosophies
Introduction to Patanjali's Yoga Sutras
Introduction to Hatha Yoga Pradipika
Introduction to the Yoga and the Baghavad Gita
Program
Day 1 Arrival in Delhi, check into Hotel, introductions, dinner
Day 2 Flight to Jodhpur and transfer to the Ashram. Arrival at the Ashram in the afternoon. Check into the rooms, followed by a short Ashram tour, Fire ceremony in the temple and dinner. After dinner, Satsang (meeting) with the Guru and short briefing. We start with the teacher training the next morning.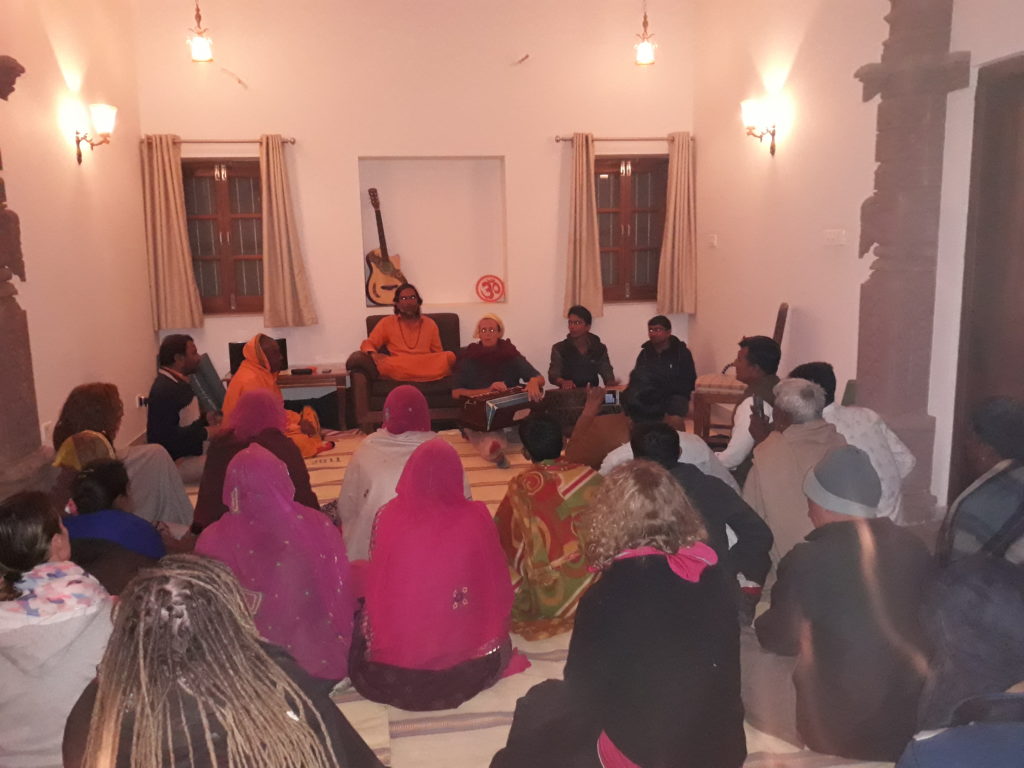 Day 3- 29 Yoga Teacher Training
The daily schedule will be as detailed below. Every Sunday will be holiday with only one Karma Yoga sessions. On Sundays and on some evenings small outings to surrounding sand dunes, villages, ancient towns and temples and a special evening Surprise are planned.
Daily schedule:
| | |
| --- | --- |
| | Monday-Saturday |
| 6:00-6:30 | Meditation /Cleansing Practise |
| 6:40-7:20 | Pranayama |
| 7:30-9:00 | Yoga class |
| 9:00-10:00 | Breakfast |
| 10:00-11:30 | Philosophy/History class |
| 11:45-13:15 | Alignment/Art of teaching/Methodology |
| 13:15-14:00 | Lunch |
| 14:00-15:00 | Break |
| 15:00-16:30 | Anatomy/Physiology/Yoga Lifestyle/Ayurveda |
| 16:45-18:15 | Professionell essentials |
| 18:30-18:50 | Mantra, Mudra |
| 19:00 | Dinner |
| 20:30-21:30 | Special classes (occasionally) |
Sunday off (30 minutes Karma Yoga)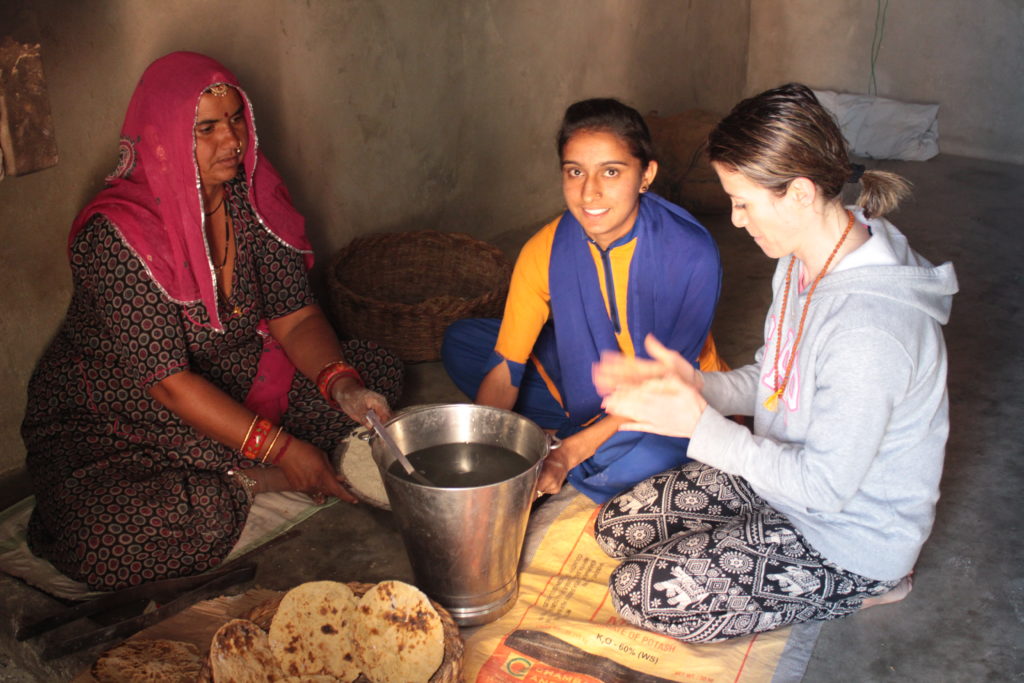 Day 30-33 Course culmination Trip Pushkar-Jodhpur-Agra
We will only have a small graduation ceremony in the Ashram. Your real graduation will take place at one of India's holiest places: Pushkar. With a traditional ceremony at the holy Pushkar Lake, the most prominent Lord Brahma temple in India, you will be proclaimed a Yoga teacher and will receive your certificate.
During the next four days we will do a small trip across north India visiting
1)Pushkar;
2) Jodhpur, the blue city with its magical Fort, also having an amazing cooking class with an Indian family;
3) and the city of Agra with a visit to the Taj Mahal.
We know that you have truly earned this small fun trip. These three places give one the right mix of Indian culture, diversity, vibrancy of its religion, food and hospitality. The tour is a graduation gift from our side and the Yoga practice will continue during these days with Yoga classes, meditation practice and ceremonies.
Day 30 (10.03.2021) Excursion to the holy city of Pushkar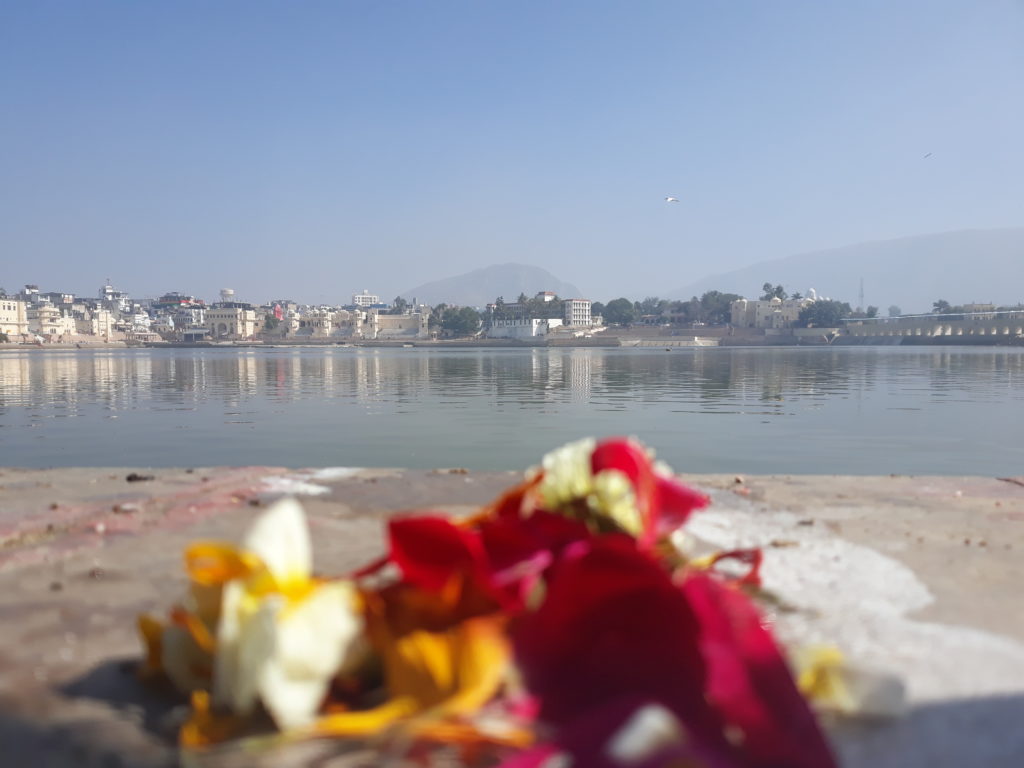 After the last yoga session and breakfast at the ashram we set off for the three-hour drive to Pushkar. This quaint and tranquil place on the holy Pushkar Lake houses over 400 temples and it is said that a Hindu must make a pilgrimage to Pushkar at least once in his life to visit the holy Brahma temple and take a cleansing bath in the lake. We will also visit the temple and attend a ceremony at Pushkar Lake.
Day 31 (11.03.2021) Pushkar and drive to Jodhpur
We spend the rest of the day exploring the town of Pushkar. Then we drive to Jodhpur ( drive duration 4 hours)
Day 32 (12.03.2021) Jodhpur
Jodhpur, the blue city, has wonderful views at any time of the day. Wes pend the day with the must dos- fort visit, city walk and cooking class with an Indian family. Of course, a yoga class takes place in the morning on the roof terrace with a splendid city view. In the evening we take the night train to Agra.
Day 33 (13.03.2021) Agra and Departure
In the morning we reach Agra. Here we have day rooms near the Taj Mahal. After refreshments and a small breakfast we visit the Taj Mahal. In the afternoon we take a train to Delhi, reach Delhi at night and then a transfer to the International airport from the railway station. (Reach airport by midnight)
The program includes:
one night in Delhi with welcome Dinner and morning breakfast before course start
transfer from Delhi to Ashram including domestic flight to Jodhpur
stay in twin sharing room with bathroom during the training
Three organic, sattvic vegetarian meals with vegetables from the ashram garden, tea and water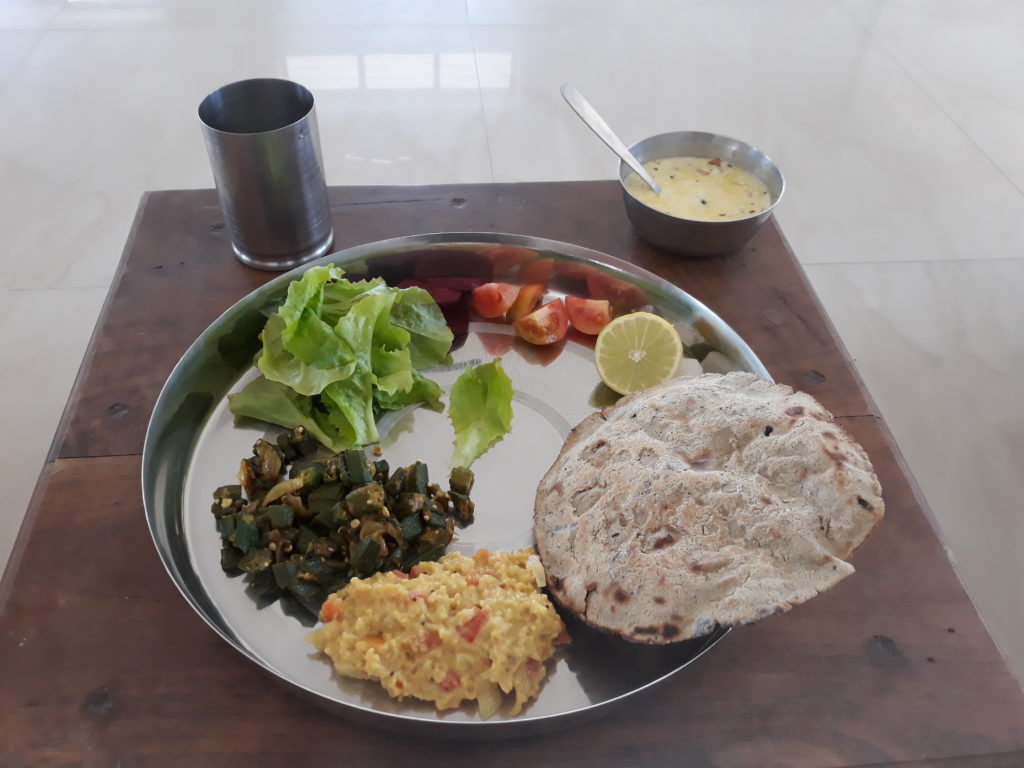 Yoga teacher Training Manual
Yoga Mat
200 Hours Yoga Teacher Training Certificate Certified by the Yoga Alliance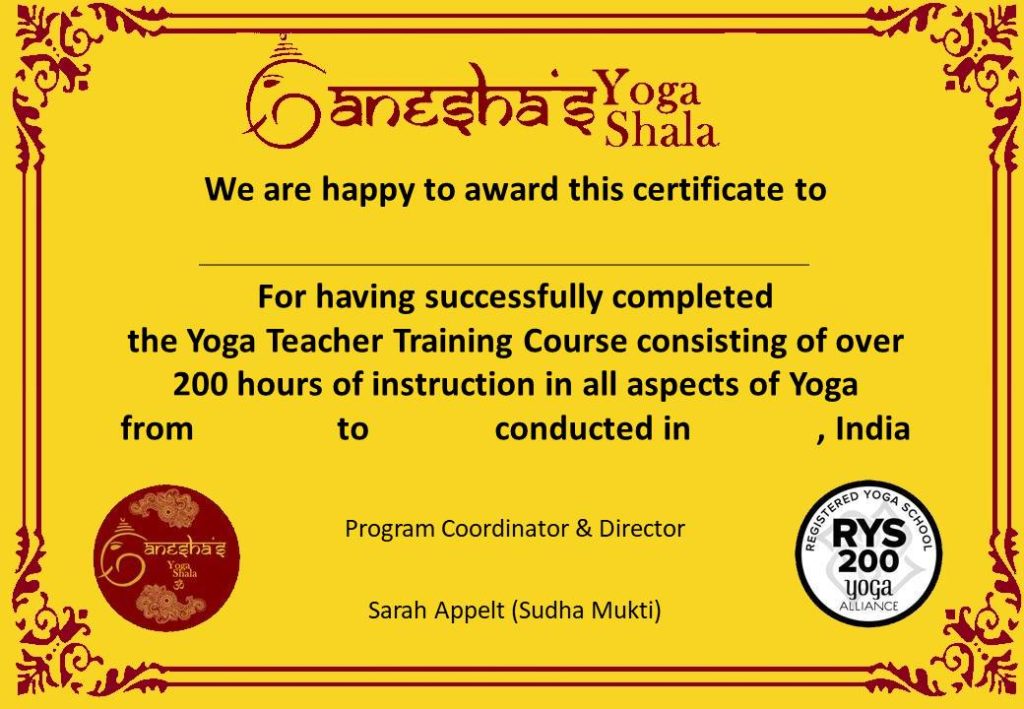 one ayurvedic massage during the stay
Daily Havan & Puja in the temple
spiritual consultations and meetings with Ashram guru ji Surajnath
small excursions during the course and one Special Evening Surprise
4 days trip Pushkar-Jodhpur-Agra-Delhi (double room, breakfast, all transportation and mentioned activities, entry fees)
15% discount on all future retreats and courses with Yoga Maya
Not included:
International flight
Visa
Not mentioned meals before and after the Course in the Ashram
Yoga teacher Training dates:
09.02.2021 -13.03.2021 09.10.2021-10.11.2021
Price: 2600 € (twin room). Single room supplement charge: 350 € (Prices are for groups of 4 to 24 Students)
Teaching Team
Sudha Mukti, R-RYT 1000 (Yogi Techniques, Mantra, Mudra, Ayurveda, teaching methodology, Yogi lifestyle)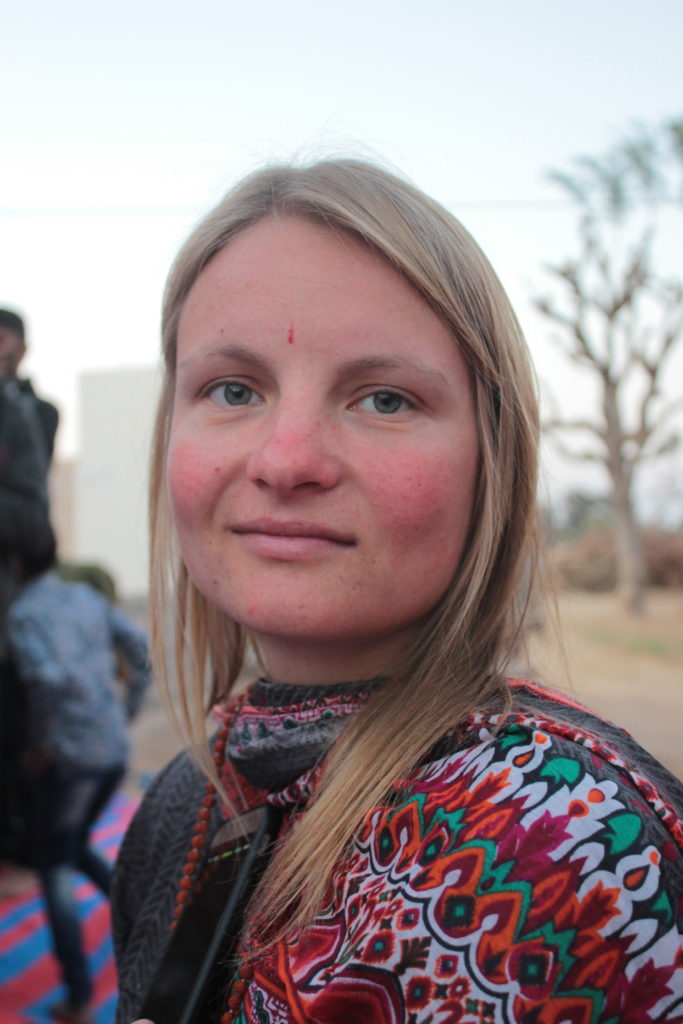 Sudha Mukti had her first intensive contact with yoga during her one-year volunteer service in Delhi in 2009/10. In addition to teaching in a school in a slum, she had a private yoga teacher who taught her the secrets of traditional Indian yoga. During this time Sarah not only found her own regular practice, but yoga also became an integral part of her life.
When she returned to India in 2012, she found her new private yoga teacher in the Indian mountain resort of Manali, with whom she completed an intense month-long yoga workout in Shivananda Yoga during the snowy winter time.
In the following winter of 2013, she completed her first 200 hours of yoga teacher training in Goa with the well-known Ashthanga and Hatha Yoga teacher Vijay from Universal Yoga.
In the fall of 2015, Sudha Mukti completed her 300 hours of yoga teacher training at the Paramand Yoga Institute in Indore, a city in central India. Here she got trained mainly in yoga therapy, traditional Hatha yoga and meditation.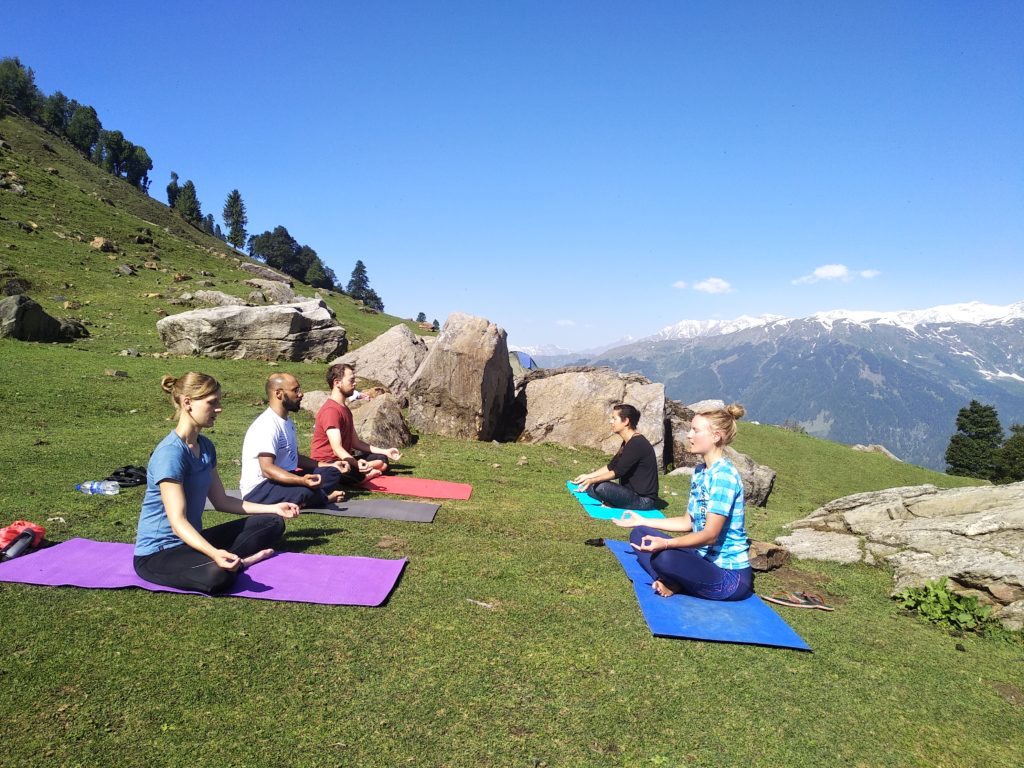 She continued to teach yoga in Manali and also offered yoga trips and retreats throughout India. Whenever she traveled back to Germany , she taught as a guest teacher at various yoga schools.
In 2016, Sudha Mukti attended a ten-days Buddhist silence and meditation seminar at the Tushita Center in Daramshala.
She completed her certification in Thai yoga massage in March 2017 in Dharamshala.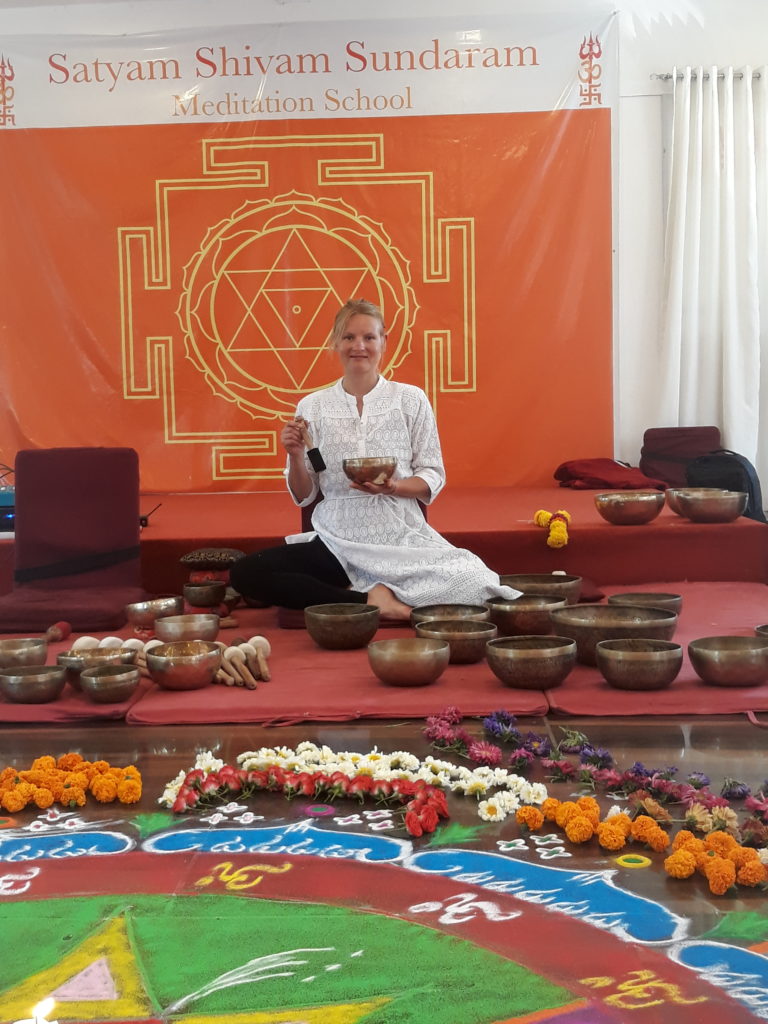 In autumn 2017, she completed another 300 hours of certified yoga teacher training in the Akhanda Yoga style in the Anand Prakash Ashram in Rishikesh.
She received her training in singing bowl therapy and mantra meditation in Goa in March 2019 from Shiva Girish.
In January 2020, she completed another 200 hours of yoga teacher training in Yin and Asthanga Yoga with Upaya Yoga in Goa.
By now, Sudha Mukti is a very experienced 1000 hours certified yoga teacher with her own deep yoga practice. She offers yoga trips and retreats all over India throughout the year.
She is the founder of Yoga Maya India, registered with the Yoga Alliance as a R-RYT and YACEP.
Noor Maini, RYT 200 (Anatomy- Physiology, Alignment, Philosophy, History)
Noor is a yoga practitioner and teacher based in New Delhi, India. He has trained in Ashtanga, Hatha, Kundalini and Yin Yoga. He has a love for Ashtanga and has trained under some of the best teachers in India including Ajay Tokas and Vijay Kumar. His interests include body anatomy, alignment and Yoga Philosophy. He is an avid reader and researches intensively on these topics.
He also is a dance teacher and has studied classical ballet, jazz and contemporary dance styles, teaching regular classes in Delhi.
His education includes a Master's in Industrial Management and a Bachelor's in Mechanical Engineering. He was working in the corporate sector before he decided to make a living out of things he loved doing.
He loves the outdoors and has also completed the Basic Mountaineering course from NIM, Uttarkashi and basic and intermediate skiing courses from IISM, Gulmarg and ABVIMAS, Manali.
Guru of the Ashram Yogeshwar Surajnath Siddh, RYT 500 (Philosophy)
Surajnath, head of the Shri Jasnath Ashram and president of the Shridev Trust, is the host of the yoga program. With his Master in Yoga Psychology from the Bihar School of Yoga in India, he specializes in traditional Hatha and Tantra Yoga.
Things to Bring
In the Ashram we have a strict dress code. All students should wear clothes covering shoulders and knees. We recommend either a combination of shirts with loose pants or a Kurta (knee long dress) with leggings. Students should have at least one set of white clothes. Also a schal to cover shoulders, chest and head is important. In the village outside the Ashram you can also get tailor made inexpensive indian clothes.
Clothes can be hand-washed or you can use the laundry machine.
Recommended List:
3 set of loose and light clothes (knee and shoulder covered, preferable white or light colours)
one schal
thick socks
sweater, light jacket, head, leggings
slippers
towels
sun glasses
toiletries (sun lotion) and small medical kit (in the village we have small medical shops and shops for toiletries as well for basic needs)
passport (copy), credit or ATM card, some cash in your currency ( 50-100 €),
mobile phone, camera, charger (no adapter), maybe laptop
notebook, writing material
lots of curiosity and excitement
Climate
During the day it will be warm and sunny and quite dry. As we are in a desert, the temperature will cool down with the sunset and it can remain cool till next morning after breakfast. As there is no heating system or isolation in the building, it can be cool inside as well. Be prepared and take some warm layers to stay comfortable.
The Shri Jasnath Ashram
Little Shri Jasnath Asan (Ashram) is located in the heart of Rajasthan in the small village of Panchla Siddha (Deep Meditation Square) 100 km from Jodhpur. It is one of the oldest Asans in the Malwar region. The great Saint Shri Boyat ji Maharaj, the direct disciple of Shridev Jasnath ji's, founded the ashram more than 500 years ago. The Shri Jasnath sect is a splinter that can be traced directly back to the yoga god Shiva. Shri Jasnath himself, a great saint who in his only 24 years did much positive for the area in western Rajasthan, was a direct disciple of Saint Gorkhnak.
The ashram is well known among The Indian followers of the Shri Jasnath community. During large festivities on certain holidays and events, thousands of followers make pilgrimages to the Holy Place to honor the place of their Holy Leaders.
But it is often very peaceful here in the ashram and especially for Western yogis and yoginis who want some authenticity, spirituality and peace, an insider tip.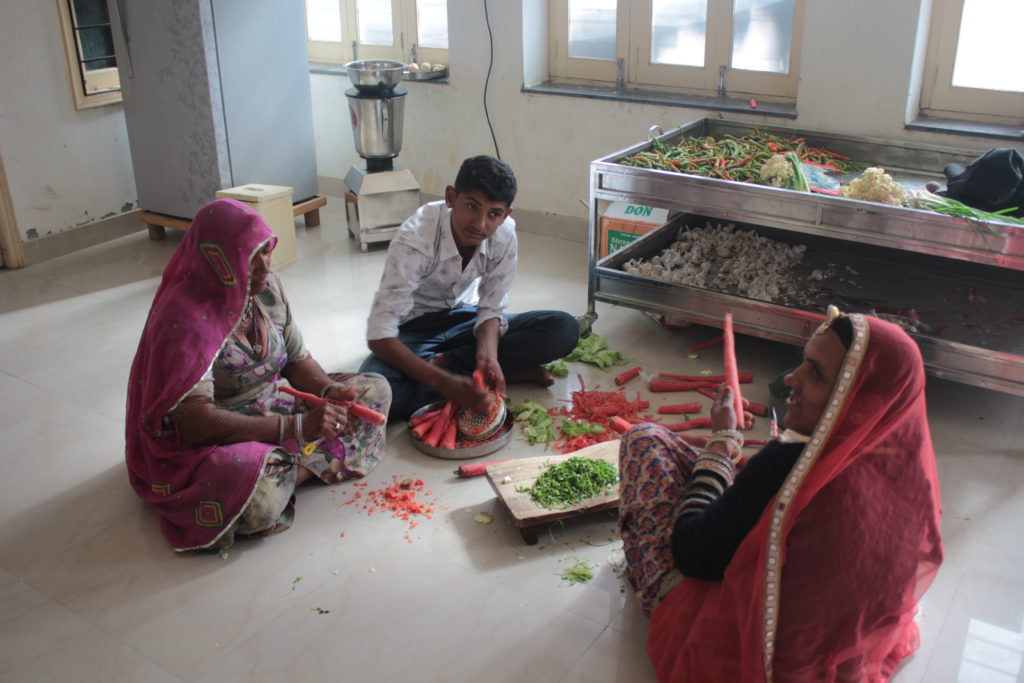 Many saints have carried out their Sadhana (Spiritual Practice) here, which makes this place highly spiritually charged. The saints spread knowledge and wisdom in the villages and were able to help many people through their yogic power.
As the popularity of Shri Jasnath Ashram grew, the king of Udaipur Shri Jagat Singh sponsored the construction of the castle for the Ashram building and donated land to the ashram for growing vegetables and grazing the animals. Today, the ashram has beautiful gardens and plantations where organic fruit and vegetables are grown.
Shri Jasnath Asan is very unique in its architecture. It has been lovingly restored and refurnished by the current guru Surajnath Siddh to maintain the ancient charm and traditions of his ancestors. And in fact, as soon as you walk through the first wooden gate of the ashram, you experience a peaceful and spiritual atmosphere.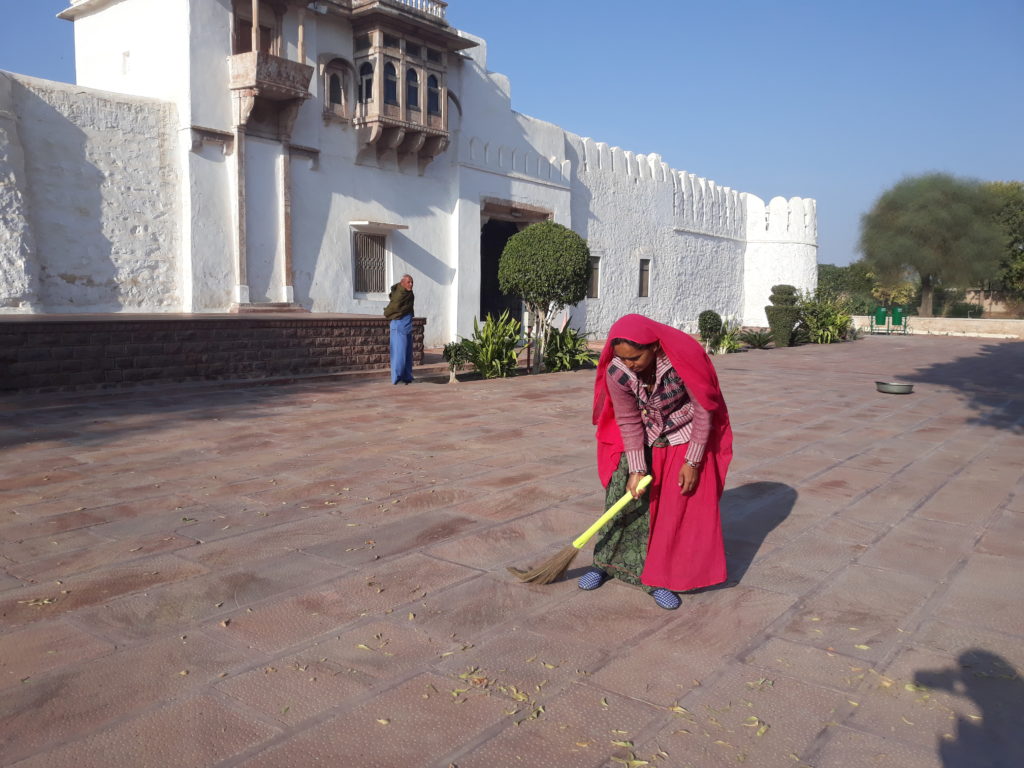 Yoga Ashram
Visitors to the ashram do not just experience a physical and mental rejuvenation, but also get to practice yoga, get Ayurvedic treatments and eat delicious vegetarian dishes, at the same time immersing themselves deeply in the traditional culture of the Rajasthani life.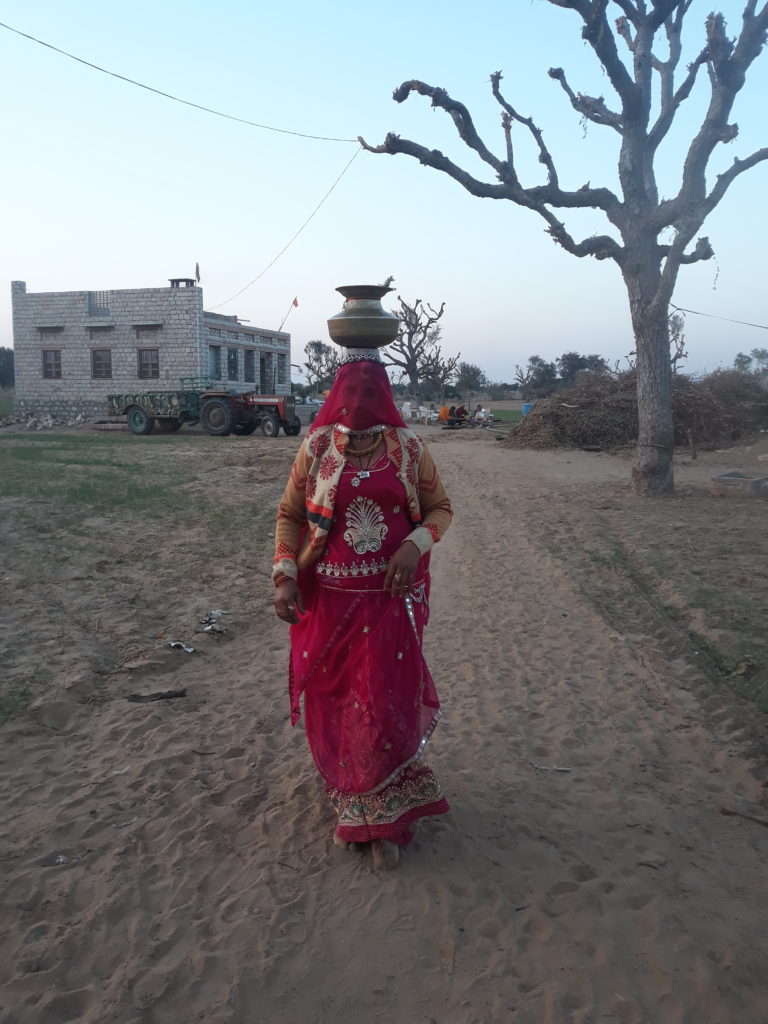 The Ashram is the perfect place to experience nature and live stress-free. You get to know the simple village life and get to interact and spend time with the local villagers. Here in the ashram, an attempt is made to improve the quality of life of each individual and promote the principles of education, health, non-violence and humanity, with regular classes and skill development workshops for the village children and women.
And it is especially the immense humanitarian spirit in this ashram that makes the stay here something very special. Here you will find a general feeling of love, openness and a very strong community bond. Close friendships with the small Ashram family are quickly established.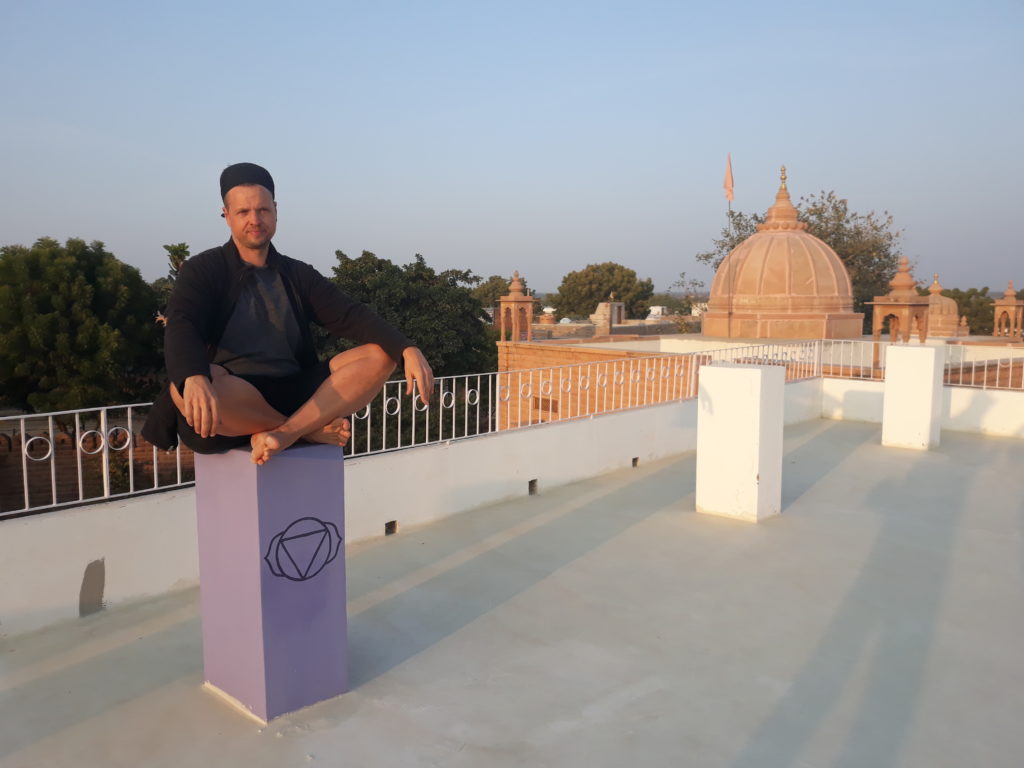 The spiritual factor in this little ashram is of course something very special. In the ashram itself, there is a powerful meditation stamp and the tombs of Saints Jasnath Gurus incorporated into the temple complex. Pujas (community prayers) are held here twice a day. In the evening you meet for the Arti (fire ceremony) and sing prayers and khirtans accompanied by drums and bells.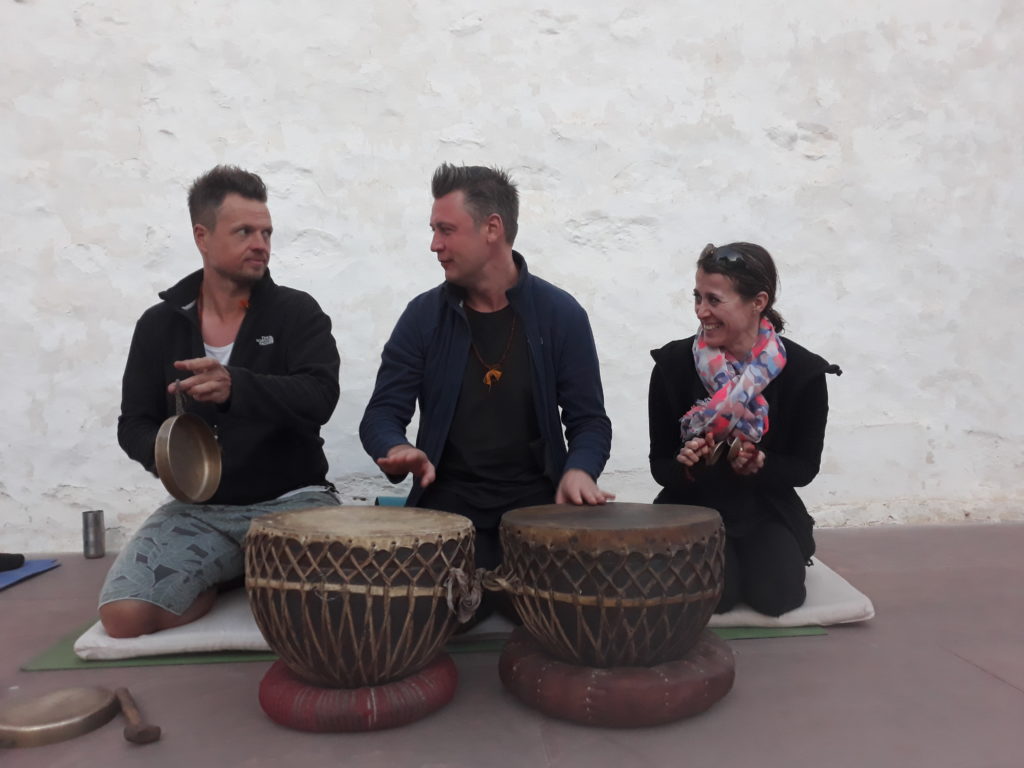 The day ends with a satsang with the guru Surajnath ji. Here you sit together and learn more about the ashram, Indian culture and yoga.
In Rajasthan, the desert state, it is hot and dry almost all year round. Only the winter months from November to February are a little more pleasant. In any case, take a headgear with you to protect against the strong sunlight.
Rajasthan attracts the most tourists, so tourism is the livelihood of many locals. Sometimes this can get uncomfortable. Especially in the big cities and tourist strongholds, people are under a lot of pressure to buy something. Often beggars or children come to ask for money, sweets or pens. Here, it should be well thought out who to give something to. In the ashram itself, however, this problem will not be encountered.
Wide, airy and comfortable yoga clothes are recommended. We are in a very traditional region, so the clothes should be body covering.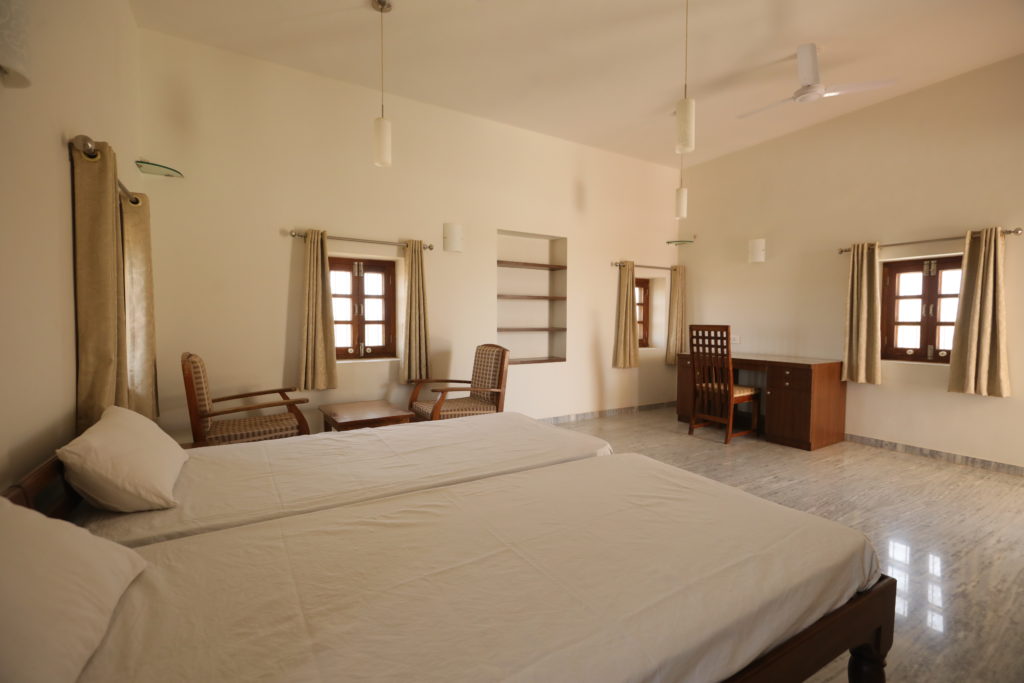 The rooms are clean, large and some have bathrooms, some with clean shared bathrooms.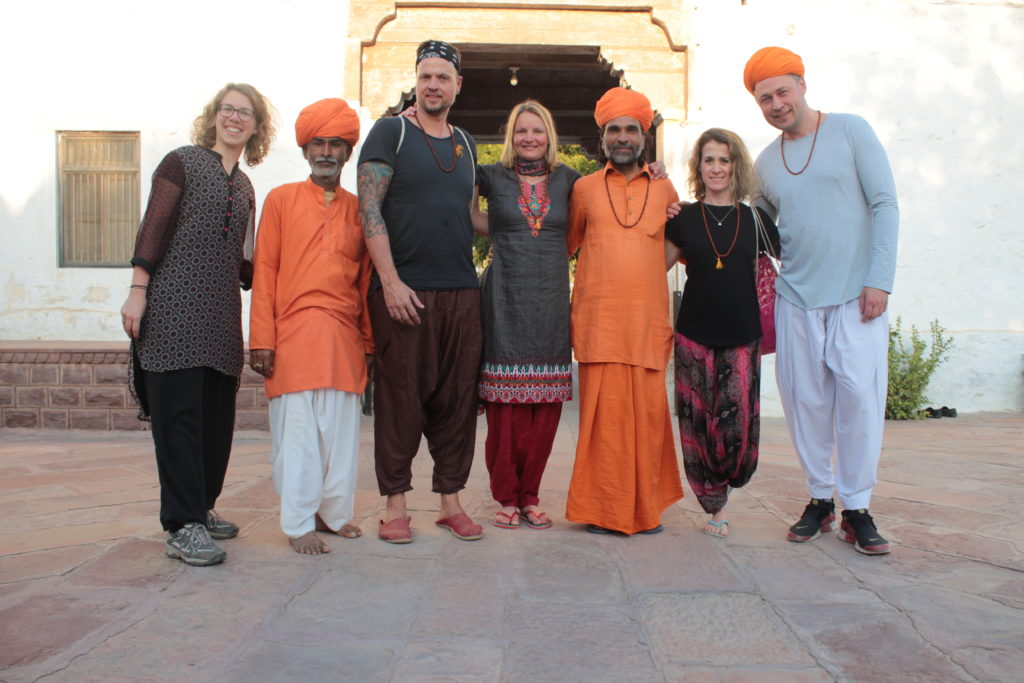 Exams
To receive the certificate students need 100 % attendance and have to pass one theory and one practical examination.