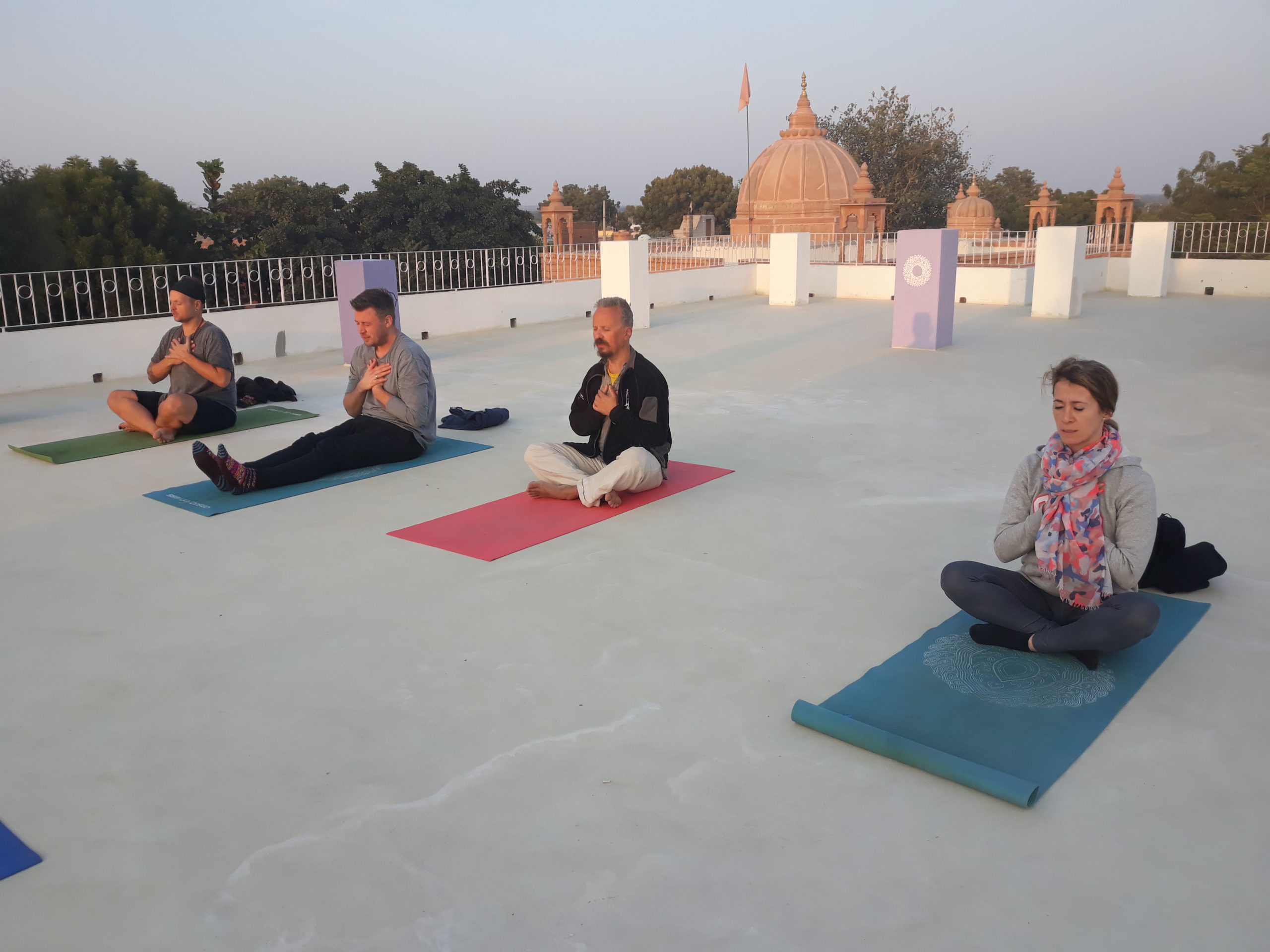 For more than 2 hours the bus travels over the almost straight road through the flickering heat of the Rajasthan sun. I sit sandwiched between an elderly gentleman with a goat on her lap and a young woman in a pink Rajasthan garb and a long dark ponytail covered by a thin cloth, like her face. My feet stand on sacks filled with grain. At least I have a seat. The sweat runs down my back and again and again I wipe my scarf over my face. When I look out the window, I see nothing but sand, from time to time a few shrubs, then herds of goats, a camel.
Then again, nothing but sand. We are in the middle of the Rajasthan desert Tharr. Every now and then we arrive in a small village. Then the old bus comes to a halt. Old passengers get off, new ones are added and sellers offer their goods through the windows. I get a bottle of water and enjoy the cool liquid flowing down my throat.
The Shri Jasnath Ashram
The next stop is mine. Two and a half hours from Jodhpur. The bus stops in front of a brick gate and I get off.
Time jump: 3 days on.
It's still dark when I walk across the ashram area to the yoga terrace at 5:30 a.m. My Indian students are already waiting for me for their yoga mats.
I greet them with a namaste and start with the Shanti mantra to start the morning yoga class. For the next ninety minutes I stumble through my broken Hindi. But my students are eager to participate and are grateful for the guided yoga class. With the first sun greetings, the red sunball actually appears. A new day has begun and already the first warming sun rays announce another warm day.
The hour closes with a relaxation in Shavasana. Then I go to the dining room. It's time for breakfast. On the way I meet Ritu, who quite meditatively sweeps the brooms for brooms. She raises her head and greets me with a nod, then sinks back into her karma yoga work.
In the dining room I sat down on a pillow, in front of me a small low table with a round metal plate, which the eager kitchen helpers quickly fill with fresh fruit, yogurt and a grain porridge. Together with the other ashram dwellers, I put my hands together in front of my chest, close my eyes and we sing together the Bujan mantra out of gratitude for the food in front of us. Then we start with the meal.
To my left, Guru Ji sits slightly elevated on a seat cushion and in an orange robe. He asks me about my yoga class and listens with interest to how his yoga students are doing. Then he tells me that in three days' time here in the Ashram area there will be a big celebration at the end of the Navatri Festival, to which more than ten thousand pilgrims will come and the Jasnath Order will perform its famous fire dances and sacred chants.
I'm looking forward to the festival and I can't even imagine so many people here. At the moment, there are perhaps about 20 ashram inhabitants living here in the ashram, who do their Seva work (spiritual service) here permanently or on a temporary basis.
Guru Ji is the head of the Ahram and spiritual leader of the small Rajasthan Jasnath community with Hindu traditions.
Everyone is welcome here to live, work for a few days, weeks or even months and participate in the regular daily routine consisting of yoga classes, karma yoga and evening ceremonies. I myself will be staying for a good month this time. My yoga trail has often led me here to the little Shri Jasnath Ashram. The quiet and regular everyday life, the powerful atmosphere of the place, healthy full-fledged food and the friendly people contribute to the fact that I can gather here again and come to new powers.
After breakfast, I also go straight to one of my favorite karma yoga works: the joint preparation of lunch. For this I accompany Pappu, the chef, first to the adjacent neighboring house. Here Nita cares for the welfare of the five handsome ashram cows, who generously supply the ashram community with milk.
All kinds of useful and tasty products from Nita are made from the milk and Pappu and I come to get fresh yogurt.
Of course, this is not possible without a small stopover with delicious masala chai (spice tea) and a little chat. Then we move on to Ranu in the garden.
Ranu is a retired soldier and now takes care of the organic ashram garden passionately. He proudly presents me and Pappu on a small tour of his thriving eggplant, beans, tomatoes, pumpkins and, and, and.
A large bucket of freshly harvested okraschoten is ready for us to take with you.
Back in the ashram kitchen, I sat down with a group of women who were already busy cutting onions. I myself attack the Okraschoten and start snipping. We are a funny group. The Indian women are happy about my society and are at least as interested in me as I am in them.
In Hindi we start a funny conversation. They are all amazed that I am still not married at twenty-seven, I myself ask them about their life as a Rajasthan ian wife, marvel at their permanent headgear and learn Hindi diligently.
After a delicious lunch consisting of the fresh okra, millet bread, yellow lentils, salad and yoghurt, it's time to rest at lunchtime.
In Rajasthan it is already hot, but now around noon the heat is almost unbearable.
On the way to my room, I pass the "Ayurveda Oasis". The newly built small cottage in the middle of the ashram area actually resembles an oasis. Inside it is pleasantly cool, it smells of aromatic herbs and in the background quite gentle music sounds.
Ranu, a co-worker, is in the process of folding white linen towels, and Nani, an older woman and our good soul in the ashram, prepares a paste of herbs and spices in the small kitchen with a large heavy stone. Hmmm, hence the pleasant fragrance.
I am invited to an Ayurvedic herbal tea, according to my Dosha, and in the meantime I discuss my treatments for the next few days with Dr. Shrejan, the local Ayurveda doctor. In addition to Abhyanga, a full-body massage, I also want a facial that Shree, the Ayurvedic oasis manager, specializes in. She is currently training two girls from the surrounding villages as therapists. That's luck for me, the girls need practice and so I get an impromptu free foot massage. Completely relaxed I immediately agree another appointment for a Shirodhara, an oil-head casting… Why not, for that I am happy to make my body available.
Now I go to my room for a short rest. I dod gingerly a little bit. But I don't have too much time to sleep. In the afternoon I will teach a small group of solid ashram inhabitants in English. The Ashram hosts regular yoga and Ayurvedic group retreats with international guests and residents should be made easier to get in touch with them through language training.
Teaching in a small group is fun. The students are motivated and I learn at least as much from them as they do from me.
Karma Yoga: English Lessons for Ashram Members
By now it's 5 p.m. and the hottest time of the day. I am dating the children from the surrounding houses in the village for a children's yoga class in the Ashram Garden. In the days before that we practiced a yoga mandala dance, which they present to me today. We also play yoga memory, make the children's sun salutation and end the lesson with some partner yoga.
Then there is food time again. Since it is now so wonderfully pleasant outside, we decide to move the meal to the garden.
Slowly the sun goes down and from the temple complex we hear the first drum beats. It's time for the evening fire ceremony. We all gather in the temple, and while the priest performs his rituals, we sit with our instruments, chantmanas and sing Khirtans. It is a beautiful ritual and at the end of the ceremony I stay for a few minutes in the temple for a little meditation.
Afterwards we meet with Guru Ji for a little satsang in the garden. We talk about yoga, the ashram and the world. It will be a nice exchange with some aha moments.
Then you go to bed for a restful sleep. Because the next day starts early again.
Our retreats at Shri Jasnath Ashram can be found here.