Yoga and Ayurveda Retreat in Rajasthan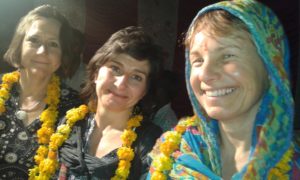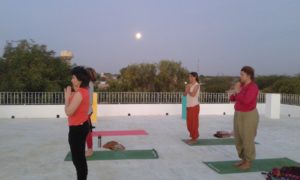 Now our holiday is already a few weeks back, but I would like to describe here some impressions of our wonderful trip to India. This time the holiday was primarily for relaxation and I also wanted to take care of my yoga practice. That's why the ashram in Rajasthan was just the right choice. After travelling through Kerala with Sudha Mukti in 2013, I wanted to do another Retreat in India with her. A decision I don't regret, it was all exactly as I had hoped.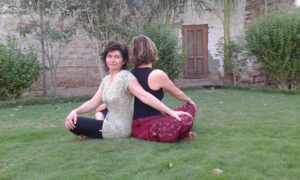 The ashram has very nice guest rooms and we had really nice personal caregivers. A planned schedule structured the day. The very early yoga class (6.00 a.m.) may seem inappropriate for a holiday, but it wasn't a problem for me. The air was so clear and it was just great to welcome the rising sun from the yoga terrace.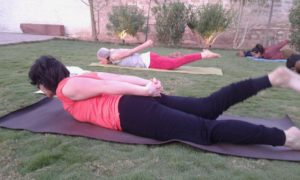 If you like Indian food, you are at the right place! The vegetable's from the Ashram garden offers unsurpassed freshness, from which the chef creates absolutely delicious food.
The yoga classes were very varied and suitable for the time of day in the morning more sporty and in the afternoon a little more meditative. Different yoga teachers and styles provided many new experiences.
We were also lucky enough to experience the Holi celebration there, it was a fun and colorful affair.
At the weekend Sudha Mukti took us to the desert. After arriving on the camel followed by a beautiful evening with music and dances by the fire.  The camp has tents with luxury baths, I haven't experienced anything like this before.

Sunday offered a special highlight in Jodhpur: After some doubt whether we will survive this, we decided for the zipline… and it was a crazy experience so high in the air only hanging on a wire rope to fly over the gorges.
After another week of wonderful Ayurvedic treatments and yoga classes, we were able to start back home with fully charged with energy. But before we sat down in Mumbai on the plane, we took another day to marvel at this gigantic metropolis. Due to the heat, however, a city tour with short stops at the main sights and a short shopping for a few gifts was enough for us. For our Indian farewell dinner Sudha Mukti took us back to a great restaurant.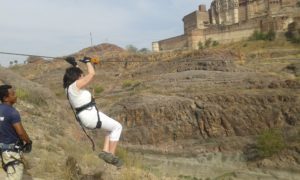 Travelling is also so nice with her, because she knows the country and its people and you really don't travel as a tourist, but individually and adapted to your own interests. Thank you dear, it was great with you again!
Katrin